After getting hooked on their Priming Moisturizer and Haloscope, I decided to give Glossier Balm Dotcom Universal Skin Salve a shot.


The Balm Dotcom Universal Skin Salve is a hydrating, long-lasting, do-everything skin salve packed with antioxidants and natural emollients to nourish and repair dry, irritated skin. You can use it on the lips, elbow, cuticles and pretty much anywhere. There are 5 versions available, including Clear (no flavor and tint) and 4 mood-enhancing flavors – Rose, Cherry, Mint and Coconut. Key ingredients include:
•
Petrolatum
•
Castor Seed Oil
, a natural plant extract with unique water-binding properties that keep moisture locked in
•
Beeswax
, a natural emollient which acts as a protective barrier
•
Lanolin
, a natural emollient that is good for sensitive skin
•
Cupuacu Fruit Extract
, an organic, long-lasting moisturizer with Omega-6 and Omega-9 fatty acids that melt into skin on contact
•
Rice Bran
and Rosemary Leaf Extracts, antioxidants to combat free-radical skin damage
The
Glossier Rose Balm Dotcom
(featured here) comes in a pink and white plastic tube about 4 1/8 inches tall with a green cap. It contains 0.5 fl oz /15 ml of product, the same as
Smith's Rosebud Salve in a Tube
.
Just like the Rosebud Salve, the Rose Balm Dotcom has a slightly pink tint that showed up pretty much clear. The rose scent was very faint and barely noticeable.
Texture-wise, it was a lot more dense. I had to squeeze pretty hard to get the product to come out of the tube the first time. However, I liked that it felt less tacky and sank in slightly faster. It also kept my chapped lips soft and nicely hydrated and I did not have to reapply as much as I do with the Rosebud Salve.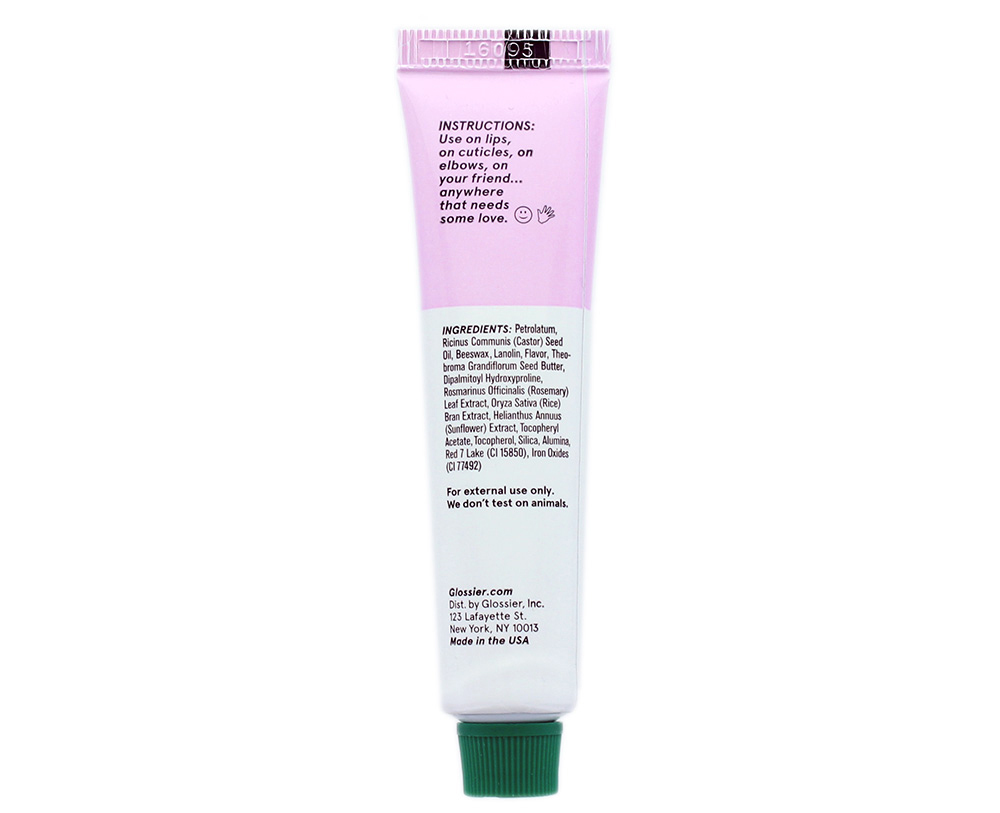 Glossier Balm Dotcom is available at glossier.com for $12. You can get 10% off your purchase using
this link
.
Disclosure: This review contains product that was purchased by us. It may also contain an affiliate link, which gives us a small commission if you purchase the item. Please see our Disclosure for more information on our posting policy.