After reading a ton of raves about SkinCeuticals Retinol 0.5% Refining Night Cream, my best guy friend and I decided to both get it to see what the hype was all about. We made a deal to start using it on the same day and to keep a journal so we could compare our results after a few weeks. Read on to see your findings!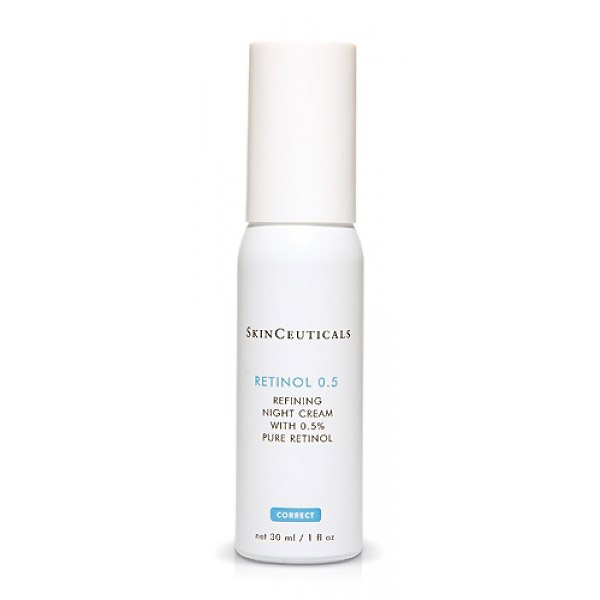 According to SkinCeuticals, the Retinol 0.5% "contains 0.5% pure retinol and is enhanced with the latest stabilization and delivery technologies to provide maximum efficacy. Recommended for more sensitive skin or to help condition skin not acclimated to retinoids as a prerequisite to SkinCeuticals Retinol 1.0%. Our retinol products help stimulate cell regeneration and build collagen to diminish the appearance of fine lines, wrinkles, and age spots from both photo- and intrinsic-aging. Additionally, they help minimize the appearance of pore size, while correcting blemishes and blotchiness often associated with problematic skin."
Benefits include:
* Helps reduce appearance of fine lines, wrinkles, ages spots, blemishes, and blotchiness
* Preserves optimal retinol stability and minimizes erythema commonly associated with the use of retinol
* Ensures maximum amount of retinol reaches the target site
* Will not clog pores and eliminates the need of additional moisturizer
Week 1
Me: After washing my face with Cetaphil, I applied a pea size onto my cheeks, chin, nose and forehead avoiding the eye area. I waited for it to sink in completely before I applied my favorite Boots No.7 Advanced Hydration Day Fluid (this stuff rocks!) The next morning I woke up to *really* smooth skin and there was no peeling or any allergic reactions. Three days later, I did the exact same thing. This time, I ended up with a zit on my forehead but it was nothing major and I still did not experience any peeling, dryness or irritation.
BF: I started out using this twice a week. Results were almost instant and my skin was glowing right away.
Week 2
Me: I think my skin is gradually getting used to this. My zit is completely gone and there are still no signs of any side effects. My skin remains smooth and even-toned and I think my freckles faded a little too.
BF: My skin became slightly irritated and I started getting some red patches. I stopped using the product completely for the rest of the week.
Week 3
Me: Since I did not react badly to this product, I increased the amount to a dime size and the frequency to 3 times a week. My skin is still looking great and it has never been softer and smoother. I did not see much improvement in fine lines because I have barely any to begin with but I think my one and only blemish scar on my chin faded a little and my pores seemed to have shrunk as well. Yay!!!
BF: The irritation has subsided and my skin looks almost flawless. I am still using this twice a week and I will keep on doing so.
Overall Thoughts
Me: This product has worked really well for me even after a few uses. The texture of my skin has improved and I cannot help but marvel at how soft my face has become. I will definitely carry on using this and keep you guys updated.
BF: I am not sure if it is the retinol but I barely have any breakouts now and my skin is smoother than ever.