Milani HD Advanced Concealer from the Spring 2010 collection claims to rival the famous Yves Saint Laurent Radiant Touche Eclat by promising to "soften the look of facial lines and wrinkles and reduce visible age spots by more than 50% after 28 days". Now we all know the Touche Eclat has long been a favorite among people in and out of the beauty industry. I have also used the Touche Eclat myself so let's see how the HD Advanced Concealer compares to it!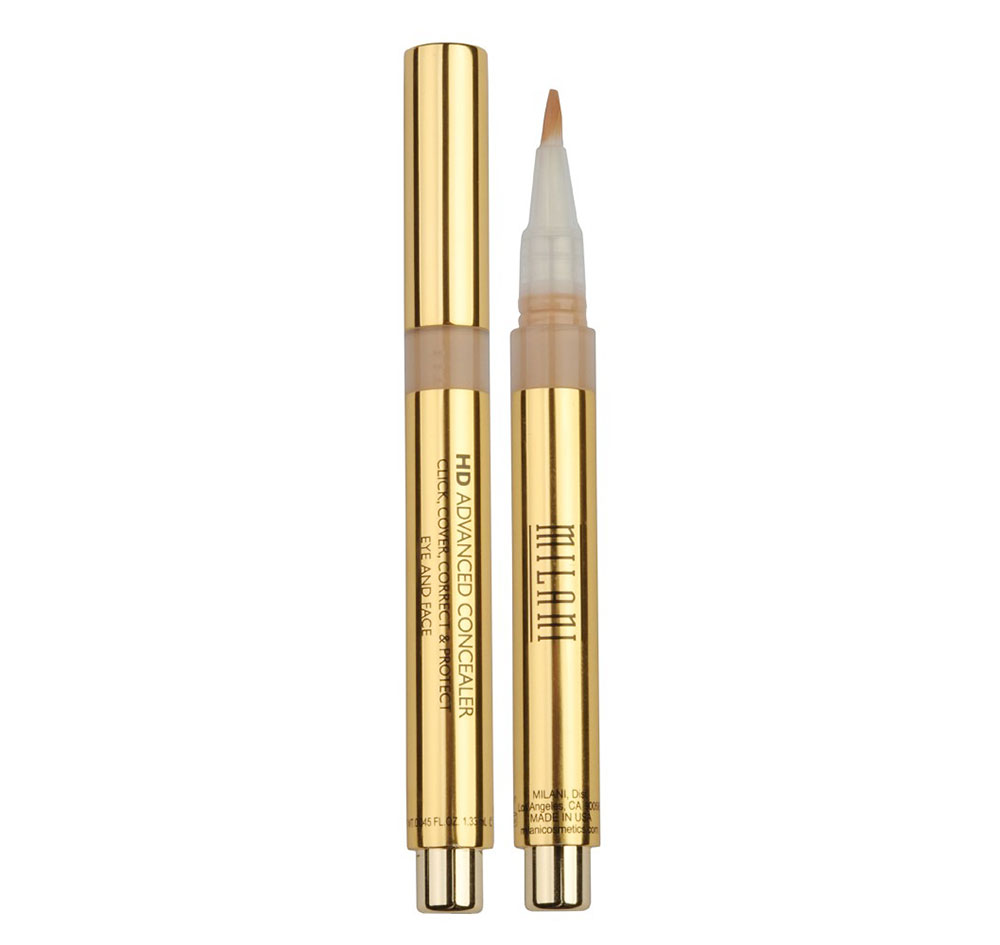 The HD Advanced Concealer contains Rona-coated pigments to disguise dark shadows; Invisaskin moisture base to keep the eye area hydrated and soften expression lines and wrinkles; Gran X gamma amino-butyric acid to plump out creases, lines and other imperfections; and Granactive RD 101 to help brighten and gently resurface the most delicate skin.
Just like the Touche Eclat, the HD Advanced Concealer comes in a gold tube with a clickable pen-brush. Love the portability and how easy it is to use. The brush also dispenses just the right amount of product so nothing goes to waste.
There are 4 shades available – Light, Medium, Medium Beige and Medium Honey. I was sent
Medium
for this review, which is a medium color with a tinge of peachy undertones. To my surprise, it works perfectly on my NC30 skin and does not show up pink at all.
Texture-wise, the HD Advanced Concealer is definitely comparable to the Touche Eclat. It is very creamy and blends easily without accentuating fine lines/flakes or looking cakey. It also does not contain light-reflecting particles so it will not work as a highlighter like the Touche Eclat. The coverage is medium and so much better than the YSL. All I need is a few clicks with a dab here and there, and roughly 80% of my undereye circles and the redness around my nose are gone. The concealer also wears very well throughout the day without creasing or fading and no touchup is required.
Finally, the HD Advanced Concealer only retails $6.99 at drugstores nationwide, which is less than 1/5 of the Touche Eclat! If you are looking for a cheap, easy-to-use concealer that will cover and stay put, this is it ladies!
Disclosure: This review includes product that was provided by the manufacturer/PR firm for consideration only. It may also contain an affiliate link, which gives us a small commission if you purchase the item. Please see our Disclosure for more information.