Ever wondered why most Asian women have flawless skin that never seems to age? Besides our *awesome* good genes and a different diet, we follow the 5-step skincare routine religiously. Here are the 5 steps!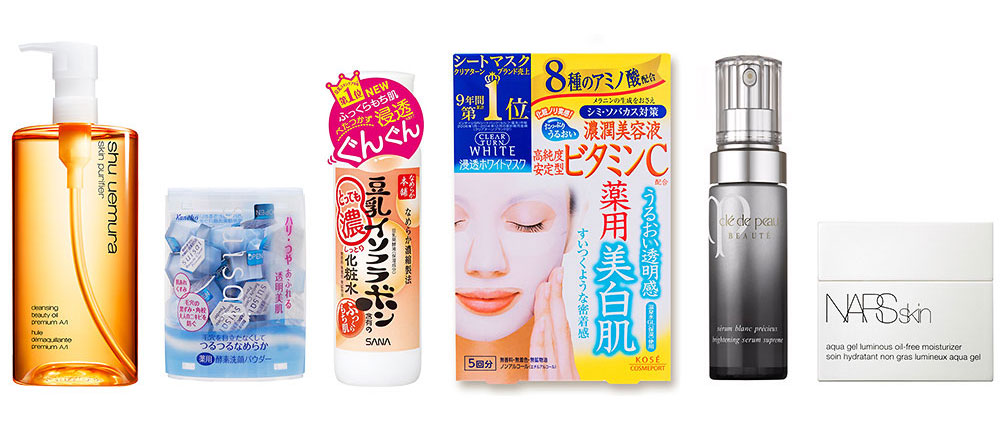 Step 1: Double Cleansing
Cleansing is extremely crucial in maintaining great skin because makeup can clog up your pores and cause breakouts. Double cleansing consists of using a cleansing oil to remove makeup followed by a gentle cleanser (usually foam or cream-based) to remove any residue.
What I Like: TATCHA PURE One Step Camellia Cleansing Oil/Shu Uemura Cleansing Oils followed by
Kanebo Suisai Beauty Clear Powder
Step 2: Lotion/Toner/Softener
Lotions/Toners/Softeners remove dead skin cells and residue from cleansers, replenish your skin with moisture after cleansing and make the absorption of any subsequently applied products easier and faster. When picking the right product, stay away from those with high levels of alcohol as it can dry out your skin.
What I Like: Sana Namerakahonpo Skin Lotion
Step 3: Facial Mask
Facial masks should be used 1 – 2 times a week after cleansing and preferably at night. They come in various forms, including sheet, clay, gel and cream. You should choose one depending on your skin type. Those with dry skin will benefit from hydrating sheet masks while those with oily skin can use a clay mask to draw out impurities and unclog pores. Gel and cream masks are more suitable for those with mature skin.
What I Like: Kose/Kanebo/Shiseido sheet masks
Step 4: Essence/Serums
Essence/Serums are light, concentrated liquid-based treatments that target specific skin concerns such as hydration, redness, acne, wrinkles, etc. They usually penetrate deeper into the skin and work a lot better than regular moisturizers. For maximum absorption, apply your essence/serum then wait 5 to 10 minutes before you move onto moisturizer.
What I Like: Cle de Peau Beaute Brightening Serum Supreme
Step 5: Moisturizer (Emulsion/Cream)
It is a common misconception that people with oily skin do not need to moisturize. The truth is, oily skin CAN get dehydrated and if left untreated, will become even oilier in the long run. If your skin is on the oily side, go with an emulsion, which is a light moisturizer. Look for formulas that are oil-free or water-based. If your skin is dry, you can use an emulsion followed by a heavier cream to lock in the moisture.
What I Like: NARS Aqua Gel Luminous Oil-Free Moisturizer
* Note: I have dehydrated, sensitive combination skin with freckles around my cheeks and I do get a pimple or two on my forehead occasionally.