For Autumn/Winter 2014, makeup has become something of a beautiful paradox: it's about artistry to achieve something that looks essentially un-cosmetic (thanks to ever more sophisticated and subtle makeup formulations and applications). Masking and morphing feels irrelevant this season; a quiet alchemy of product and technique that nonchalantly amplifies what is unique in the face is the new stealth wealth of makeup. "The new luxury is in individuality," confirms Gordon Espinet.

There is a confident subtlety in all these beauty directions. "There is no absolute formula to how makeup has to look to appear modern now," says Lyne Desnoyers. "There is a freedom to experiment and a confidence to break away from conventional means of constructing beauty." Hence nuances of texture (transparent lightness is more important than heavy opacity this season), combined with unpredictable colors ("off" colour is distinctly "on" trend) and non-prescriptive placements form the new technical vocabulary that makes these trends look distinctly fresh and "now".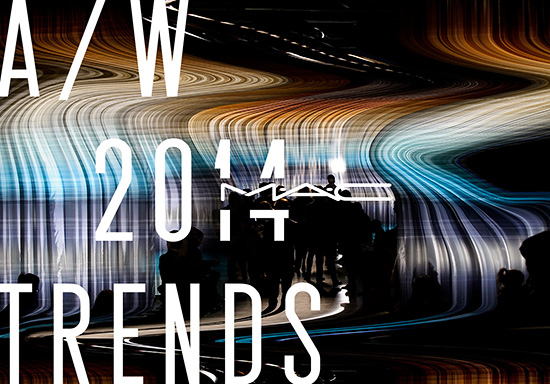 Trend #1: Streamlined
Eyes are indisputably the feature to focus on for the season ahead; framed with an architectural liner, these eyes add a strength to the face that sits somewhere between glamour and grunge (but, vitally, looks like neither of the two). "Tomboy" and "tough around the eyes" were common descriptors of these lean, horizontally focused shapes: complemented by similarly present brows, they lend a beautiful edge to the face that is not anything angry or extravagant. Liner now is an ornament, but not an excessive one. What breathes new life into liner for AW14 is as much to do with the entire treatment of the face as the eyes in isolation. Nothing in the métier of these faces feels labored.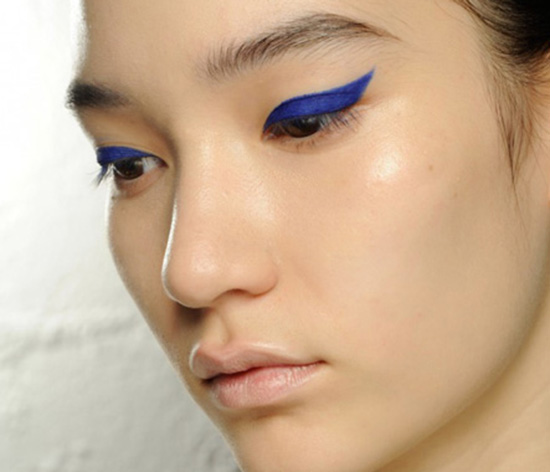 Trend #2: Off Color
A drab-inflected palette is being used in a beautifully paradoxical manner this season: grungy color that creates the effect of luminosity and life in the face. These decayed shades prove that color absolutely does not have to correct or complement in order to be beautiful. Their inherent grey-ness and extreme transparency takes them away from looking like evident pigments; they add mood, not makeup, to the face.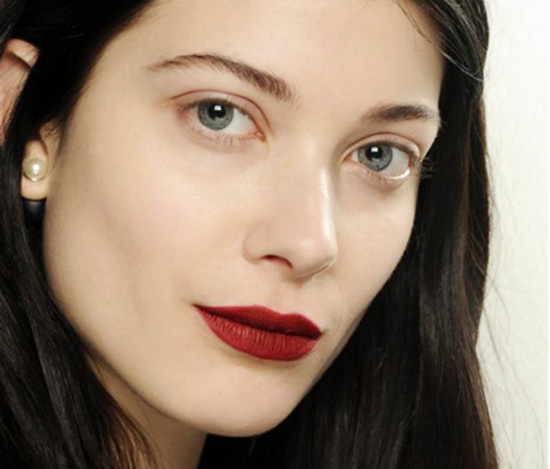 Trend #3: On Reflection
Just as textural contrasts informed the fashion collections, reflective accents are a dominant beauty refrain for AW14. Punctuations of shine against matte provide an endless repertoire of plays on light, from neutral metallics (predominantly gold with forays into copper, pewter and silver) through to literal gloss. So whilst reflection this season is not about conceptual minimalism, it is a designed minimalism: thoughtfully applied with consideration on specific placement and weight of shine (from sheer balm to high vinyl), this is a luxurious, but not glamorous, approach to shaping the face.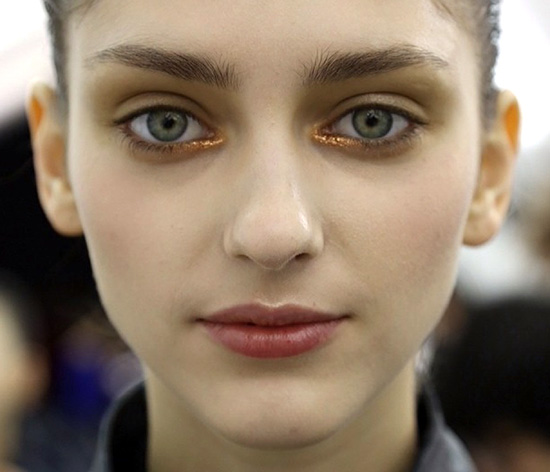 Trend #4: Unprocessed
How about we don't talk about "natural" makeup any more? Let's call it "real" instead. Because that's what a barer-faced look is really speaking about now. The individual. Applying the tag "natural makeup" to any face created in a palette of skin-akin tones is an outmoded concept; "real" is not 3D-perfect skin that has had all the contours and highlights artificially added back in. Yes, all makeup is, by definition, not natural, but minimal makeup in AW14 is about the purely democratic idea of accentuating reality, of reveling in normality. Neither masculine, nor flirtatiously pretty, neither glam, nor grunge. This is, quite simply, how a strong, self-assured, cool, relevant woman today probably wants to look: like she has not tried too hard.