Combining 12 neutral shadows with a dual-ended shadow/crease brush and lip gloss, Urban Decay Naked 2 Palette is a great sequel to the original Naked palette.


Unlike Naked 1, Naked 2 comes in a taupe metal case that shuts tight with a hinge. The case measures 8 inches by 2 3/4 inches, which is the same size as Naked 1.
For the eyeshadows, we have 3 matte and 9 shimmery/metallic colors. Most applied smoothly with great pigmentation, except the mattes, which required a bit of layering.
•
Foxy
is a creamy light yellow with matte finish. It is a repromote and not available individually. It barely shows up on my NC30 skin and would most likely work as a base color for light to medium skintones.
•
Half Baked
is a shimmery golden copper from the permanent line and a repeat from the original Naked palette.
•
Bootycall
is a new, shimmery light beige. It is a warmer version of Virgin from Naked and similar to MAC Shroom.
•
Chopper
is metallic copper with very fine silver glitter. It is an existing shade and a warmer, orange version of Sidecar from Naked 1.
•
Tease
is a creamy pale brown with matte finish. It is a new color and similar to Buck from Naked 1, only more cool-toned.
•
Snakebite
is a new, metallic dark bronze. It looks like a mixture of Smog and Darkhorse from Naked 1.
•
Suspect
is a shimmery light golden beige that has been discontinued.
•
Pistol
is a shimmery light gray-brown. It is a new color and reminds me of MAC Smoke & Diamonds.
•
Verve
is a frosty pink-tinted gray-white. It was in the Urban Decay Rollergirl Palette and is not available individually.
•
YDK
is a metallic cool bronze from the permanent line.
•
Busted
a shimmery cool dark brown color that is new.
•
Blackout
is an intense matte black. It is not available individually but has appeared in the Urban Decay 15th Anniversary Eyeshadow Palette.
Besides the shadows, there is a a travel-size Lip Junkie Lipgloss in Naked and a double-ended Good Karma Shadow/Crease Brush. Personally, I don't care much for the gloss. While it did go on non-sticky with a minty smelly, it showed up almost clear with very tiny shimmer. The eyeshadow brush though, was awesome. It is full-sized and worked perfectly with the shadows.
Overall, Naked 2 is a great buy. The shades are wearable with good quality and the value is just unbeatable (you pay $50 for $234 worth of products). If you have the original Naked palette, I'd suggest you check this out before you purchase. Some of the colors are similar but not completely substitutable. See the comparison
here
!
See
my FOTD using Naked 2
!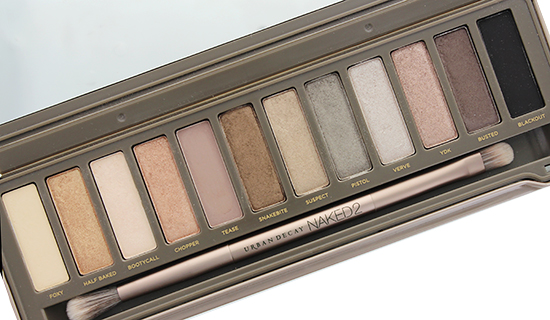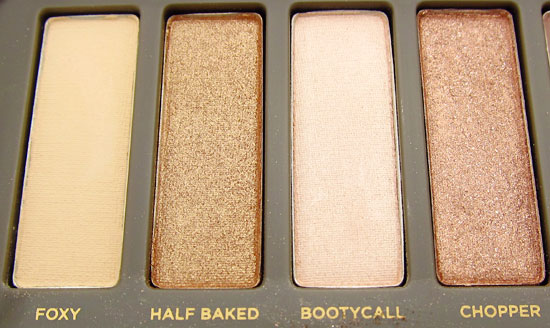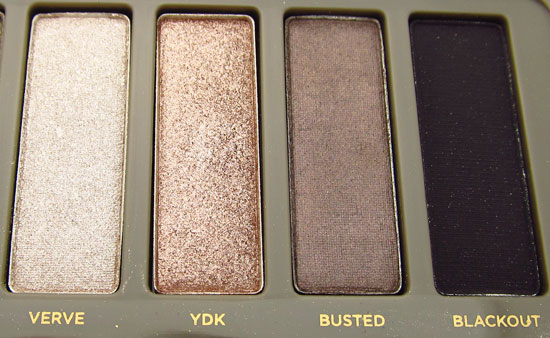 Urban Decay Naked 2 Palette is available at urbandecay.com for $50.
Disclosure: This review contains product that waspurchased by us. It may also contain an affiliate link, which gives us a small commission if you purchase the item. Please see our Disclosure for more information on our posting policy.