The Peacocky Collection finally hit stores yesterday and I brought home with me a few of the new Mega Metal Shadows.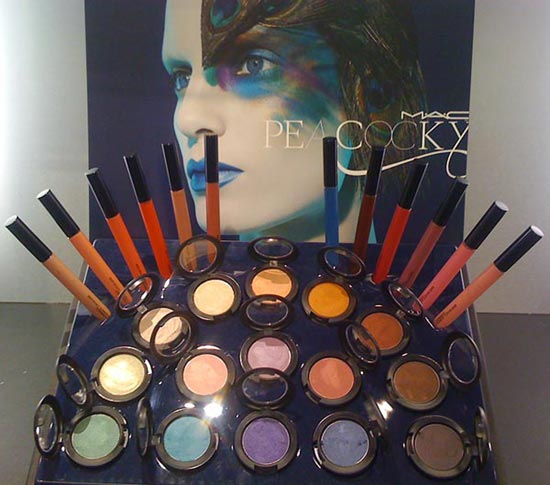 The
Mega Metal Shadows ($19.50)
come in 15 beautiful colors that range from coppers, beiges to greens, blues, purples and browns. Compared to the previously released
Metal X
and
Brushed Metal X
shadows, these feel more like powder eyeshadows but go on equally buttery with a nice, blendable texture.
Pigmentation seems to vary by color. While they all go on very metallic, the darker ones are more pigmented while the lighter ones require a bit of layering to get a more intense color.
•
Sexpectations
is a reddish burgundy similar to Cranberry eyeshadow.
•
Tweet Me
is a light golden orange that shows up identical to Expensive Pink eyeshadow on me.
•
Paparazz-she
is a bright coppery orange. It reminds me a lot of Goldspice Metal X Eyeshadow and Amberlights eyeshadow.
•
Prance
is a light beige with a pearly pink sheen.
•
Peek-at-you
is a light yellow white and the least pigmented out of the bunch. It is similar to Pollen eyeshadow.
•
Dalliance
is a very light pewter/olive gold. On me, it shows up just like Retrospect eyeshadow with barely any green.
•
Ego
is a dark forest green that is almost identical to Humid eyeshadow and 6th Sin Metal X Eyeshadow.
•
Odalisque
is a teal. Shimmermoss and Talent Pool from
Starflash
collection are close dupes.
•
Dandiezette
is a cool-toned dark silvery blue similar to Blue Storm Pigment.
•
Noir Plum
is a bright violet identical to Violet Pigment.
•
Mating Call
is a frosty lavender. It is similar to Lotusland Eyeshadow from
Starflash
collection and lighter than Stars 'N Rockets eyshadow.
•
Top Of The Posh
is a frosty light pink with just a tinge of gold.
•
Spectacle of Yourself
is deep bronze warmer than Center Stage. Coco Beach Pigment and Twinks Eyeshadow are both to similar to it.
•
Center Stage
is a rich chocolate brown just like Mulch Eyeshadow.
•
Unflappable
is a dark plummy grayish taupe. It is a warmer version of Satin Taupe eyeshadow and similar to Gilded Ash Brushed Metal X Eyeshadow .
The shadows also wear slightly better than the Metal X and Brushed Metal X shadows. They are water-resistant and stay on a good 10 hours without creasing or fading even with no primer underneath.
While all the colors are gorgeous, they are VERY similar to existing and previously released colors so I had a really tough time picking out what I want. I ended up with Unflappable, Noir Plum and Dandizette. Might go back for Dalliance and possibly Mating Call.
Disclosure: This review contains products that were purchased by us. It may also contain an affiliate link, which gives us a small commission if you purchase the items. Please see our Disclosure for more information on our posting policy.