Dark Star 006 UltraSuede Brown is the other kit in Pat McGrath Labs' sixth and latest launch.


Packaged in a non-resealable plastic bag stuffed with sequins like the previous launches, the Pat McGrath Labs Dark Star 006 UltraSuede Brown kit contains 4 mesmerizing pigments, a transformational eye gloss, a black kohl liner and a custom blending brush.
Pigment
is a pressed gel pigment that comes in a black compact with a clear lid. You get 0.14 oz/3.96 g of product, slightly more than a M·A·C Pressed Pigment.
•
Astral White
is a cool-toned white packed with green and blue glitter.
•
Mercury
is a shimmery muted champagne.
•
Dark Matter
is a dark charcoal with satin finish.
Out of the 3, Astral White had the driest but not gritty texture while Mercury was the softest and applied like butter. All 3 colors though, had great color payoff and swatched easily.
UltraSuede Brown Pigment
is a beautiful medium bronze with shimmer that will work on all skintones. While it applied super buttery with excellent pigmentation, the color can be easily duplicated.
Urban Decay Smog from Naked Palette
is very close, just a tad darker; M·A·C Romp, now discontinued, is less shimmery with more gold undertones;
Urban Decay Radar from Vice 2
is darker with more glitter; the left shade of NARS Cordura Duo Eyeshadow is warmer and less shimmery. Unlike the other 3 pigments, the UltraSuede Brown Pigment comes in a black compact with a mirror on the inside, like the
Creams in Metalmorphosis 005
. You get 0.13 oz/3.68 g of product, which is a teeny bit less than the Pigment and Cream.
Cyber Eye Gloss is a clear gloss that flashes blue and green. When applied sparingly, it added a really nice holographic effect over the pigments. It also did not feel too tacky and was pretty comfortable to wear on the eyes and lips. You get 0.14 oz/4.14 ml of product, which is about only halfway to the top of the container.

Black SmudgeLiner Eye Kohl is a twist-up kohl eyeliner that reminded me of M·A·C Greasepaint and NARS Velvet Shadow Stick. You get 0.05 oz/1.41 g of product, similar to the NARS and a little more than the M·A·C. The color was a flat black with matte finish. It felt super creamy and glided on effortlessly with great pigmentation. But what really blew me away was how smudgeproof it was. Once the liner set – which only took seconds – it did not budge. I had to use an oil-based remover to take it off completely.

Blender Brush is a dome-shaped blending brush that measures 6 inches long. Though made in China, the quality seemed to be on par with the Buffer 003 Brush from Skin Fetish 003 that was made in Japan. The black bristles were dense yet soft, making blending a dream. I also liked that it has "Pat McGrath Labs" engraved on the handle, which is definitely a huge improvement over the cheap sticker that was on the Buffer 003 Brush.

Overall, Pat McGrath Labs Dark Star 006 UltraSuede Brown comes with some easy-to-work-with colors and textures. However, I personally prefer the UltraViolet Blue kit since I find the color more unique.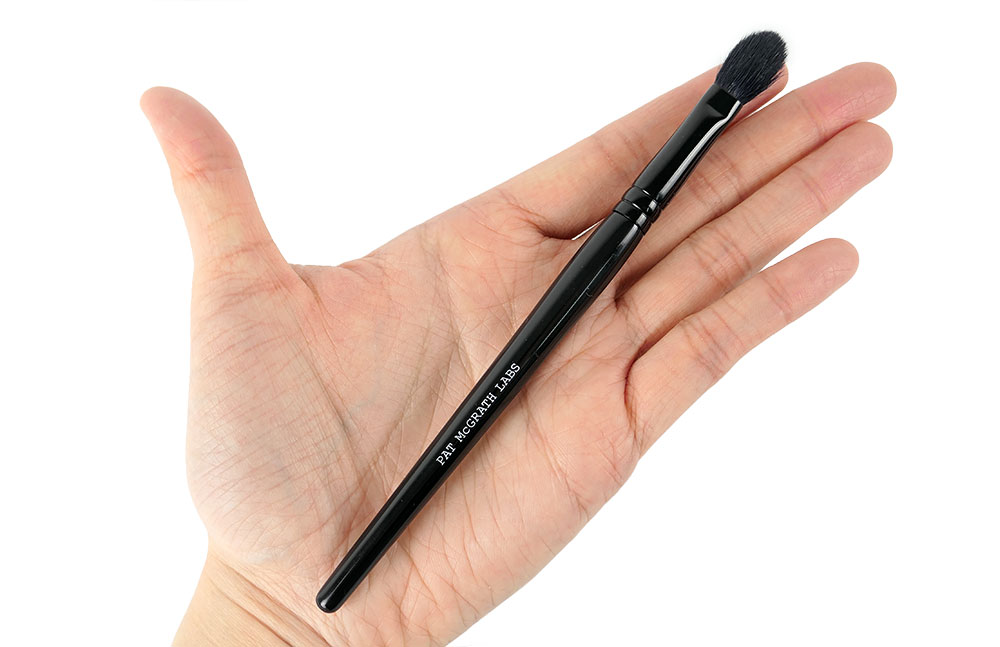 Pat McGrath Labs Dark Star 006 UltraSuede Brown Kit is available at
Sephora.com
and select Sephora stores for $130.
Disclosure: This review contains products that were purchased by us. It may also contain an affiliate link, which gives us a small commission if you purchase the items. Please see our Disclosure for more information on our posting policy.