This Holiday, one of my favorite palettes of all times, Urban Decay Vice Eyeshadow Palette, gets revamped with 20 new shades.


Just like the original Vice palette,
Vice 2
comes in a sturdy purple compact that measures 7″ by 5.5″. But unlike the former, the material is glossy and features an orchid design with a white UD logo in the center. Again, the compact opens with the push of a button and there is a huge mirror on one side with the shadwos and a full sized double-ended Good Karma Shadow and Crease Brush on the other. Each shadow measures 2cm by 2cm and contains 0.03 oz of product, which is roughly 3/5 of a full-sized Urban Decay eyeshadow.
Color selection-wise, Vice 2 is similar to the original as well. You get a variety of wearable neutrals and fun brights, which are great for creating many different looks.
Smokeout
is a dark taupey black satin. It looks like a dark charcoal in the pan but definitely shows up more brown.
Lovesick
is a sheer matte black base with silver glitter. Despite layering it, I still could not get a solid black base.
Shellshock
is an intense metallic silver that looked like liquid metal.
Coax
is a metallic medium pink with golden iridescent micro-sparkle.
X-Rated
is a cool-toned baby pink with satin finish and slightly lighter than Coax.
Prank
is a deep navy matte base with turquoise shimmer. It is one of my favorite colors out of the palette and shows up as a peacock green.
Madness
is a metallic bright blue with blue micro-glitter. I LOVE this color as well.
Strike
is a shimmery antiqued gold with silver micro-glitter.
Stash
is a shimmery deep olive green with iridescent micro-sparkle.
Poison
is a charcoal satin with iridescent micro-sparkle.
Radar
is a metallic warm brown with iridescent micro-glitter.
Damaged
is a shimmery emerald.
Voodoo
is a metallic dark purple with iridescent micro-glitter.
Betrayal
is a satin bright violet that flashes blue.
Derailed
is a metallic taupey-brown with shimmer.
Dope
is a warm pinkish champagne with satin finish.
Toxic
is a metallic copper-pink shimmer with tonal micro-glitter.
Habit
is a matte light nude. I had a hard time getting this to show up on me as well.
Ambush
is a metallic warm bronzy brown.
Rewind
is a matte neutral medium brown.
Most of the shadows – with the exception of a few – are nicely pigmented. However, they did feel slightly dry and stiff (probably because of the glitter and shimmer?) and were definitely not as smooth as those found in the
Urban Decay Naked Palettes
. The wear though, was good and I experienced minimal creasing or fading even without a primer underneath.
Overall, a very nice palette at a great price!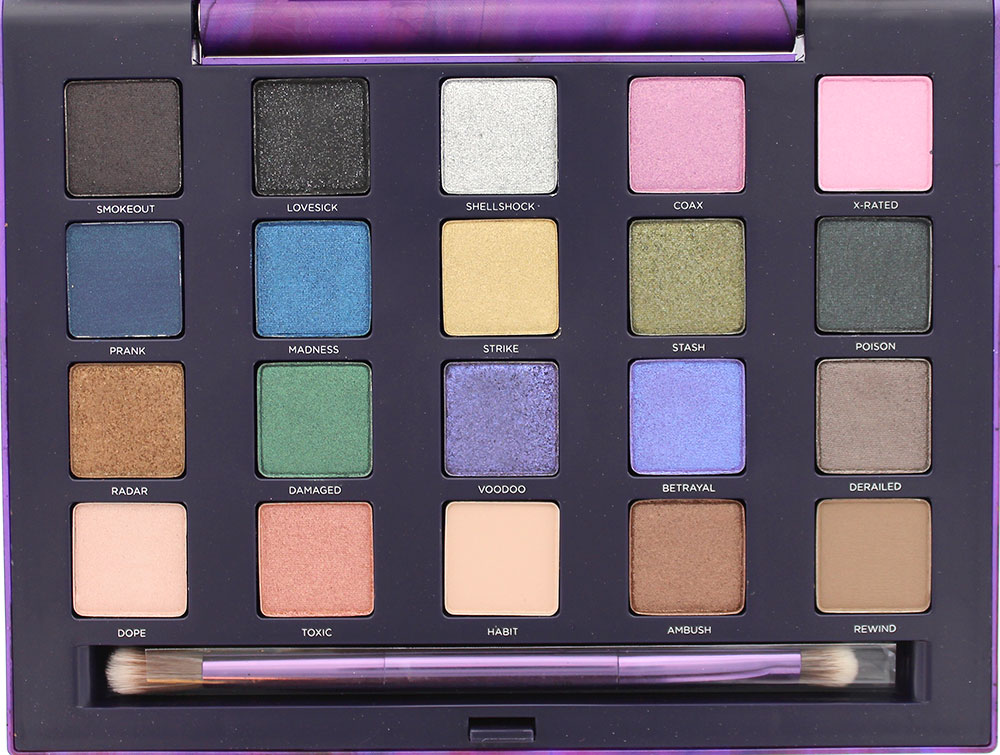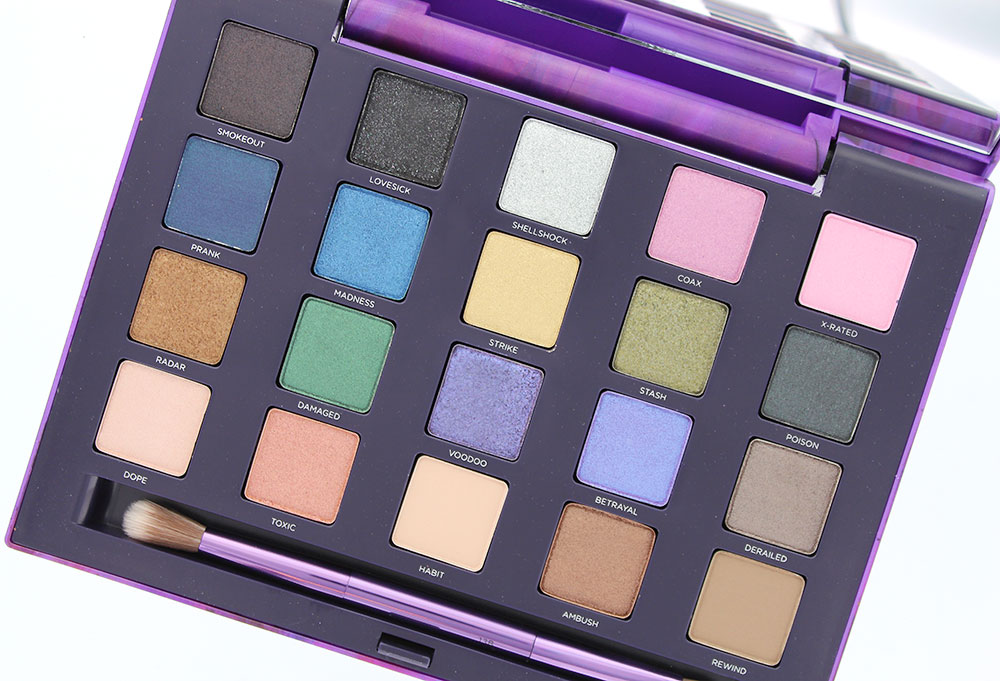 Urban Decay Vice 2 Eyeshadow Palette is available at
Sephora
for $59.
Disclosure: This review contains product that was purchased by us. It may also contain an affiliate link, which gives us a small commission if you purchase the item. Please see our Disclosure for more information on our posting policy.