Winter is the perfect time to undo the damage and havoc wrecked by the sun during the summer. Below are a few tried and tested whitening skincare products from Japan and Korea, aka the motherland of all whitening wonders, that I love.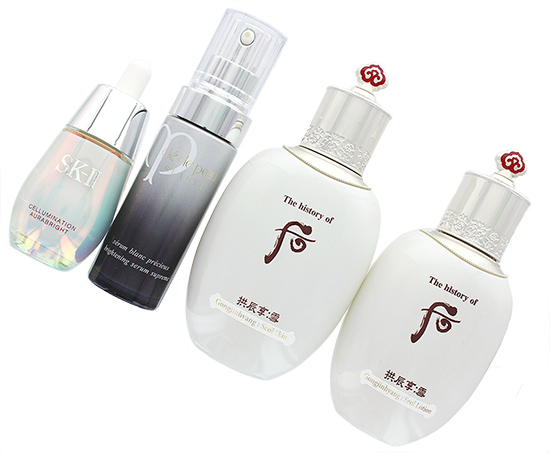 #1: SK-II Cellumination Aurabright Illuminating Essence ($160)
This revamped version of the original SK-II Cellumination Essence is basically soft and glowy skin in a bottle – not to mention one of the prettiest! It is formulated with a new Aura Bright Cocktail and SK-II's signature Pitera and Pixelwhite to increase the synthesis of collagen, inhibit the inflammatory phase of hypertrophic scars and keloids and even treat photoaging skin and cellulite. Its lightweight texture left my skin soft and glowing right away and more translucent and even in weeks. No wonder SK-II is the go-to for so many women in Asia!
#2: Cle de Peau Beaute Brightening Serum Supreme ($180)
Packed with a potent blend of ingredients including Artemesia Extract, caffeine, amino acids, Vitamin C and various complexes, this helps to prevent the duplication of dark spot cells, reduce cellular stress, regulate cell turnover and improve skin's barrier function. It has a lovely fluid-like texture that sank in swiftly while leaving my skin hydrated and supple. I saw an improvement in the overall tone of my skin and it has helped kept any new hyperpigmentation at bay.
#3: The History of Whoo Seol Gongjinhyang Seol Whitening Skin Balancer and Lotion
Although this pairing from LG's premium line isn't a serum nor essence, they have worked wonders on my skin. The Skin Balancer is a milky toner that provided instant hydration and softening while the Lotion, meant to be used right after, is a lightweight moisturizer. Both are formulated with oriental medicine-based Chilhyang palbaeksan ingredients and gamguksu, a simmered and cold-compressed wild chrysanthemum essence, and smell so great without being overly empowering. With regular use, my skin became much brighter and softer.
And that pretty much wraps up some of my favorites. What are some of yours? On a side note, when using whitening products, always make sure to use a sunscreen with at least SPF 30 during the day (even when you are indoors) and moisturize extra well for best results.
Disclosure: This review includes product that was provided by the manufacturer/PR firm for consideration only and products that were purchased by us. It may also contain an affiliate link, which gives us a small commission if you purchase the items. Please see our Disclosure for more information on our posting policy.