Blue eyeshadow has been popping up EVERYWHERE at New York Fashion Weekand today, it strikes again at the Joy Cioci Spring/Summer 2013 where the look was paired with glistening cheeks, pink lips and white bubbly nails. Stunningly beautiful!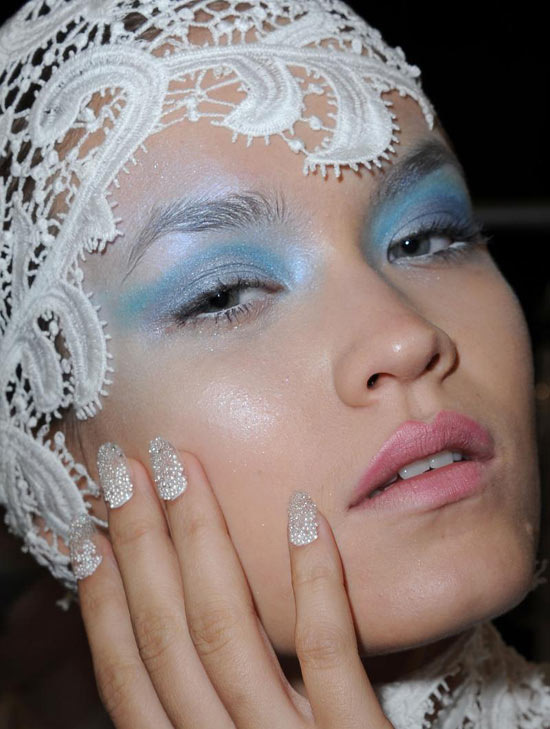 "The look is 'mermaid meets the 1920s.' Part vintage. Part fantasy," said NARS Cosmetics International Lead Makeup Stylist Uzo. "Eyes are bathed in shades of shimmering ocean blue. Cheeks are glistening in silvery pearl. The lips and its' cupid bow are dramatized in soft pink."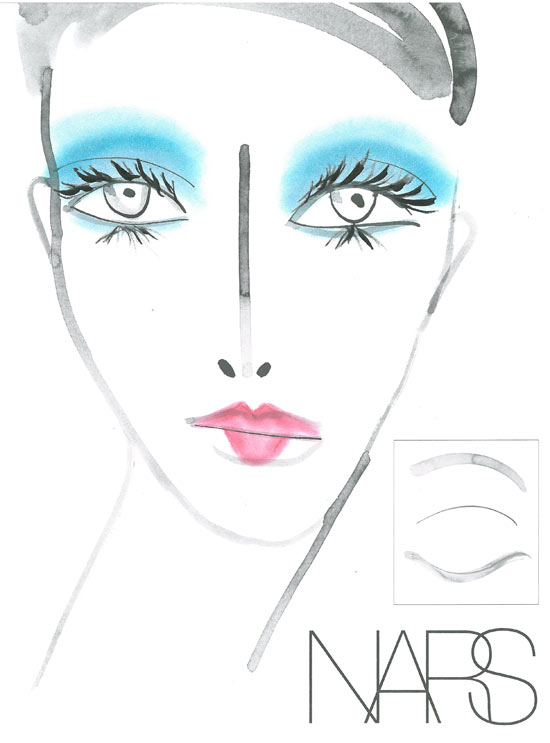 Face
* Sheer Glow Foundation
* Radiant Creamy Concealer (new for Spring 2013)
Eyes
* PRO-PRIME Smudge Proof Eyeshadow Base
* Santa Monica Blvd Larger Than Life® Long-Wear Eyeliner
* Larger Than Life Lengthening Mascara
* Femme Fatale Duo (new for Holiday 2012) – For a similar effect, try left side of Pandora Duo Eyeshadow and middle of Cap Ferrat Trio Eyeshadow.
* Silver Factory Multiple (new for Holiday 2012) – For a similar effect, try Albatross Highlighting Blush.
* Mad Mad World Duo Eyeshadow (new for Spring 2013) – For a similar effect, try left side of Misfit Duo Eyeshadow and right side of Rated R Duo Eyeshadow.
Lips
* Roman Holiday Velvet Matte Lip Pencil
* Miss Sadie Lip Liner Pencil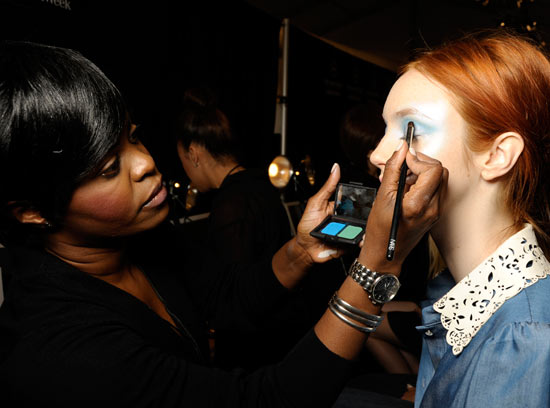 Nails
CND's Candice Manacchio mimicked underwater bubbles on manicures using micro-beads and small pearls for a delicate and dimensional texture. To recreate at home, apply top coat and dip nail into beads (try recommend pouring beads into a flat bowl or dipping each nail directly into the tube). Toes were shimmering champagne with CND Colour in Putty topped with reflective CND Gold Pearl Effect.
Images: Courtesy of NARS and CND.