First up in my list of reviews of the NARS Fall 2012 Collection is Vent Glacé Duo Eyeshadow, a platinum with silver smoke that will become part of the permanent line.
On the left is a shimmery, almost-white silver. The color is gorgeous and great on the lid and as a highlighter. However, it is semi-sheer and applies a little patchy. I had to apply several layers and really blend it in order for it to show up properly.
On the right is a shimmery greige that reminds me of a lighter version of MAC Smoke & Diamonds Eyeshadow. Again, the color is beautiful and I love that it adds depth to the other shadow. The pigmentation and texture are also much better. I did not have any difficulty with application.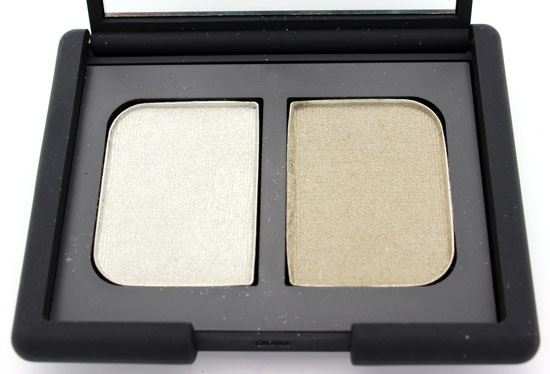 Without a primer, I experienced a bit of creasing with both colors in just a few hours. With one like my favorite NARS Pro Prime Smudge Proof Eyeshadow Base though, the colors stayed intact and vibrant for at least 8 hours.
Here I am wearing the left side all over the lid and the right shade on the lower eye blended up onto the crease. Also featured are MAC Blacktrack Fluidline, Estée Lauder Sumptuous Two Tone Eye-Opening Mascara in Bold Black/Rich Brown and Jealousness USA Diamond Beauty Lash in JS-507 Captivating Cat Eye.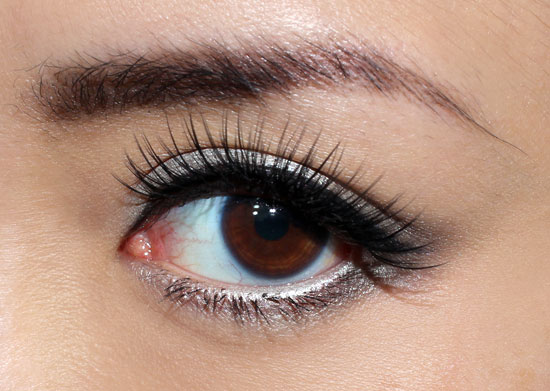 Will you be getting Vent Glace? Check out the rest of the NARS Fall 2012 Collection!
NARS Vent Glace Duo Eyeshadow is available at narscosmetics.com, Nordstrom and Sephora for $35.
Disclosure: This review includes product that was provided by the manufacturer/PR firm for consideration only. It may also contain an affiliate link, which gives us a small commission if you purchase the item. Please see our Disclosure for more information.