NARS Fall 2012 Collection brings us a beautiful collection of shadows in icy colors, purples and green, a frosty pink highlighter, lip products in the prettiest reds and a stormy grey nail polish. Take a closer look at the collection after the jump!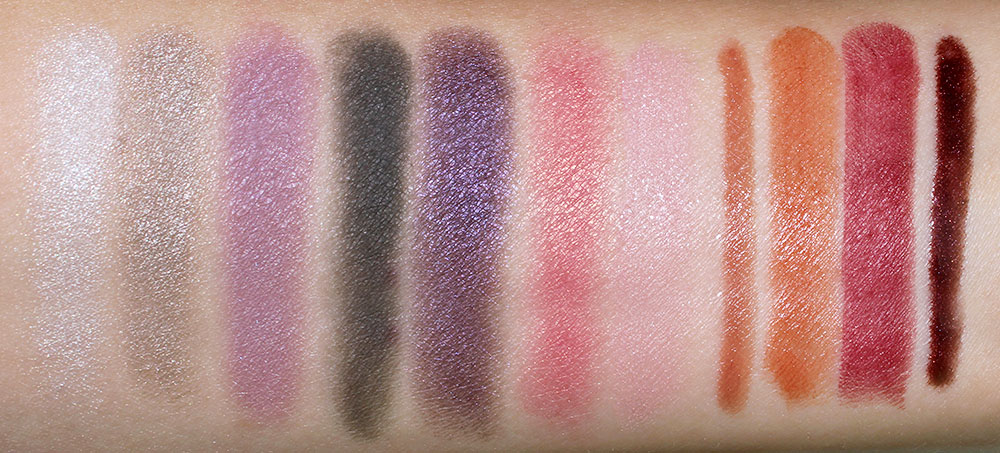 High Society Trio Eyeshadow (Limited Edition) ($45) – Lavender, matte forest green, and iridescent amethyst
Vent Glacé Duo Eyeshadow ($34) – Platinum and silver smoke
Outlaw Blush ($28) – Soft rose with golden shimmer
Undress Me Multiple ($39) – Nearly nude pink with silver shimmer
Autumn Leaves Lipstick ($24) – Glistening brandy
Rouge Tribal Larger Than Life Lip Gloss ($26) – Metallic burgundy
Amsterdam Pure Matte Lipstick ($25) – Garnet red
More Velvet Gloss Lip Pencil ($24) – Auburn
Storm Bird Nail Polish (Limited Edition) ($18) – Moody grey
I haven't had a chance to play with everything completely but so far I'm really ❤ing the shadows (especially the trio!) and blushes. Below is a quick swatch. Detailed reviews and more pictures to come later this week!
NARS Fall 2012 Collection is available now exclusively at narscosmetics.com.
Disclosure: This post includes products that were provided by the manufacturer/PR firm for consideration only. It may also contain an affiliate link, which gives us a small commission if you purchase the items. Please see our Disclosure for more information.