To make sure I look fabulous for the NARS Makeup Your Mind: Express Yourself Book Signing Event, NARS National Artist Austin Mark gave me a golden brown metallic eye paired with a shimmery cheek and neutral lip. Read on for a step-by-step breakdown!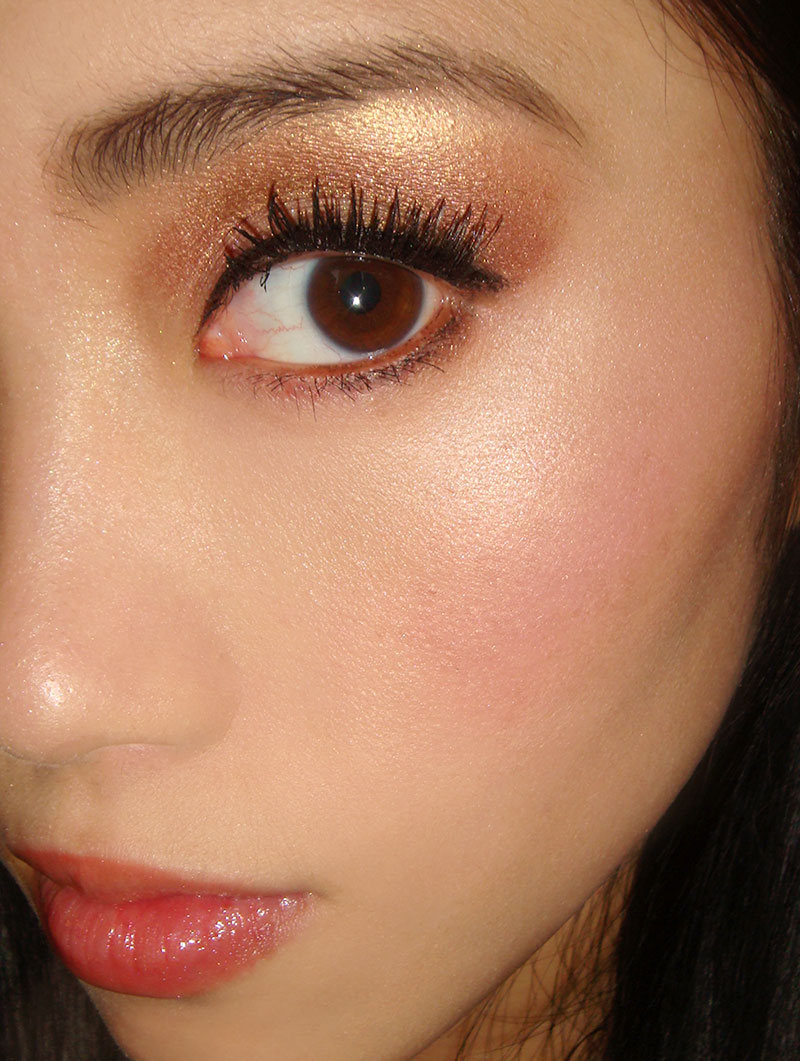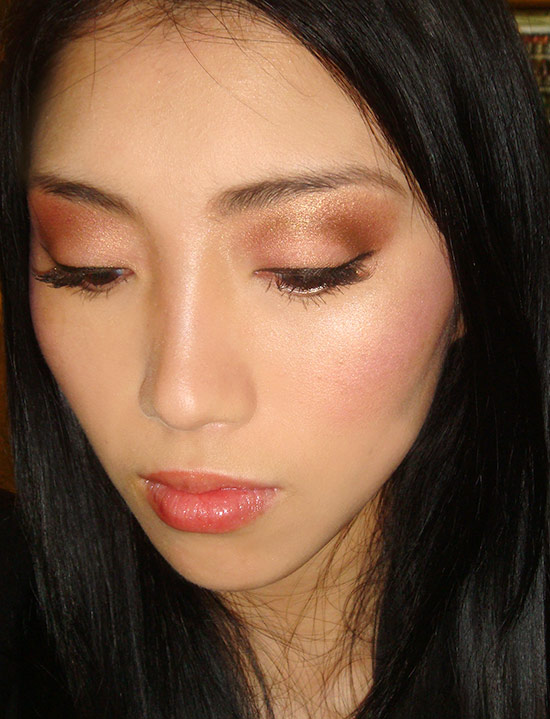 Face
Austin started off with my skin. He mixed my favorite Sheer Glow Foundation with Brightening Serum on the back of his hand before applying onto the skin in a dabbing motion. To bring out my cheekbones, he applied a generous amount of Copacabana Illuminator and blended it up towards my temples. Next, he dabbed The Multiple in Riveria directly on my cheeks before blending it out with a brush. To finish, he added a dusting of Highlighting Blush Power in New Order right on top of the cheekbones to really make them pop.
Eyes
When I told Austin about the dramatic smoky eye I got during
my makeover with NARS National Artist Francine Phillips
, he decided to give me a bit more color on the eyes. He started by applying Smudge Proof Eyeshadow Base all over my eyelid and brows. Then, he filled in my eyebrows with Single Eyeshadow in Bali using short, feathery strokes. Next, he dabbed Cream Eyeshadow in El Dorado onto my browbone and crease as a base. Using a brush, he applied the left side of Duo Eyeshadow in Kuala Lumpur onto the eyelid and the right side of Kuala Lumpur onto the crease. After blending everything, he added Single Eyeshadow in Galapagos on the upper outer V and lower lashline to smoke out the look. Since I'm already wearing my favorite Makeup For Life Lashes in #Sweet Sixteen on the outer corner of the eye, Austin only added a coat of Larger Than Life Volumizing Mascara before drawing a thin line along my upper lashes with Eyeliner Stylo in Nuits Blanches.
Lips
To balance out the strong eye makeup, Austin wanted to keep my lips simple. He outlined my lips with Lipliner Pencil in Borneo to give them a bit of definition then added Lip Gloss in Ophelia all over. The final step was a dab of Lipgloss in Moon Fleet on the center of the lips for a highlighting effect.
Extra Beauty Tips From Austin
• To create the ultimate dewy look, mix your liquid foundation with NARS Brightening Serum.
• For brow color that looks natural yet lasts, forget the pencil and apply NARS Smudge Proof Eyeshadow Basevonto the eyebrows before filling them in with a powder.
• Since your bone structure can feel different when your eyes are closed, the best way to locate your crease is to put your brush directly into your socket with your eyes
open
.
Thank you Austin for creating this super cool look on me! Remember Check back for pictures of what I picked up!