Eyelid tape is no doubt one of the most popular Asian beauty gadgets and have long been a holy grail for many. They are basically clear strips used to create the illusion of a crease or "double eyelid" so eyes appear rounder and larger.


Who Can Use Eyelid Tape
• Those with a small crease
• Those with a crease
• Those with droopy eyelids
• Those with uneven creases
Those without a crease or have monolids are better off using eyelid glue, unless they are using double-sided eyelid tape. If you use one-sided eyelid tape, it is bound to show.
What Is Available On the Market
• Ones that come in a roll like the 3m Nexcare Blenderm Eye Beauty Tape below
• Ones that are pre-cut to fit the shape of your upper eyelid
• Double-sided fiber sticks and tape
How To Use Eyelid Tape
1. Make sure your eye area is clean and makeup-free. If you want to wear eye makeup, do so after you put on the tape.
2. Based on the curve and length of your eye, cut out a thin strip. Make sure the tape is slightly shorter than the length of your eye so it does not stick out on both ends.
3. Look into the mirror and figure out where your natural crease is.
4. Close your eyes and apply the tape.
5. Open your eyes and blink a few times. If you do not see the tape, good job you did it!

And here comes the question everyone is dying to ask – can I still wear eye makeup with eyelid tape on? Of course you can! In fact, I highly suggest that you do to help cover up the tape. Below are a few tips that would help:
1) Eyeliner along your upper lashline is a must. It will help hide the tape and make your eyes look bigger.
2) If you are worried about the tape showing or have trouble hiding it, try to focus more on your lashes by wearing falsies.
3) When choosing the right eyelid tape, pick one that is non-reflective, transparent and smooth. That way, your eye makeup will go on a lot easier too.
Possible Cons of Using Eyelid Tape
• Saggy skin. Constant peeling of the tape from your eyelid and improper usage can result in skin losing elasticity.
• Irritation and allergic reaction. If you have sensitive skin, wearing eyelid tape may cause irritation.
• Time-consuming. Taiwanese singer Elva Hsiao is reported to spend two hours every day just on doing her eye makeup.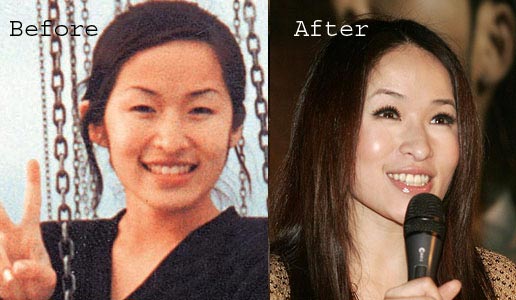 • Slight discomfort. Some people may experience slight discomfort when wearing the tape but it is something that you can get used to.
Product Recs
3m Nexcare Blenderm Eye Beauty Tape
is one of the more popular eyelid tapes in Hong Kong. It comes in a roll and is roughly 0.5 inches thick so you will have to trim it. It is also transparent, non-reflective, waterproof, breathable, easy-to-remove and hypoallergenic. Plus it does not leave behind any adhesive residue and is widely available in Asia. Check it out if you get a chance!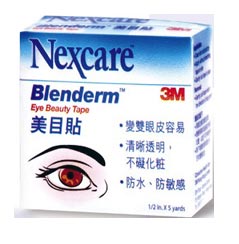 D-Up Wonder Eyelid Tape
is my personal favorite. It is transparent, non-reflective, waterproof, breathable, easy-to-remove and hypoallergenic as well. The best part is it is double-sided and hands down the most natural eyelid tape you will ever find on the market. See a detailed review and before-and-after pics of me using the tape
here
.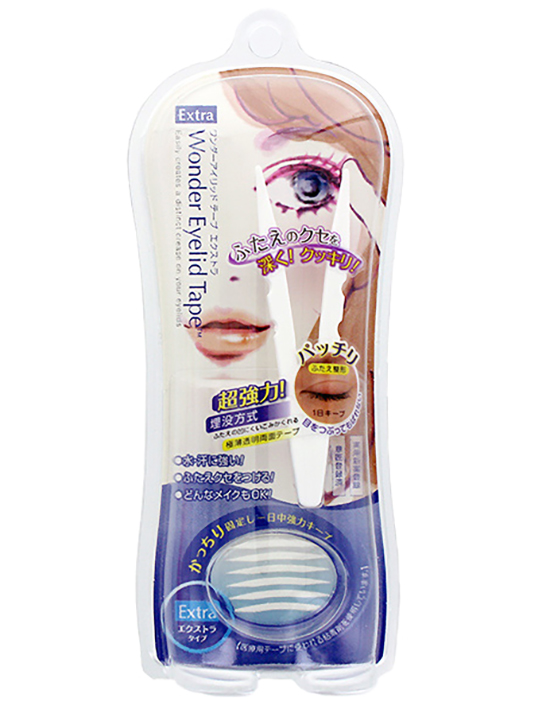 Learn
how to make eyes without a crease look bigger
and see
more celebrities wearing eyelid tape
!
Images: Apple Daily and Oriental Daily.