To brush up on my makeup skills, I attended M·A·C PRO Masterclass: Eras Reinterpreted by Senior Artist Melissa Gibson at Woodfield Mall over the weekend. During the two-hour session, Melissa showed us how to redefine two of my favorite looks, a '20s smoky eye and '60s Twiggy eye, with the use of new techniques and updated products. Keep reading to see a breakdown of the looks and more beauty tips by the pro herself!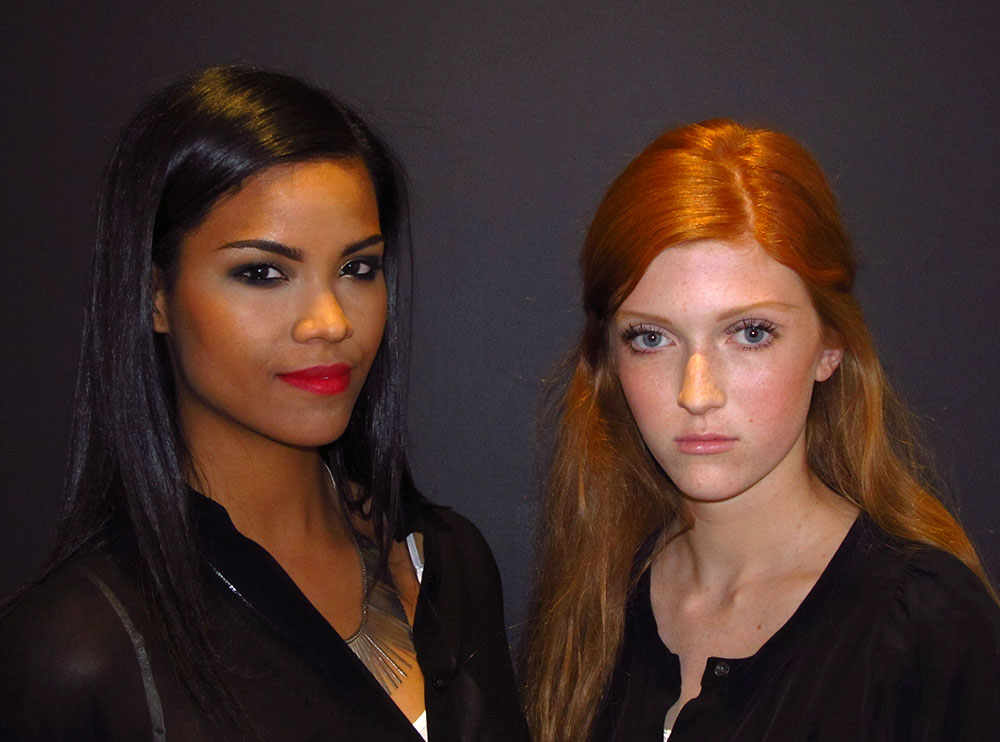 Look #1: 20s Smoky Eye
For the first demo, Melissa drew inspiration from the '20s and created a black smoky eye and red lip on the gorgeous Angela (remember her from
Chicago Fashion Week
and
M·A·C PRO Sculpting The Face Masterclass
?!)
She first prepped Angela's skin by massaging Prep + Prime Moisture Infusion and Studio Moisture Fix into the skin and added a layer of Lip Conditioner onto the lips with a brush. Then, Melissa buffed one of her must-have foundations, Studio Fix Fluid SPF 15, onto the skin with 188 Small Duo Fibre Face Brush in a small, circular motion. She blended Mineralize Concealer onto the undereye area and eyelid (Melissa prefers a concealer in place of a primer) with 217 Blending Brush and skipped powder entirely.
Instead of the rounded, overly tweezed brow you see in the '20s, Melissa decided to work with Angela's natural brow shape. She started by brushing the brow upwards with 204 Lash Brush. Then, using different eyeshadows, she filled in Angela's brow with 266 Small Angle Brush, focusing more on the bottom. Next, using 239 Eye Shader Brush, Melissa patted Blacktrack Fluidline onto the eyelid and softened the edges with 217 Blending Brush. She then added a dark grey shadow, Print, onto the crease with the middle of 234 Split Fibre Eye Blending Brush and patted more Blacktrack onto the eyelid and Carbon Eyeshadow onto the outer corner and crease for intensity. On the lower eye, Melissa added Blacktrack with the 239 brush before blending carefully with a Q-tip. She then rimmed the upper and lower waterlines with Smolder Eye Kohl and blended again with the 239 brush and Q-tip.
To add her own flare to the smoky eye, Melissa blended a warm antique gold shadow, Woodwinked, onto the inner half of the lid for a fade-in effect. She also dabbed the color in the inner and outer corners of the lower eye. Then, she cleaned up the eye area with the leftover concealer from the 217 brush before curling Angela's lashes and added several coats of False Lashes Mascara on both top and bottom.
To finish, Melissa contoured and highlighted with different Mineralize Skinfinishes using 187 Duo Fibre Brush and created a gorgeous red lip with Brick Lip Pencil, Russian Red Lipstick and a touch of Prep + Prime Transparent Finishing Powder/Pressed to set.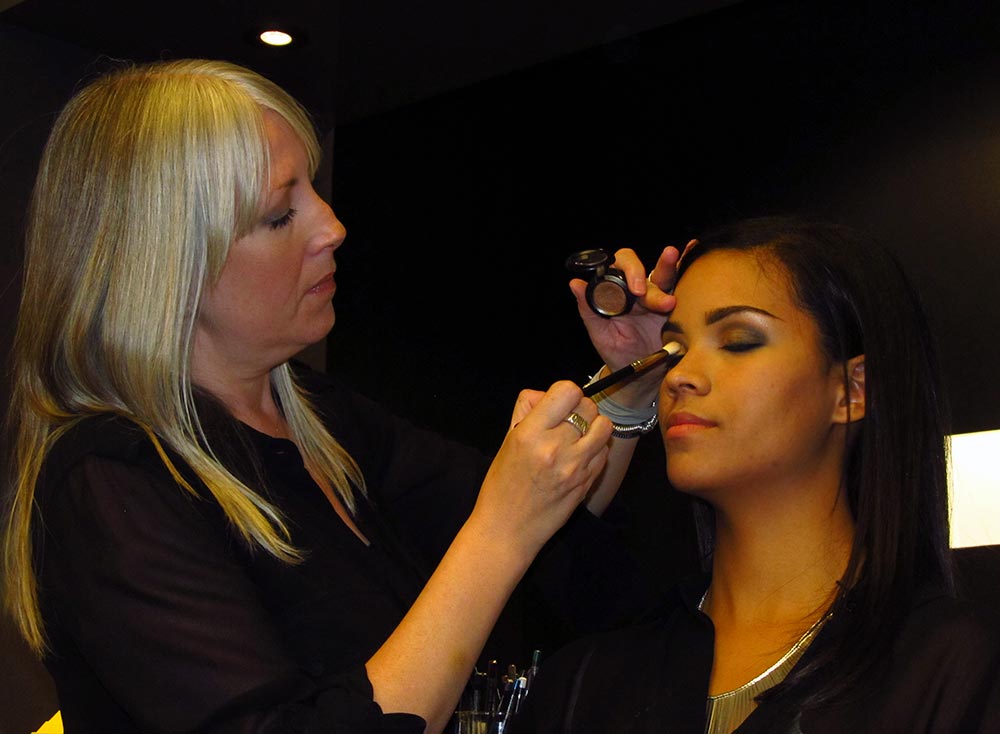 Look #2: 60s Twiggy Eye
For the second look, Melissa decided to bring a twist to the big lashes and drawn-on crease from the '60s on model Brea.
To start, Melissa buffed Strobe Cream and Prep + Prime Skin onto Brea's face with 188 Small Duo Fibre Face Brush. Next, she applied a really thin layer of Studio Sculpt Foundation with 217 Blending Brush and blended it using the 188 Small Duo Fibre Face Brush and her fingers. She also added Studio Sculpt Concealer with 217 Blending Brush as needed.
For the eyes, Melissa again started by running 204 Lash Brush over the brows. She then filled in sparse areas with Fling Eye Brows and extended the line, keeping it thin for a statement that is not too over-the-top.  Using 266 Small Angle Brush, Melissa drew a line above Brea's crease with Blitz & Glitz Fluidline. She then darkened it by patting a grey shadow, Scene, on top of the line with the top part of 239 Eye Shader Brush. To make Brea's eyes look even bigger, Melissa lined the lower eye a little lower than the lashline with Blitz & Glitz and drew on lower lashes on the outer corner of the lower eye with 263 Small Angle Brush. She then highlighted the brow bone, eyelid and inner corner with a touch of Vanilla Eyeshadow, curled the lashes, applied mascara on top and bottom and finished with 33 Lash.
With the eyes being the focus of the look, Melissa kept Brea's cheeks and lips with a soft wash of pink. Using 224 Tapered Blending Brush, Melissa contoured Brea's cheekbones with two different shades of Mineralize Skinfinish. Next, she added one of my favorite blushes, Mineralize Blush in Dainty, onto the apples and brought the color closer to the nose for a flush. Then, she created the most gorgeous highlight by placing Filament Eyeshadow (a platinum silver), on the top of Brea's cheekbones and completed the look with Hue Lipstick painted on the lips.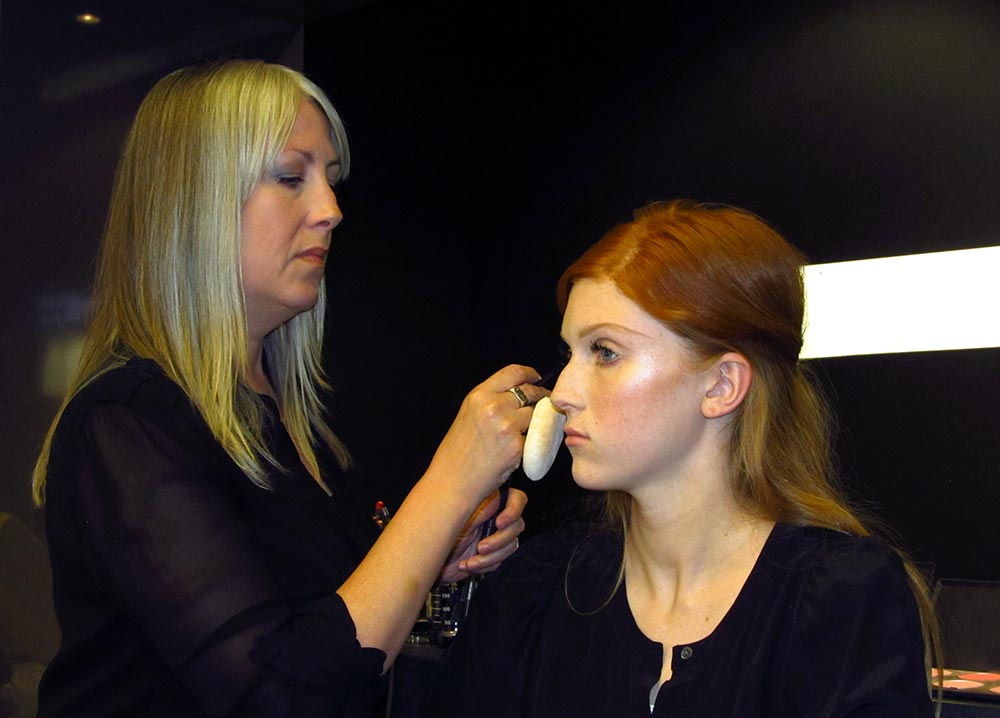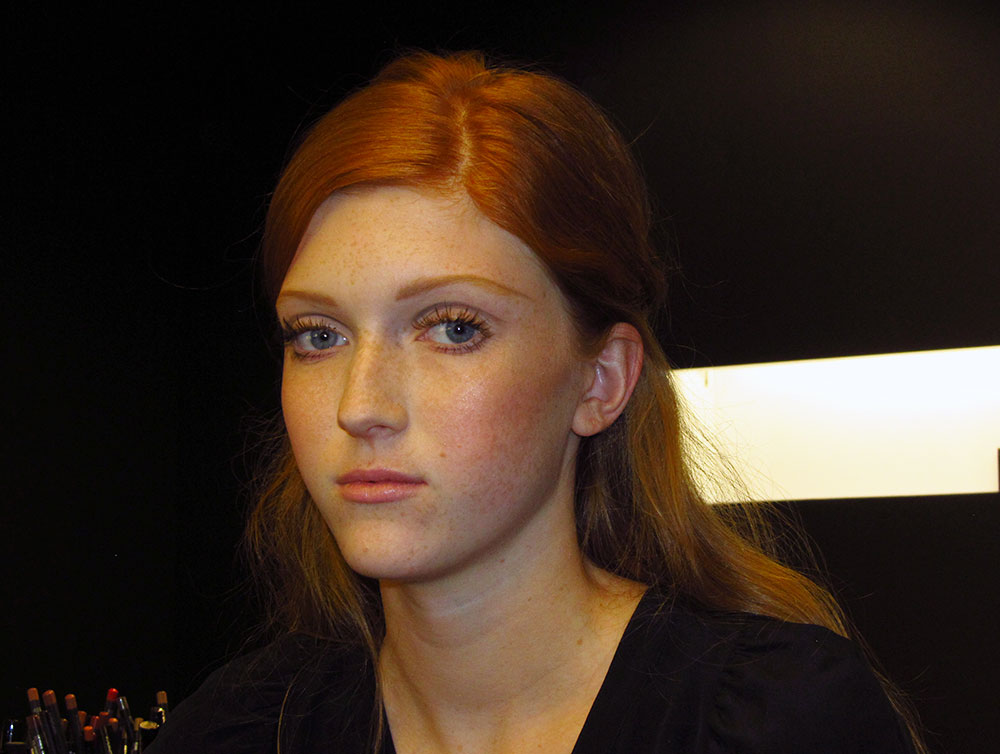 More Makeup Tips From Melissa
• Melissa's top four MAC foundations? Studio Fix Fluid SPF 15, Studio Sculpt (she uses this on EVERYONE), Face & Body and Studio Moisture Tint SPF 15.
• Mineralize Skinfinishes are Melissa's favorites for coutouring and highlighting and to keep them safe during travel, she places shelf liners inside her M·A·C PRO Palettes for an extra layer of of protection.
• As you can see from the demos, Melissa is a fan of using shadow brushes for everything, including foundation and concealer application. Her must-haves are "the ones with the white hair" (217, 219, 222, 239) and 224.
• To get emollient-based products out of her brushes, Melissa swears by dish soap and shampoo but she always uses a conditioner afterwards to keep them from shedding.
• When using fake lashes with a smoky eye, Melissa likes to cover the band of the lashes with Blacktrack Fluidline before she puts them on. To help your fake lashes last longer so you can reuse them, she recommends not applying mascara over them and keeping them safe in the case after each use – exactly what I do to take care of my babies!   
Overall, I enjoyed the class a lot. The looks Melissa created were gorgeous and it was really refreshing to see some of my favorite MAC brushes being used in ways I have never imagined (who would have thought of blending lip liner with the 219?!) If you are a M·A·C PRO member, I highly suggest you check out
macpro.com
for info on upcoming classes in your area.