With an array of uber bright colors that reminds you of pop queen Lady Gaga, the latest MAC Dare To Wear Collection is definitely not for the faint-hearted.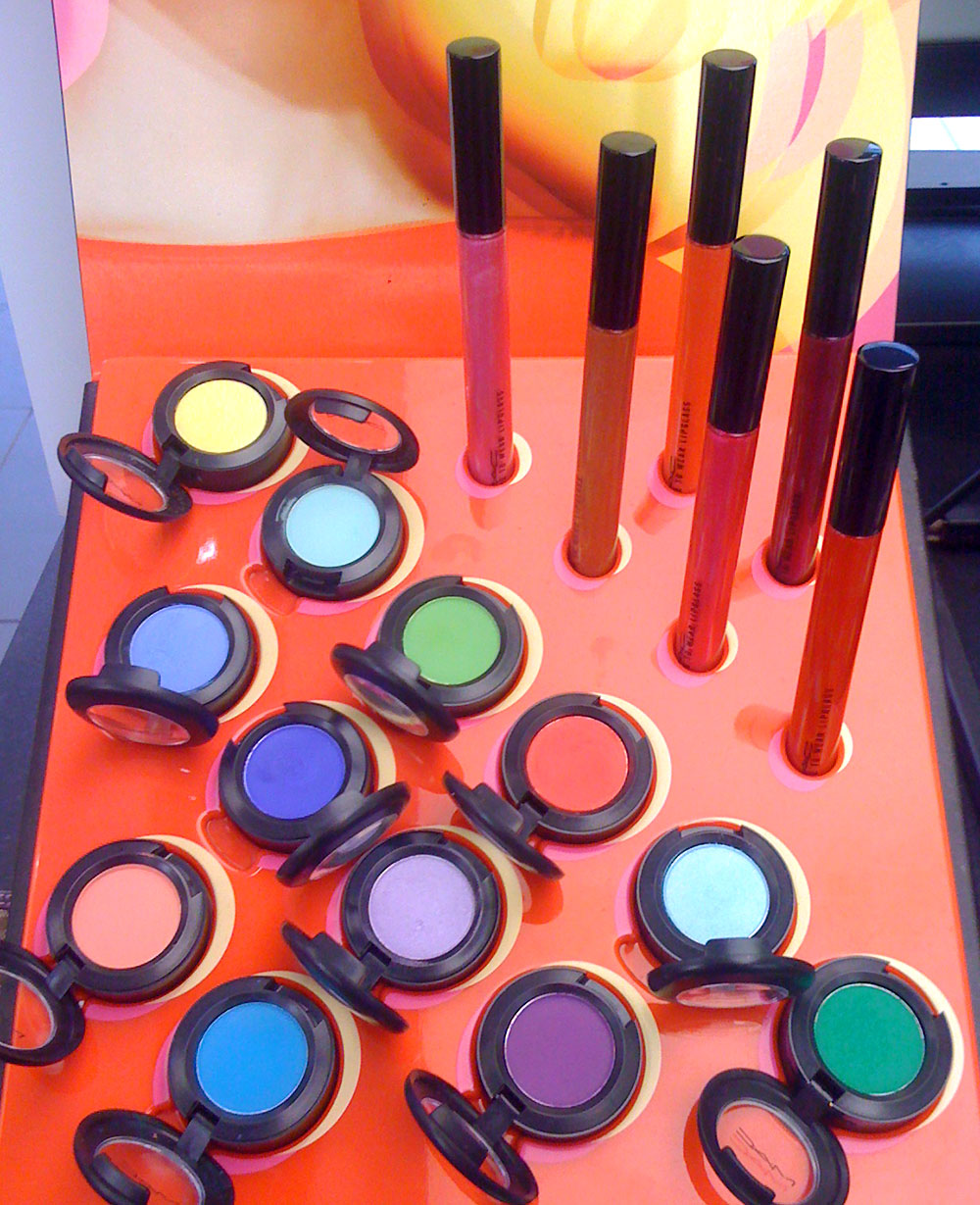 The new, limited edition
Dare to Wear Lipglass
is a new gel formula that provides intense, full coverage color with a holographic pearl finish. They go on really thick with great pigmentation and leave behind a high-shine, metallic finish with LOTS of shimmer. Loves!
•
Ban This!
is a dark purple.
•
Bold & Brash
is a gorgeous bright red. If you like a glamorous red lip, you must get this.
•
Dare to Dare
is a blue-based pink.
•
Gimme That!
is a very bright fuchsia pink that is totally hot! I knew immediately I had to get this after I saw Temptalia's swatches.
•
So Bad
is a salmon orange color. I did not think much it at first but when the MAC artist tried it on me, it reminded me of a more intense, blinged up version of my
Hourglass Surreal Hydrating Lip Gloss
. So pretty!
•
Wind Me Up
is a medium bronze.
As for the
Eyeshadows ($14.50)
, I have really mixed feelings about them. While the colors are all super gorgeous, the color payoff varies greatly. Some of them go on easily without much layering while others feel chalky and barely show up on me. Using a primer or cream eyeshadow underneath and layering the color is a must. Most of the colors, except Going Bananas, Crazy Cool, Louder Please, Sassy Grass and Shock-a-holic, are also permanent. I would suggest you grab the limited edition colors you like first.
•
Louder Please
is a bright red in the Matte formula. It has one of the best pigmentation out of the bunch.
•
Free to Be
is a bright matte coral from the permanent line that is impossible for me to swatch.
•
Going Bananas
is a repromote from the C Shock Collection. It is a frosty soft lemon yellow color with great pigmentation.
•
Sassy Grass
is a matte bright grass green with decent pigmentation.
•
Lime
is a lime green color from the permanent PRO line.
•
Atlantic Blue
is a gorgeous violet blue matte eyeshadow from the permanent line. I really liked the color but no matter how hard I try, I could not get the color to show up on me.
•
Winkle
is a satin cornflower blue from the permanent line. It has really good pigmentation and a very nice smooth texture.
•
Zingy
is a matte sky blue color that is similar to MAC Electric Eel with great color payoff.
•
Aqua
is a light turquoise in the Matte formula from the permanent PRO line. Great pigmentation.
•
Sky Blue
is a frosty light Robin's egg blue from the permanent PRO line. It is a pretty color but lacks color payoff and it took a few layers to show up on me.
•
Shock-a-holic
is a dark royal purple in the matte formula with decent pigmentation.
•
Crazy Cool
is a frosty light silvery lavender color that is lighter than MAC Beautiful Iris. While the color is not the most unique out there, it is a pretty lavender that will work on light skin tones and different eye colors. The Veluxe Pearl formula also gives it very good pigmentation and a smooth texture.
So what do you guys think? You picked up anything?
Disclosure: This review contains products that were purchased by us. It may also contain an affiliate link, which gives us a small commission if you purchase the items. Please see our Disclosure for more information on our posting policy.