Luxury has many faces… Indeed, what's at the core of beauty for Fall 10 is the question: What is luxurious makeup? And since it's certainly not that old pastiche of luxury-opulence-makeup, artists have turned their attention to redefining more classic signifiers of refinement. "It's flirting with luxury on a contemporary face," says Lyne Desnoyers. Call it NeoLuxury… A seamlessly perfect, underplayed natural makeup (Fourply). A red lip (Redd Velvet) or black eye (Satin Eyes) that is at once flawless yet spontaneously chic. Poetically soft shadows that smack of underplayed elegance, not flash flamboyance (Voile Veil)… What's key is a sense of individual enhancement and reality. It's about adding an element of authenticity to even the most perfectly honed makeups. Hence the ubiquity of those subtle tweaks such as a bare lash, a thicker brow, slightly broken texture, nude lips, and skintone highlights. "If everything's too perfect you lose the humanity and the sensuality," explains Stephane Marais…. The fabric of the modern face is changing: time to reconsider the new age of elegance…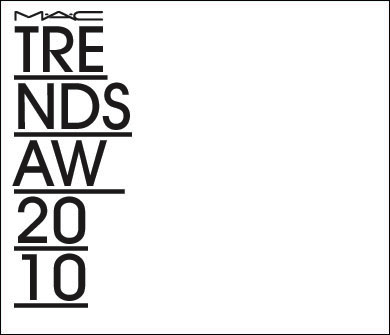 Trend #1: Redd Velvet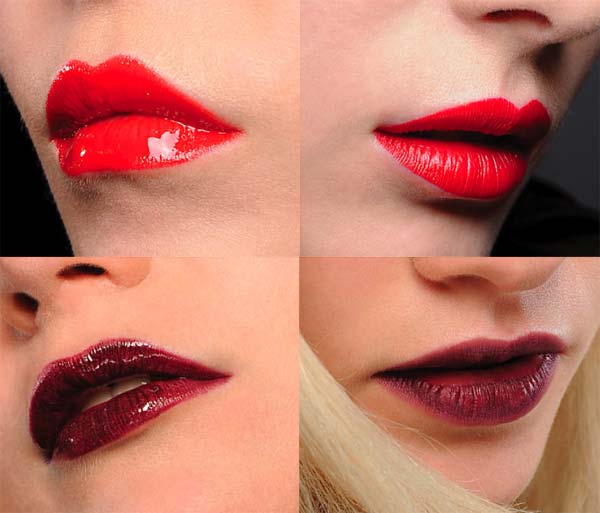 Reworking the classics, and none more so than the red lip is a major idea this season. Looking back to forever gorgeous stalwarts like the crimson mouth, giving it a contemporary edge is an art in itself, and one that Artists absorbed themselves in the challenge for. Tweaking the texture, shifting the traditional shape, amplifying or turning down the density or tone: what started off as past has been swiftly brought back into the present. It's the ultimate perennial lip colour, but this season's red is about taking a formal shade and wearing it in an informal manner. So while a red mouth inevitably smacks of a certain luxury and strength, its impact this time around is one of modern perfection rather than exaggeration or aggressive sexuality…
"Couture. Seductive. Rockabilly. Chic. Gothic. Lady Red has so many personalities." – Tery Barber
"There's a Charlotte Rampling-esque quality to it – strong yet elegant." – Saly Branka
The Kit:
Lip Pencil in Cherry, Lip Pencil in Redd, Lipstick in Russian Red, Prep + Prime Transparent Finishing Powder, Lipstick in Lady Danger, Lipstick in Good to Go, Lipstick in Charred Red, Lipstick in Media, Cremestick Liner in Velvetella, Pigment in Basic Red
Trend #2: Satin Eyes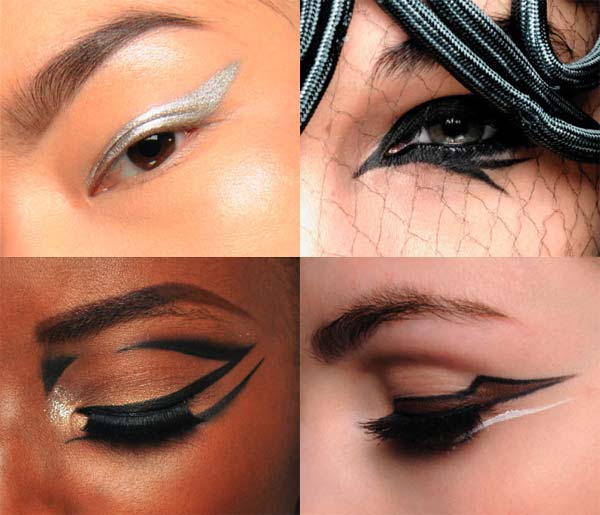 Tweaking the tradition variants of a
black eye
brings it back into focus this season without going down a generically "smokey" route. The rich intensity of a black-edged eye is there, but it's the subtle, unexpected twists that Artists have given it that keep it cool more than classic. Pull out a liner rather than flicking it up, blow out a shadow in a squarer shape and always, always, leave off the mascara. From a simply sleek ribbon of liner to a big-time satin billow of inky shadow, the black eye is back and ready to inspire…
"This trend puts a little bit of theatre back in the face. Put the 'show' back into 'fashion show'! It's a call back to glamour but in a very reworked way… a black eye now is about taking one simple element and tailoring it to the face and working it more playfully." – Gordon Espinet
The Kit:
Eye Kohl in Smolder, Kohl Power Eye Pencil in Feline, Fluidline in Blacktrack, Eye Shadow in Typographic
Trend #3: Voile Veil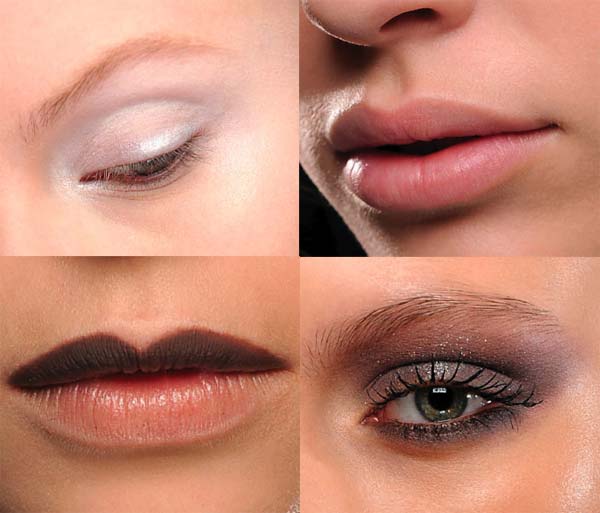 Lineless, shadowy, beautifully blown and blended: The dissipated shadows that graced faces this season have a soft focus and poetic feeling that couldn't be more seamlessly attentive. The antidote to the hard luxury and strict silhouettes on the catwalk, the mellow mood of these shadows gives a simultaneous lightness and intensity to the face. The fabric of this face is all about a chiffon-like halo of soulful shades, blurred boundaries, out-of-focus camera effects, unspecific shapes… capture the vibe of ultimate low-key luxe…
"There's no edges to this makeup." – Georgina Graham
"You can see where these shadows started, but not where they stop…it's about blending into nothingness." – Neil Young
The Kit:
Eye Shadow in Copperplate, Sculpting Powder in Bone Beige, Eye Shadow in Quite Spoiled, Eye Shadow in Greensmoke, Lip Conditioner, Lipstick in To Pamper, Cream Colour Base in Air Force Blue, Mineralze Eye Shadow Duo in My Dark Magic, Paint Pot in Quite Natural, Brow Set in Clear, Eye Shadow in Quarry, 227 Brush
224 Brush, 217 Brush
Trend #4: Fourply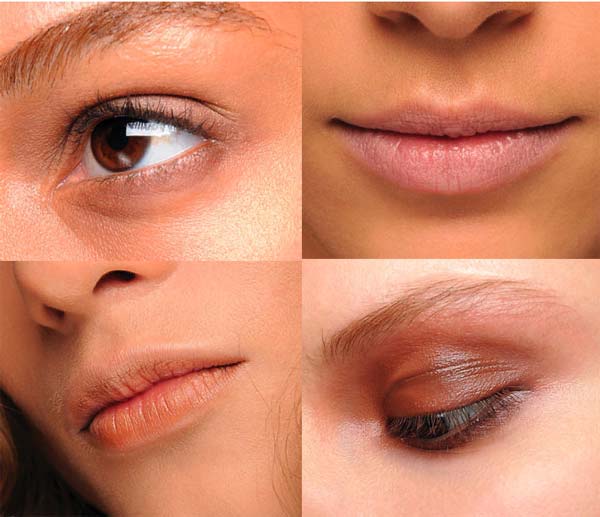 If you're not making a statement with makeup this season, then the new way to do 'bare' steps in. Cue a very nuanced and rich look of texture and colour, pulling from a warmer palette of minky toffee, caramel, tea, ochre and rust that melds into, and seemingly stains, the skin. With a seamless complexion, slight contours, subtle highlights and lushly nude lips as the cornerstones of this look, Artists added a beautifully boyish air with a more masculine brow and a bare lash to give a '90s feel of tonal neutrality: feminine with an androgynous, yet oh-so-touchable side.
"It's a very corseted look; it's about makeup that supports the face." – Terry Barber
"Skin is the ultimate accessory. It's not about masking everything, but rather bringing out and revealing the girls individual natural beauty." – Lyne Desnoyers
The Kit:
Studio Sculpt SPF 15 Foundation, Face and Body Foundation, Blot Powder, Sculpt and Shape Powder in Sculpt, Cream Colour Base in Mid-tone Sepia, Studio Finish Skin Corrector in Ochre and Caramel, Paint Stick in Deep Brown, Lip Erase in Dim, Care Blends Essential Oils, Prep+Prime BB Beauty Balm SPF 35
Credits: MAC.