Moisturizing is one of the most important steps in the Asian skincare regimen. Asian women believe that a "watery", radiant complexion makes a crucial base for good makeup and their secret to achieving that? Applying lotion religiously.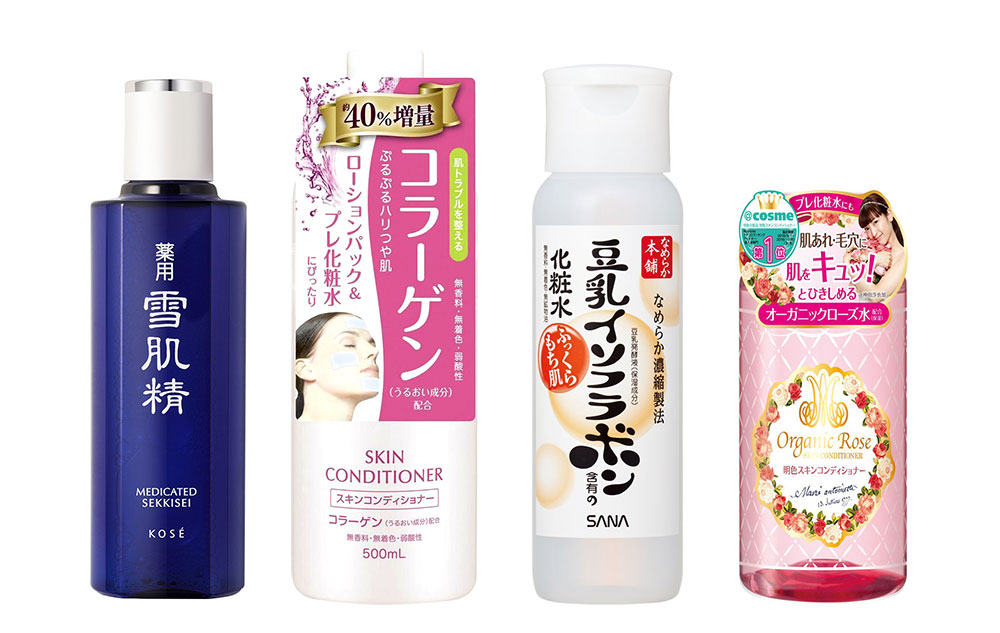 Unlike the regular moisturizers we normally refer to lotion here in the US, "lotion" (化妝水) is a hydrating toner that should be applied after cleansing and before moisturizer. While some people claim that toners are redundant and just another marketing gimmick, I personally can't live without them. If your skin is dehydrated and you slap on layers and layers of moisturizers, they will just sit on top of your skin and not get absorbed. But if you use a hydrating toner to soften the top layer of your skin first, it will help any moisturizer or treatment that follows penetrate better into your skin.
The Proper Way To Apply Lotion/Toner
1. Pour the toner onto a piece of cotton pad and make sure the cotton pad is
completely saturated
with toner.
2. Apply in a patting motion until the cotton pad is dry.
3. Massage the toner into your skin and gently press the palm of your hands onto your face for a few seconds to help your skin absorb the toner.
A good hydrating toner also makes the perfect hydrating mask that is great through out the year. Check out
this old entry
on how to make your own.
Product Recs
Naris Up Skin Conditioner Lotion ($~7)
I have the CO version, which is mostly for moisture. It contains marine collagen to help with skin cell turnover and to keep the skin soft and elastic. Like most hydrating toners, it is clear, fragrance-free and slightly acidic. I apply this on my face every day after cleansing and it makes my skin so soft and supple! Plus at $7, you get a 360ml bottle which is good for 60 uses (it is recommended that you use 6 ml with 4 pieces of cotton pads each time). Thumbs up!
Kose Medicated Sekkisei Lotion ($62)
This oh-so-famous whitening lotion has been around forever and is still one of the best-selling hydrating toners in Asia. It contains Japanese and Chinese herbal extracts, aqua, alcohol, glycerin and more to brighten your skin while keeping it supple and soft. I find the whitening effect to be most prominent in the first couple of weeks. My skin did get more even and supple and my freckles faded a little too. The effect gradually subsided but if you use it religiously, it will keep your skin in good condition. I have been using this on and off for over 10 years now and I always keep a bottle around.
Fancl Lotion ($17.50)
This toner from the Fenatty series contains Fresh Moist Collagen, Sweet Pea extract and a Moist Holding function to keep your skin hydrated, soft and free from environmental damage. The texture is slightly sticker than the Naris Up and Kose lotions but still gets absorbed pretty fast. My skin feels smooth and hydrated when I use this. Like all Fancl products, it does not contain any preservatives, sterilizers, petroleum surfactants, fragrances and mineral oil so it is suitable for all skin types, including those with sensitive skin. The only drawback is the 60-day expiration date. Unless you can commit to using this on a daily basis (which you should anyways), the product may go to waste.
Rosewater
This can be found in a lot of skincare products and its well-known moisturizing and soothing properties makes it the perfect toner for all skin types. You can also find rosewater at most drugstores for less than $10. Highly recommended!