During a quick trip back to Asia, I hauled Aritaum Fresh Power Essence Pouch Pack, a sleeping pack that promises to provide a fresh and radiant complexion.


Unlike most of the sleeping packs I have used, the Fresh Power Essence Pouch Pack comes in a plastic pouch with a cap, making it super hygienic and travel-friendly. Each pouch contains 10 ml of product and is good for at least 3 to 4 uses.
There are 10 different types available to cater to various needs – Soothing, Moisture, Tightening, Peeling, Whitening, Wrinkle, Mugwort, Honey, Collagen and Bamboo Charcoal.
Since anti-aging is my major concern, I ended up with
Collagen
, which contains 20,000 mcg of collagen to enhance skin elasticity, and
Wrinkle
, which is formulated with ceramides and cocoa extracts to nourish and protect skin.
Both sleeping packs were heavily scented like most Korean products. The Collagen felt like a lotion while the Wrinkle was thicker, like a rich moisturizer. They sank into the skin within minutes and left behind a slightly tacky finish that went away after a while.
Right away, my dehydrated combo skin felt plumped up and really soft. However, the results did not last long. Once I rinsed off the following morning, my skin was back to normal. What a bummer!
Overall, Aritaum Fresh Power Essence Pouch Pack was a decent temporary fix for those dry skin days. But I would not recommend using it to treat dryness in the long run.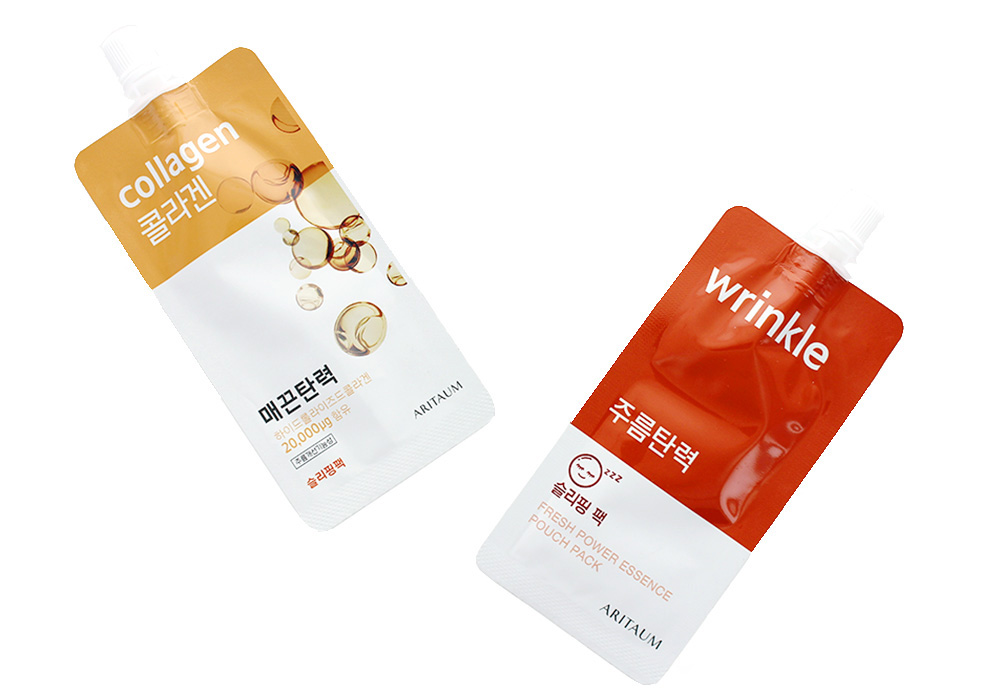 Aritaum Fresh Power Essence Pouch Pack is available at
aritaum.com
for $1.10.
Disclosure: This review includes products that were purchased by us. It may also contain an affiliate link, which gives us a small commission if you purchase the item. Please see our Disclosure for more information on our posting policy.