This summer, the iconic NARS Lip Gloss gets a makeover in a sleek packaging, revamped formula and brand new shades.
Compared to the old version, the reformulated
NARS Lip Gloss
comes in a completely clear and uber sleek-looking tube just like the Larger Than Life Lip Gloss. Although the tube is now a tad longer, it contains 0.18 oz of product instead of the prior 0.28 oz. The applicator is the same doe-foot type but with a slightly longer wand and was super easy to use.
The improved formula contains nourishing ingredients including Sea Lavender to hydrate, smooth fine lines and fight aging. It felt great on my dry lips and very lightweight. But the best part was the insanely huge color selection, including 23 existing and 7 new shades that ranged from clear, the lightest pinks, nudes and beiges to bright orange, fuchsia and deep reds and also in various finishes (creamy, metallic, shimmery and sheer).
Here's a quick look at the different colors:
• Turkish Delight – Pink sherbet
• Istria – Pink glacé (new)
• Chiahuahua – Sheer guava
• Stella – Muted raspberry
• Angelika – Cotton candy pink with gold particles
• Stolen Kisses – Sparkling caramel pink
• Belize – Pink mauve with flecks of gold
• Giza – Sheer nectar
• Sweet Revenge – Sheer pink grapefruit
• Dolce Vita – Sheer dusty rose
• Supervixen – Sheer sparkling mauve
• Striptease – Candlelight nude
• Greek Holiday – Sparkling pink sand
• Orgasm – Peachy pink with shimmer
• Sweet Dreams – Pink grapefruit with sugary shimmer
• Ophelia – Strawberry nectar
• Tasmania – Pink cantaloupe (new)
• Super Orgasm – Peachy pink with gold glitter
• Salamanca – Pink flamingo (new)
• Wonder – Sheer mandarin orange with pink and gold shimmer
• Easy Lover – Ultra-sheer hot pink
• Priscilla – Shocking pink (new)
• Eternal Red – Bright orange-red (new)
• Scandal – Sheer crushed cherry
• Triple X – Clear, super-shiny, ultra-wet gloss
• Risky Business – Warm raspberry
• Misbehave – Sheer cherry red with gold shimmer
• Rose Gitane – Sheer sangria
• Quito – Bright strawberry pink (new)
• Sixties Fan – Pomegranate (new)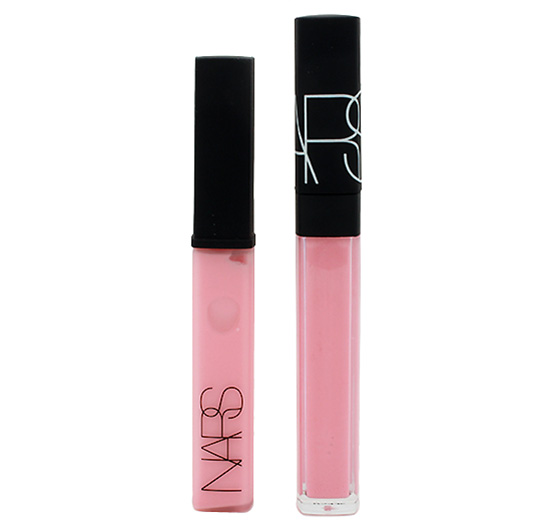 NARS Reformulated Lip Gloss is available now at NARS Boutiques and narscosmetics.com for $26.
Disclosure: This review includes products that were provided by the manufacturer/PR firm for consideration only. It may also contain an affiliate link, which gives us a small commission if you purchase the items. Please see our Disclosure for more information on our posting policy.