This spring, NARS Cosmetics launches NARSissist Eye Palette, a limited edition eyeshadow palette with 15 shades that range from light neutrals to dark smoldering shades.
The palette measures 6 1/4 inches by 3 1/4 inches. Each shadow is roughly 1 inch by 1/2 inch and contains 0.003 oz of product, which is less than 1/10th of a regular full sized single shadow (0.07 oz).
All About Eve I is a shimmery flesh-toned neutral.
Madrague II is a sheer light caramel color with matte finish.
Fez is a shimmery warm bronze.
Bali is a matte neutral brown.
Coconut Grove is a matte cool-toned dark brown.
Madrague I is a matte cream that is very close to my NC30 skintone.
Nepal is a shimmery light peach.
Ashes to Ashes is a shimmery taupish brown with just a hint of violet.
Brousse II is a smoky brownish violet with shimmer.
Mekong is a blackened brown infused with warm gold glitter.
Bellissima I is a shimmering white with gold glitter.
Lhasa is a cool-toned taupish gray with a hint of purple and fine shimmer. More of it here.
Bad Behavior is a cool-toned steel in the Cinematic formula from the Guy Bourdin Collection. More of it here.
Dogon II looks like a deep blue with very fine green shimmer in the pan but shows up a satin dark charcoal with very subtle green shimmer. More of it here.
Pandora II is a matte black.
One thing I loved about the palette was the color selection. Not only do you get a wide variety of shades that complement each other well, they also work as shadows, liners, highlighters and even brow colors on my NC30 skin. I can literally just use this one palette, add mascara, blush and foundation and am good to go!
The quality of the shadows though was mixed. While most applied smoothly with excellent color payoff (All About Eve I, Fez, Nepal, Brousse II), others required a bit of build up and some were chalky and left much to be desired (Madrague I and II).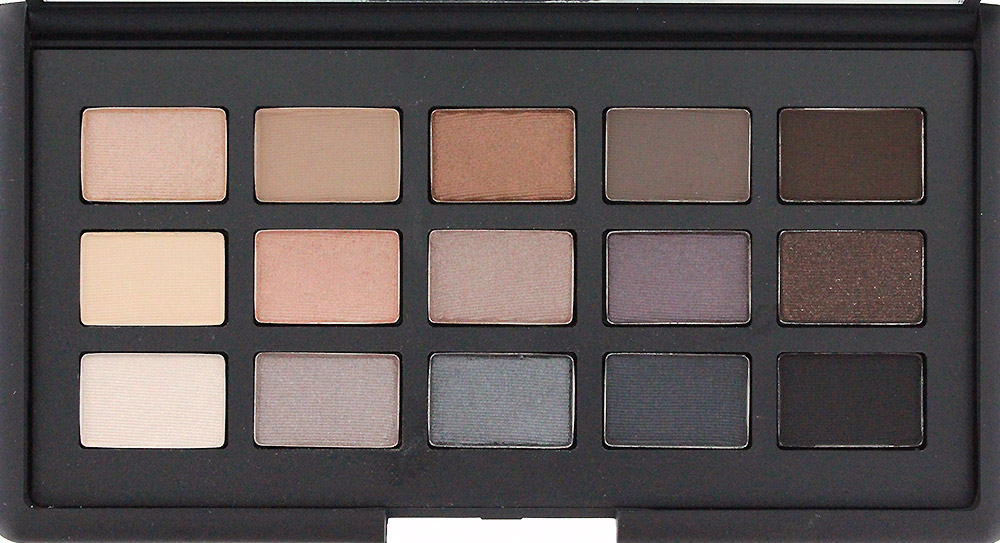 NARS Narsissist Eye Palette is available at narscosmetics.com, Sephora and Nordstrom for $79.
Disclosure: This review includes product that was provided by the manufacturer/PR firm for consideration only. It may also contain an affiliate link, which gives us a small commission if you purchase the item. Please see our Disclosure for more information on our posting policy.