At Helmut Lang A/W '14, models were given a wash of burgundy on the eyes and muted lips with a graphic ponytail and nude nails.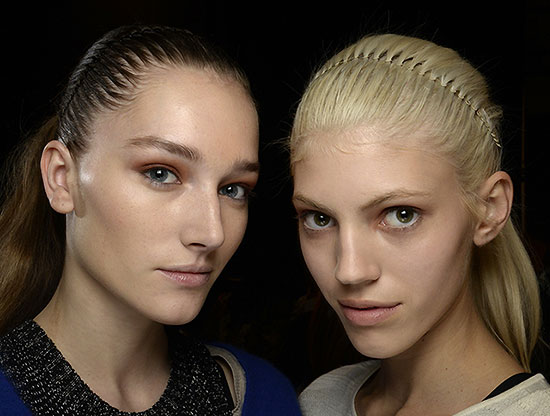 Makeup
"The Helmut girl this season is tough and masculine with a refined polish," said makeup artist Hannah Murray working for NARS Cosmetics. "I loved the idea of a rich burgundy wash on the eyelid giving a hint of punk in a very beautiful minimal way."
Face
• NARSskin Total Replenishing Eye Cream
• NARSskin Luminous Moisture Cream
• Pure Radiant Tinted Moisturizer
• Copacabana Multiple
Cheeks
• Orgasm Blush
Eyes
• Deborah Audacious Lipstick (New for Fall 2014, for now try Pigalle Semi Matte Lipstick)
• Heat Pressed Powder
Lips
• Stick Concealer
Nails
Julie Kandalec for essie created a chic nude by layering allure and ridge filling base coat over adore-a-ball to give a slightly sandy hue to the final color.
Hair
Inspired by the abstract aerial prints of the lunar landscape that featured in the collection, Wella Professional Global Creative Director Eugene Souleiman created an ultra-matte ponytail with a graphic edge to the front. "I wanted to create a hair look that was technical and almost geological in feel, to complement the textures and patterns of the collection. I felt that the hair needed to be both abstract yet precise and I wanted to incorporate different textures in to the same hair look," said Eugene.
1. Start with freshly washed and conditioned hair using Wella Professionals Brilliance Shampoo and Conditioner.
2. Next, blow dry the hair away from the face, keeping it flat to the head and avoiding too much volume.
3. Once the hair is completely dry, section the hair over the crown from ear to ear and create a pony tail in the middle of the head. Secure with elastic.
4. Next, take the front section of hair and bush it back away from the face then, using Wella Professionals Ocean Spritz Beach Texture Spray, spray the roots of the hair to add some texture.
5. Then take a spring comb and cut it to fit the front of the head, from ear to ear around the hair line. Push the spring comb gently back through the hair to create 'grooves' in the front section of hair.
6. Brush the remaining hair back and tie in to the existing ponytail to create one pony tail in the middle of the back of the head.
7. Finally, spritz the pony tail again with Wella Professionals Ocean Spritz Beach Texture Spray to create a raw, matte texture.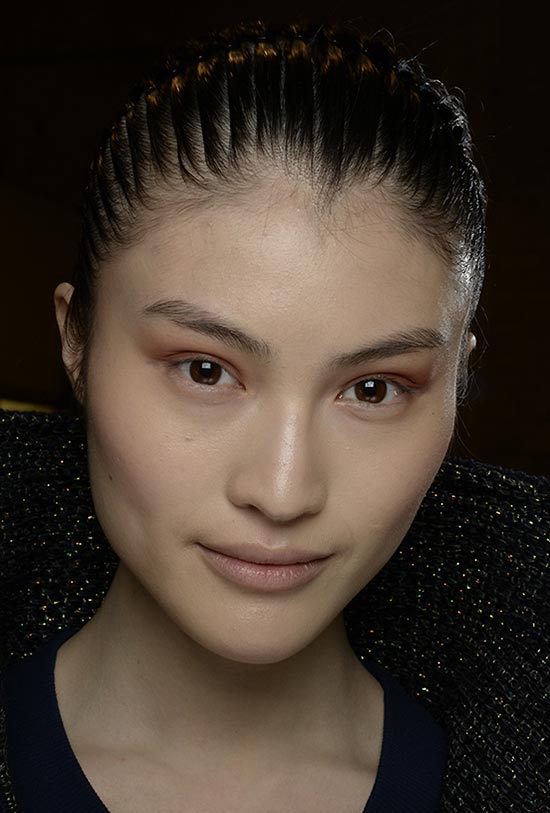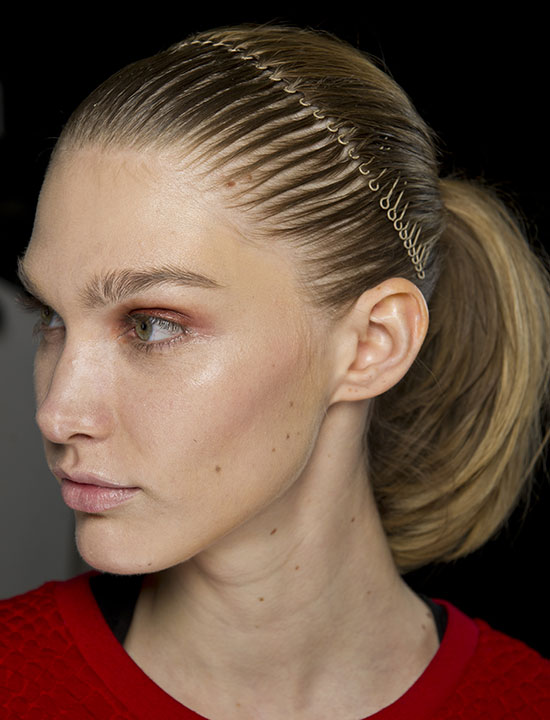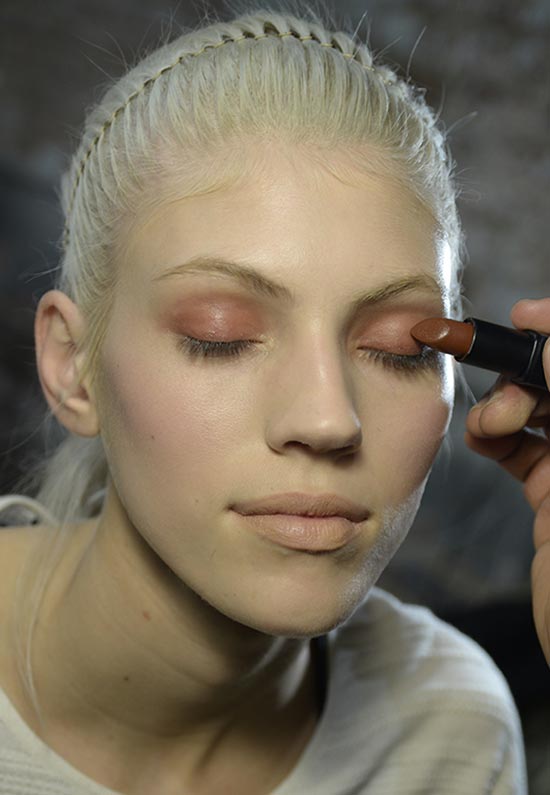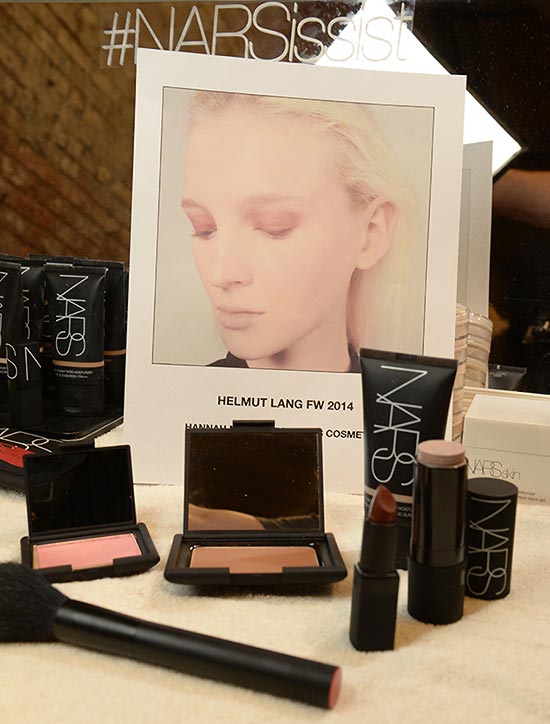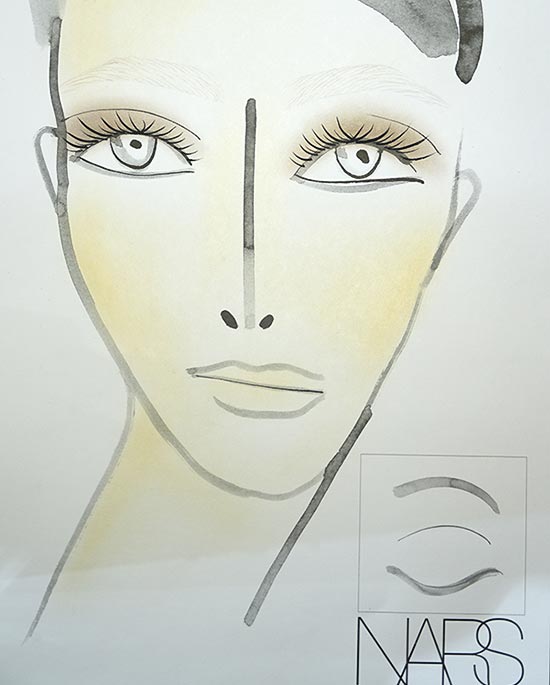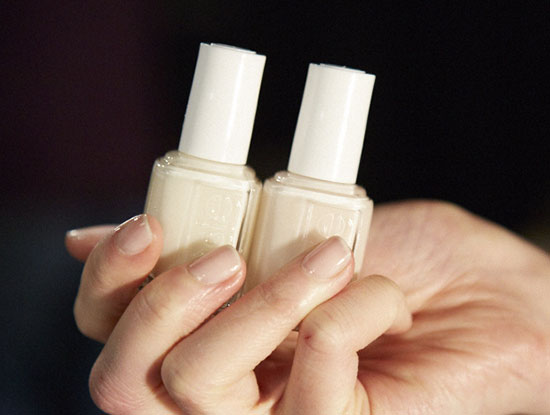 Images: Courtesy of NARS, essie and Wella.