For Fall 2013, NARS Cosmetics launches Eye Paint, a gel eyeshadow/eyeliner that touts an 18-hour wear, weightless yet hyper-saturated formula.
Like your typical gel eyeliner, the Eye Paint comes in a clear glass pot with a lid to prevent the product from drying up. There are 10 shades available, including your everyday neutrals in matte and shimmer finishes, metallics and brights:
Black Valley is a matte black. Identical to MAC Blacktrack.
Mesopotamia is a matte brown with slightly red undertones.
Transvaal is a matte medium cool-toned grey.
Solomon Islands is a matte bright turquoise blue. Very similar to MAC Blue Peep Fluidline.
Tatar is a black with purple shimmer.
Ubangi is a black with blue shimmer. Similar to NARS Night Flight Eyeshadow applied with a base.
Snake Eyes is a black with green shimmer. Similar to NARS Night Porter Eyeshadow applied with a base.
Interstellar is a metallic silver.
Iskandar is a metallic gold.
Mozambique (not featured in this review) is a matte olive.
The Eye Paints had an awesome consistency that felt super creamy and glided on like butter. They blended easily but tend to set pretty fast so you must work quickly.
The pigmentation was superb and I was able to get a solid line in one stroke with most colors. The metallics (Interstellar and Iskandar) were the most intense and literally applied like liquid metal, while the shimmery ones (Tatar, Ubangi and Snake Eyes) felt wetter and could use a second layer to build the color.
The wear, the most important thing I look for in a gel-based product, was exceptional! I was able to get over 12 hours of wear in the 80F summer weather with no smearing or smudging AND no primer underneath. I would also assume the product was water-proof since it required an oil-based remover – not running warm water – to come off completely.
More pics!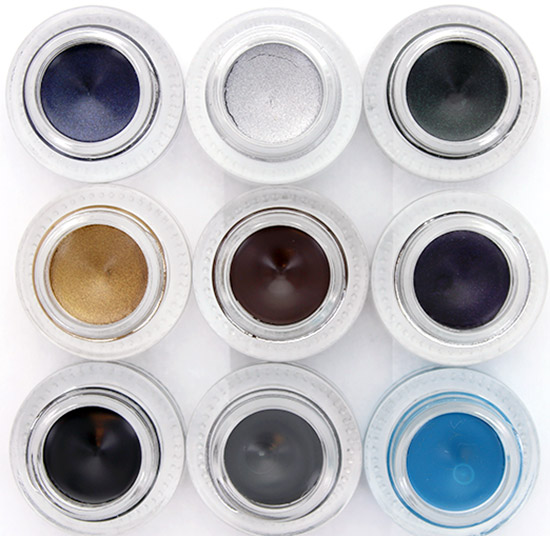 NARS Eye Paint is available at narscosmetics.com for $25.
Disclosure: This review includes products that were provided by the manufacturer/PR firm for consideration only. It may also contain an affiliate link, which gives us a small commission if you purchase the items. Please see our Disclosure for more information on our posting policy.