Barefaced androgyny… red lips… intense eyes… stained colour… matte vs gloss… the building blocks of this season's trends don't necessarily sound like anything new. Put them in the perspective of FALL 2011's most pervading attitudes, though, and suddenly they're fresh again…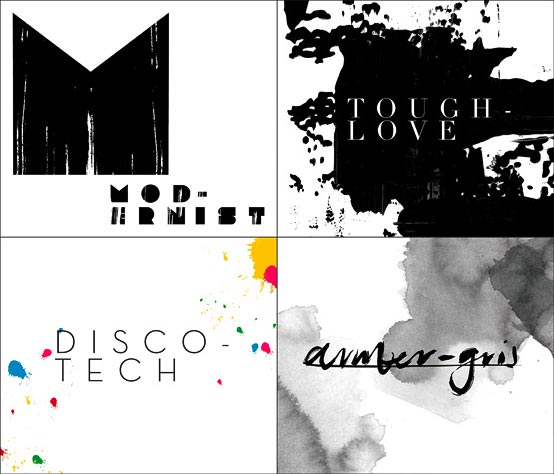 Mod-Ernist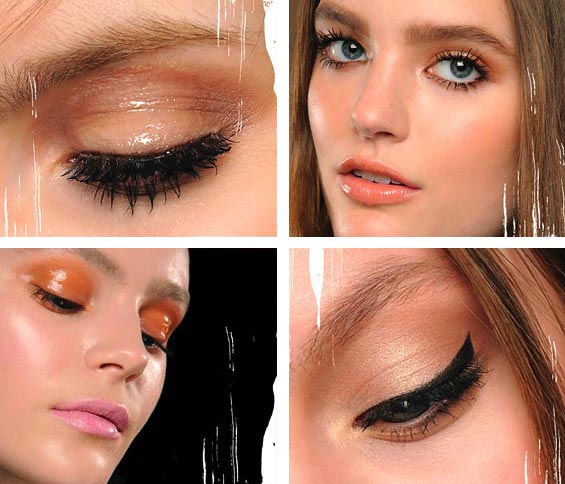 Every season something of a retro influence seems to come to the fore: designers and makeup artists alike have rewound a decade from last season's Seventies obsession to rework a Sixties aesthetic through modern eyes.
Think beige, think lashes, think a little bit mod and feline, but fast-forward rapidly on texture and treatment: this is makeup that looks quite minimal but is certainly not effortless.
Keys to avoiding a pastiche retro rehash? Astute high-tech skin finishes are what it's all about, with featherweight foundations, highlighters, super-sheer powders and an abundance of gloss (lids, cheekbones, lips…they've all got a luminescent look this season…) used to an effect that's flawlessly polished. Artists are also unanimous in a stronger brow, zero blush and, when doing a lash, keeping it on the feathery side.
As Val Garland said backstage at Moschino Cheap and Chic "what started off with the idea of a Sixties Brigitte Bardot was brought back to a young modern Lolita.": it's about channeling the spirit of the Sixties but not being literal about it.
"Ideally a perfect and pared-back base work in conjunction. The objective with this look is not to see any base but to give the impression of having flawless skin." – Lisa Butler
Tough-Love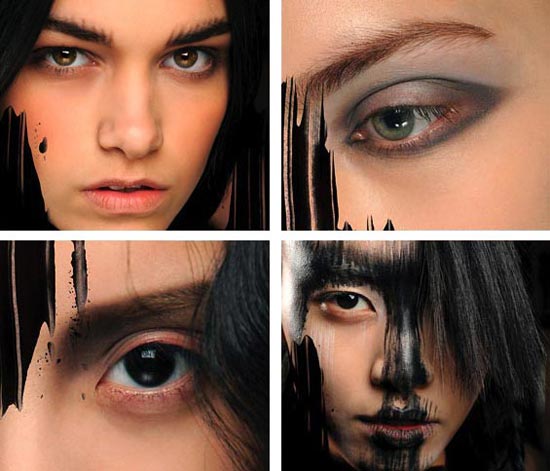 Boy-girl isn't a new concept in beauty or fashion, but it's certainly back in force for AW2011. But barefaced androgyny – all bare lashes, hollow cheekbones, honed skin and a nothing-y lip – is just one side of the story this season.
The other: a hard, strictly (and rather chicly beautiful) approach, focusing in with masculine attitude on one singular statement: a hard-ass brow…a Newton-esque matte lip… a severe, warrior-accented eye. Samurai… dominatrix… strict: all buzzwords when it comes to the inspiration behind this direction.
While last season's minimalism had an artless effortlessness to it, the new take on a minimal feel is more considered, technical, harder. Not that it's alien or overly synthetic about this constricted, constructed beauty. Whether nonchalantly, restrictively bare, or clinically, architecturally assertive, this is a punchy beauty trend that's definitely within the realm of chic and powerful. As Lucia Pieroni said at Missoni "they're kick-ass cool girls…"
"It's the spirit of Charlotte Rampling and Kate Moss, not so much in the way they do their makeup, but more in their attitude of raw sexiness. They're not afraid." – Lisa Butler
"There's definitely a play on masculine-feminine this season." – Tom Pecheux
Disco-Tech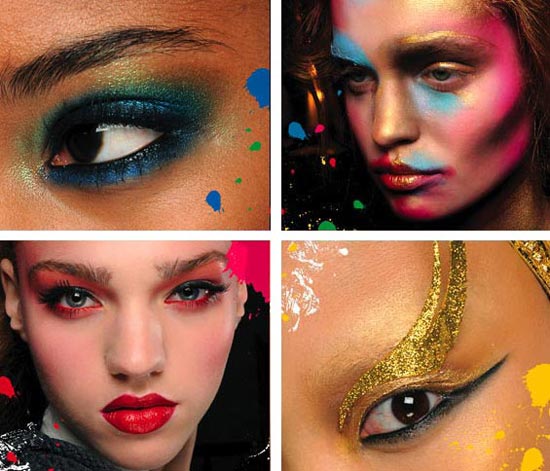 Artists are "flirting with something very decadent again this season…exploring a mannequin-like beauty that is super-done," explains Terry Barber of AW2011's tendency for excess in all areas: attitude, influence, execution… all taken with a heavy pinch of hedonism.
Think indulgently dark eyes paired with an opulent mouth…an over-the-top outré lip (too much pigment or too much gloss is never enough)… out there colour combinations…a conceptual, limitlessly creative approach to colour and texture….
All pulled together with products and application that are technologically and technically perfect, this is beauty at its slightly Surrealist best: big on impact, but "seamless rather than heavy," concludes Terry. "It's the idea of 'done'… but very well-done…."
"Initially it's about beautiful skin…but then injecting colour onto the face in an untraditional manner." – James O Riley
Amber-Gris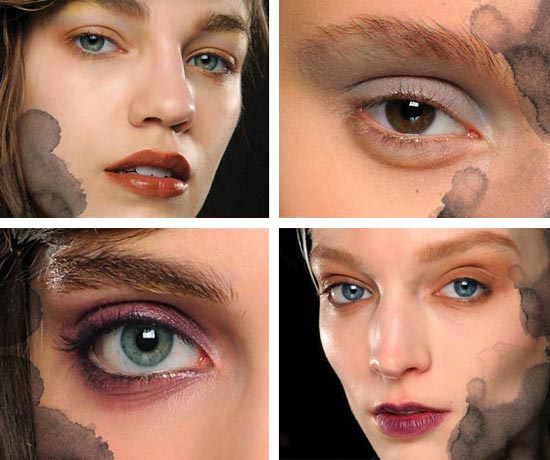 Amber to grey…and every shade of rust, rose, sand, bark, ochre, lavender, burnt gold and chinchilla in between. A palette of twilight shades, applied in stains and lineless washes, directs this season's take on softer-edged makeup, albeit inflected with an urban edge (it's cool and contemporary, not country prairie-girl).
Citing muses and moods that are all about a poetic, artistic vibe, A/W2011's more emotionally graceful makeups are founded on an Impressionist-like approach to colour, using a palette of sensitive shades to invoke a mood more than anything else.
Emerging as a new take on monochrome (we're seeing the same subtle shades picked out on eyes as well as lips – it's a step-up on completely natural makeup with a more artistically-driven motive than simply looking 'fresh' or 'romantic.'
Rubbed on. Purposefully imperfect. A little bit smudged…this is makeup that's about being poetically experimental with your palette and feeling it with your fingers, not brushes….
"They're all colours that are naturally present in the skin's tone – including everything from flesh, amber and brown to purples, khakis and greys…. They enhance rather than dominate the face, conveying mood more than a definitive feel of 'makeup'." – Lyne Desnoyers
"There's a subtle playfulness, sensuality and youth to it… and while it's using colour, it's not about the makeup, it's more about the personality of the girl." – Tom Pecheux
Credits: MAC.