My skin has always been pretty clear but for the last 2+ months, I have fallen under the curse of clogged pores. Out of nowhere, these nasty little white bumps (milia perhaps?) cropped up on my cheeks right next to my nose. Regardless of how much I exfoliate and try to extract them, they just kept coming back. Out of desperation, I decided to return to my favorite SkinCeuticals Retinol. Only this time, I upped the potency to the maximum strength, 1.0%.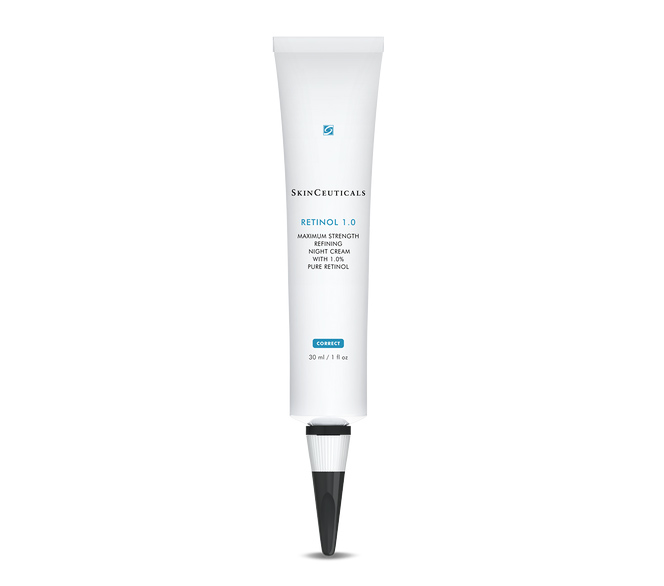 Just like the Retinol 0.5%, the
SkinCeuticals Retinol 1.0% Refining Night Cream
utilizes a dual protection/time-release system to help stimulate cell regeneration and build collagen to diminish the appearance of fine lines, wrinkles and age spots from both photo- and intrinsic- aging. Additionally, it helps minimize the appearance of pore size, while correcting blemishes and blotchiness often associated with problematic skin.
Since retinol can increase your sensitivity to sunlight, I always apply it after I remove my makeup at night. I use one pump, which gives me roughly a pea-sized amount. The texture is very light-weight and the product sinks into my skin immediately.
To see how effective the Retinol 1.0 % is, I started a journal documenting my experience. Below is what happened during the first week:
Day 1 and Day 2: I used one pump for the whole face, applying it first on the bumps before using the remaining product on the T-zone and the rest of my face. The next morning, I woke up to smoother skin and the clogged pores seemed a little smaller. Zero irritation or side effects so far. Yay!
Day 3: My skin is feeling much smoother and my pores definitely looked smaller. I noticed some flakes on my cheeks and T-zone so I added my favorite Embryolisse Lait-Crème Concentrè over one pump of the retinol to help soothe the skin.
Day 4: Uh oh, the irritation has finally started. The areas where I applied the most retinol (the bumps and the T-zone) are starting to peel and sting. I kept applying the Embryolisse throughout the day and did not use the retinol at all.
Day 5 and Day 6: My skin is a complete wreck! It is flaky, red and just feels raw (ouch!) I have been applying the Embryolisse once every 2-3 hours and have also switched over to a sunscreen with higher SPF. Not using the retinol.
Day 7: Still got a little bit of flakes here and there but the redness has faded. My pores are almost invisible and my skin feels and looks firmer too. As for the bumps? Completely gone! Can't wait to start using the retinol again in a few days!
Update on 9/28/11: Once the irritation subsided, I started to go back on the retinol. Only this time, I decided to gradually ease my way back in. I started out with a pea-sized amount once every 3 days then eventually increased the frequency to once every 2 days. It has been almost four months since I started using this on a regular basis and my skin has been so soft and smooth! The evil milia has never returned either! Yet another rave from SkinCeuticals!
Have you tried SkinCeuticals Retinol 1.0% Refining Night Cream or any other retinol products? How was your experience? Did you experience any peeling? Share with us!
Disclosure: This review contains product that was purchased by us. It may also contain an affiliate link, which gives us a small commission if you purchase the item. Please see our Disclosure for more information on our posting policy.