Created by Hollywood celebrity makeup artist Bethany Karlyn, PRTTY PEAUSHUN (pronounced Pretty Potion) Skin Tight Body Lotion is the must-have product celebrities like Rihanna, Leona Lewis and Cate Blanchett rely on to get skin that glows.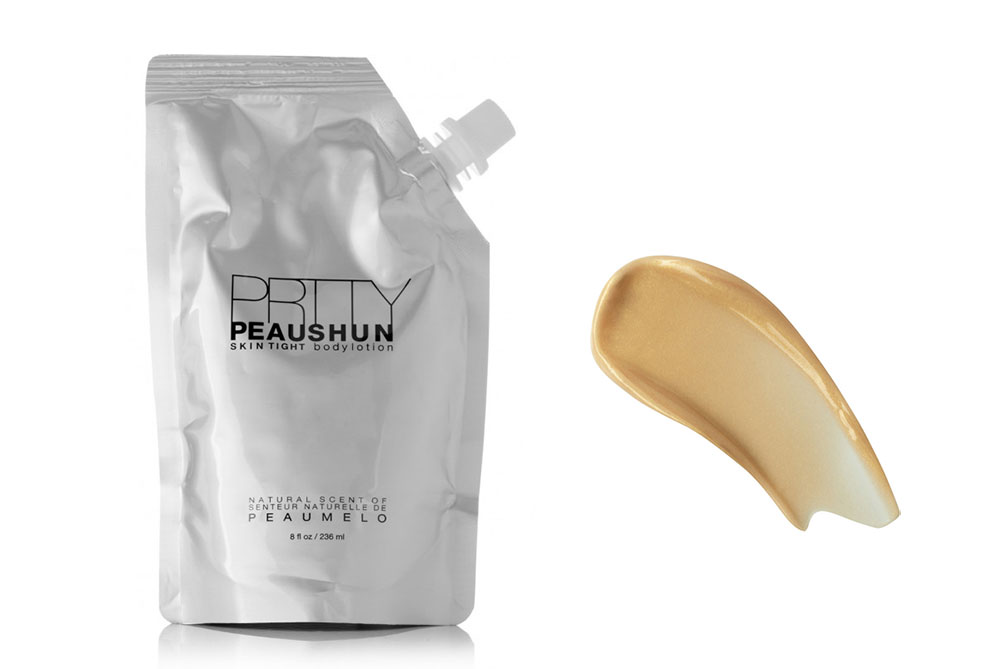 The Skin Tight Body Lotion contains a 92% base of natural raw ingredients like arnica, green tea extract, avocado oil and grapefruit wax along with light reflecting pigments to even out skin tone, enhance muscle tone and diminish the appearance of cellulite, bruising and minor imperfections. The product can also be used under foundation on the face to create a subtle glow.
There are 5 shades available – Plain, Light, Medium, Dark and Deep Dark – to suit a variety of skin tones. I was sent
Medium
, which is a gorgeous golden color.
The lotion has a watery texture that resembles that of a liquid bronzer. It feels very lightweight, sinks in super fast and gives my NC30 skin a nice, golden glow with fine shimmer. It also wears well and does not rub off onto clothes.
Another thing I loved about Prtty Peaushun is the "anti-packaging". Not only does it save room in your bathroom and landfills, it allows you to squeeze out every last drop so nothing goes to waste.
Can't wait to try a darker shade for a bronzed look!
The PRTTY PEAUSHUN Skin Tight Body Lotion is available at www.prttypeaushun.com for $36.
Disclosure: This review includes products that were provided by the manufacturer/PR firm for consideration only. It may also contain an affiliate link, which gives us a small commission if you purchase the item. Please see our Disclosure for more information.