The inspiration behind Dolce & Gabbana Spring/summer 2014 was an imaginary journey to rediscover ancient Sicily. To translate that into beauty, makeup artist Pat McGrath used a combination of warm golden tones alongside rich red accents on the models while hairstylist Guido created an ultra-feminine, soft braided updo pinned with gold coins, flowers and other hair accessories.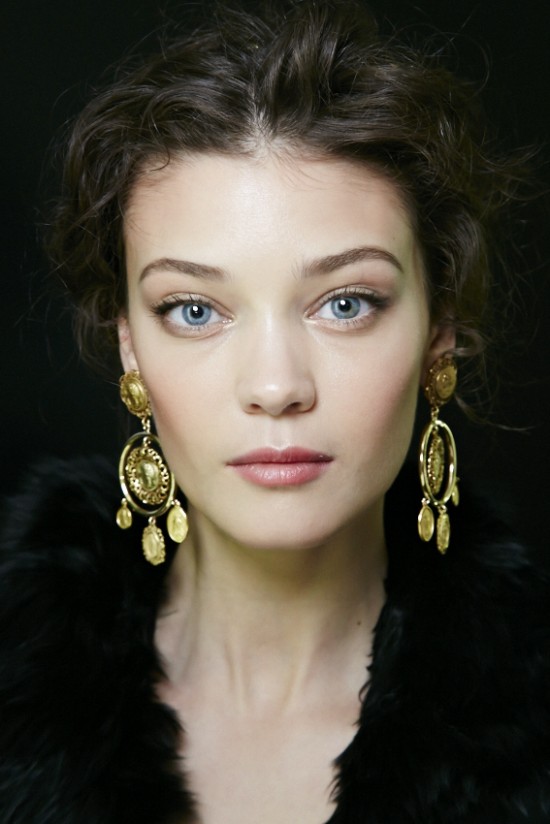 Face
To achieve a flawless base, Pat applied Dolce & Gabbana Perfect Luminous Liquid Foundation using the foundation brush. She started with a small amount of the foundation, applied to the forehead, nose, cheeks and chin and blended it from the central point of the face outward, until the product flowed seamlessly to the hairline and jaw. Dolce & Gabbana Perfect Luminous Concealer was then used to add extra coverage and achieve an illuminated look, especially under the eyes. Finally, Pat created a veil of perfection with a dusting of the pressed powder on the nose and chin. To complete the face, Pat blended Dolce & Gabbana The Blush in Rosebud, Apricot and Peach, adding a light smudge of the eyeshadow duo in Fortune to the cheekbones and temples for a subtly sculpted finish.
Eyes
Turning her attention to the eyes, Pat applied the lighter shades from Dolce & Gabbana The Eyeshadow Quad in Golds and Desert to create a deep, gilded look. Pat then applied Dolce & Gabbana The Eyeliner in Chocolate and Nude to the upper and lower eye, adding a bronze flecked liquid liner on top of the lash line, for further definition. Finally, layers of Dolce & Gabbana Passioneyes Duo Mascara in Terra were applied for volumised and curled lashes, giving models a luxurious yet playful gaze. Pat then applied Dolce & Gabbana The Brow Liner in Soft Brown for a natural, tailored brow.
Lips
On the lips, Pat used Dolce & Gabbana Classic Cream Lipstick in two dynamic new shades, set to arrive at Dolce & Gabbana Make Up counters from Spring 2014. The new colours, Bellissima and Traviata, were mixed to add warm decadence to the look. The color was applied with greater intensity at the cupid's bow for better definition and striking finish.
Hair
"The girls always look ultra-beautiful for Dolce & Gabanna. Keeping with the brand's Italian heritage, I found myself drawing inspiration from classic Italian cinema. Fellini's work was definitely an inspiration for this season. The soft braided updo with the delicate hair accessories is very old world and romantic. Overall, the style is soft, pretty and classically beautiful. It is also flattering on most women, which is wonderful, since women tend to be drawn to the Dolce & Gabanna look each season." explained
Redken
Creative Consultant Guido.
Create the Look
Step 1. Apply guts 10 root targeted volume spray foam to damp hair.
Step 2. Blow dry with a diffuser using fingers to give a little volume on the hairline.
Step 3. Use a ½ inch curling iron and curl entire hairline to give movement and volume to the hair.
Step 4. Apply powder refresh 01 aerosol hair powder/dry shampoo.
Step 5. Separate curls with fingers.
Step 6. Make a natural center in first 2″, pulling the rest loosely towards the nape.
Step 7. Pin at occipital to keep in place.
Step 8. Gather remaining hair and loosely braid.
Step 9. Twist into flat chignon and pin.
Step 10. Soften hairline by loosening a little with your fingers.
Step 11. Add head jewelry.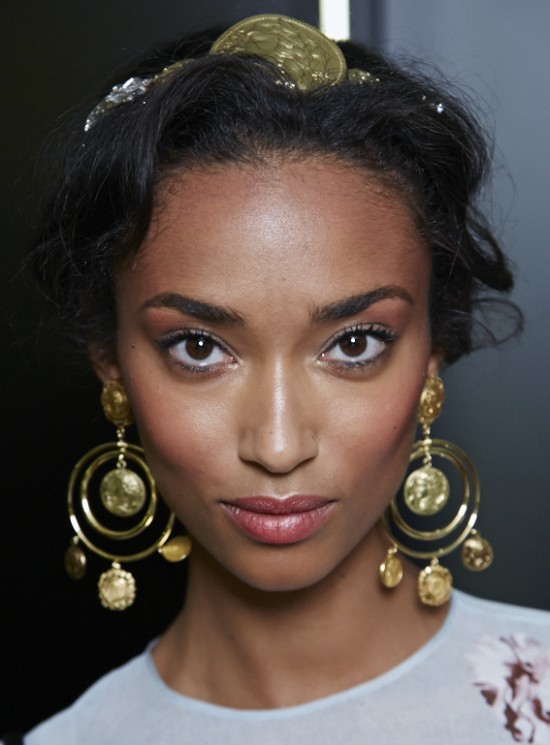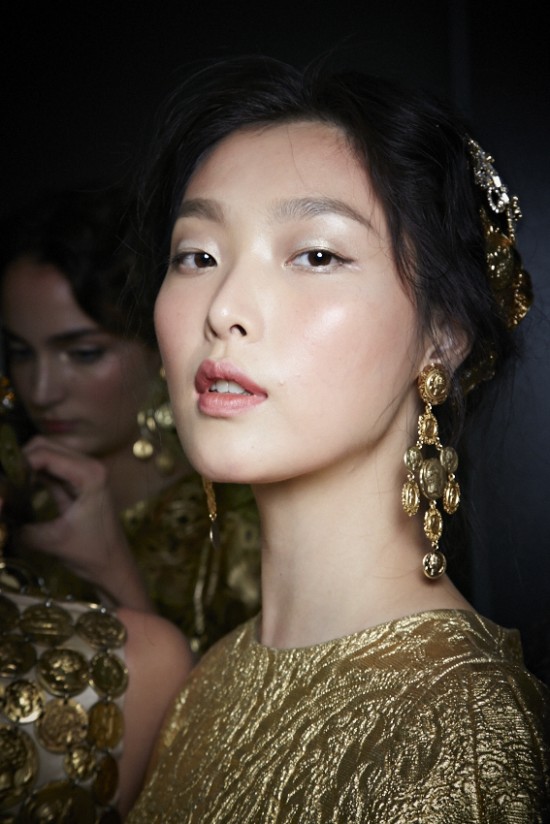 Images: Courtesy of Dolce & Gabbana.