Ever since I bought my first cleansing oil back in 1999, it has become a daily staple for me. Throughout the years, I have tried numerous drugstore and high end lines but always go back to the classic Shu Uemura. And this summer, the Japanese premium brand has added a new addition to its extensive line of cleansing oils, Anti/Oxi Skin Refining Anti-Dullness Cleansing Oil.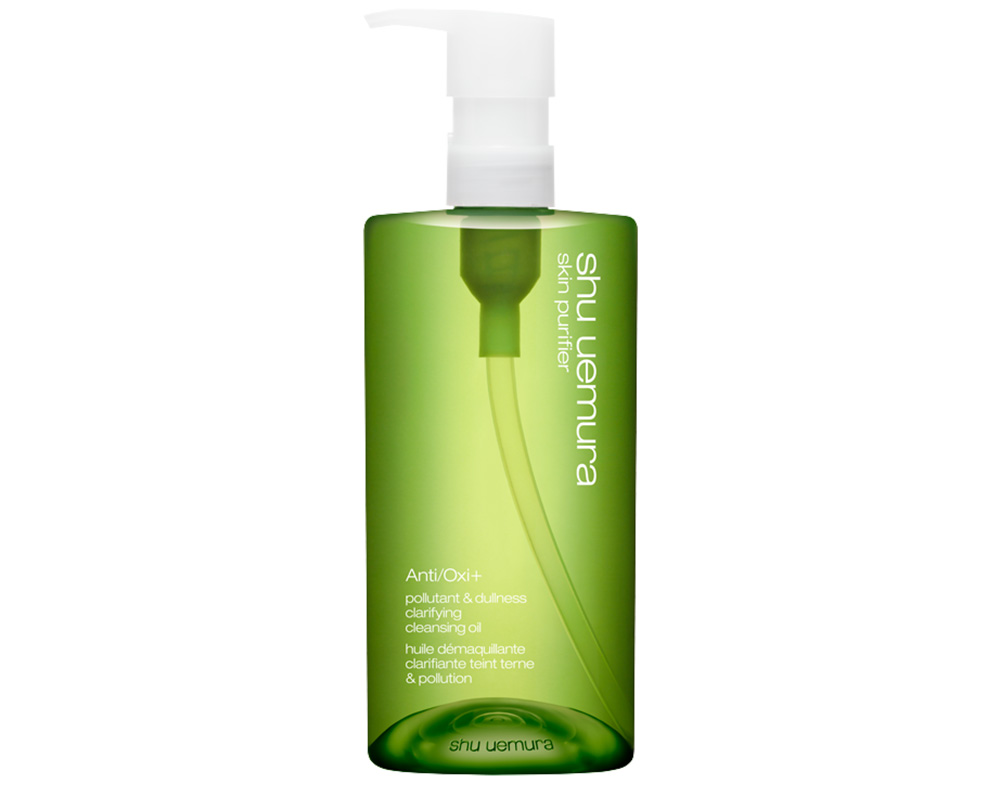 Formulated with a breakthrough blend of ingredients, the Anti/Oxi Cleansing Oil claims to wash away external pollutants which can lead to aging and dulling of the skin, remove waterproof makeup, clean out your pores and hydrate the skin all at the same time:
Moringa extract
helps to capture negatively charged pollutants and oxidative sebum to purify the skin.
Green Tea extract
, a common ingredient in skincare products, contains Catehcin and vitamins that act as a powerful anti-oxidant and helps revitalize skin appearance.
Gingko Leaf extract
contains flavonoids for anti-oxidant and micro circulation properties to help bring transparency and radiance to skin.
Unlike the cleansing oils I have used in the past, the Anti/Oxi has a pretty strong and distinct scent, with notes of ginger sherbet, cardamom, sparkling lime, lavender, rosemary, geranium leaf and guaiac wood, white musk and cedarwood. It took me a few uses to get used to the scent but I did find it very refreshing.
The instructions were printed on the bottle in various languages with step-by-step pictures. You take 3-4 pumps, apply directly onto skin with dry hands, massage all over, add water to emulsify then rinse off. I normally use 1-2 pumps but on my "full makeup" days, I do use up to 3.
The cleansing oil felt lightweight and emulsified easily with water. It did a great job cleansing my skin and managed to take all of my makeup – including waterproof mascara and long-wearing foundations and lipsticks – off in just one go. My face did not feel greasy or tight afterwards, just soft and clean.
What REALLY blew me away though, was the difference in skin texture that I saw. Thanks to the deep cleansing, my pores seemed to have shrunk a little in just a week and this has never happened with other brands, or even with the Shu Uemura High Performance Balancing or Whitefficient Clear Brightening Gentle Cleansing Oils I have used in the past! Keeping my fingers crossed that the results would last!
Can't wait to try this out? Now you can order it for 10% off with code
M4LIFESHU
. Shu Uemura is also giving out 30,000 samples of the Anti/Oxi Skin Refining Anti-Dullness Cleansing Oil plus you can win a year's worth of supply. Just go to
their Facebook page
for more details.
Shu Uemura Anti/Oxi Skin Refining Anti-Dullness Cleansing Oil is available at
www.shuuemura-usa.com
for $77.
Disclosure: This review includes product that was provided by the manufacturer/PR firm for consideration only. It may also contain an affiliate link, which gives us a small commission if you purchase the item. Please see our Disclosure for more information.