Every season, M·A·C Cosmetics brings us its very own trend recap of the hottest runway looks. And for A/W 2013, it is all about makeup that tells a story… less straightforward, more moody, more mysterious and layered with feeling. This is makeup with a life, resonant with elements of the past, the present and the future.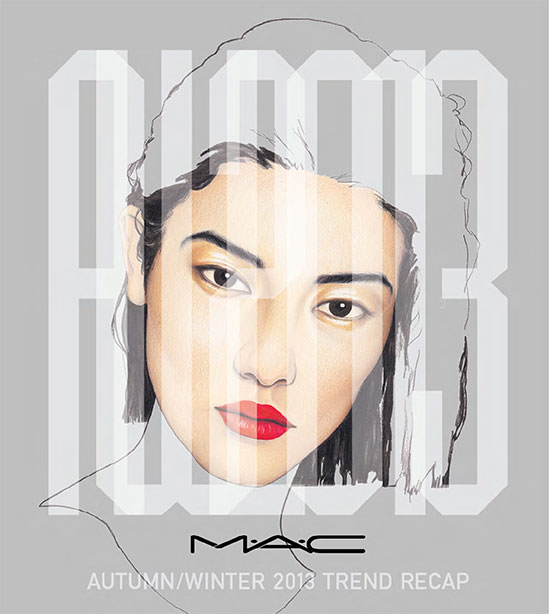 Trend #1: Reb-elle
A tougher feel to makeup is omnipresent for A/W13 and nowhere more evident than with this season's anarchistic black eye. Liner and shadow have dropped any sense of sexy smokiness and picked up a rebellious streak that is unconventional, anti-glamour and attitude-driven.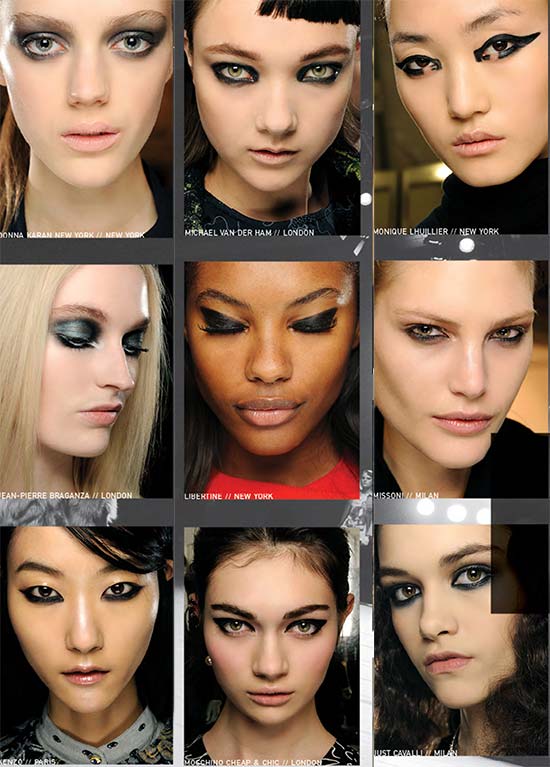 Products To Create The Look
• Smolder Eye Kohl – let it bleed
• Mixing Medium : Shine
• Reflects Transparent Pink and Reflects Transparent Teal Glitter
• Blacktrack Fluidline – for precise and decisive black lines
• Nocturnelle Nail Lacquer – polished punk nails
• Typographic Eye Shadow – shapes, accentuates
Trend #2: Spiritual-Eye
Tired, spooky, and haunted. An ethereally wistful mood characterized by brooding shadowed eyes and constituted by clouds of greyed tones. These eyes are emotively shaded, not sensually smoked, and even more moving for their emergence on porcelain skin.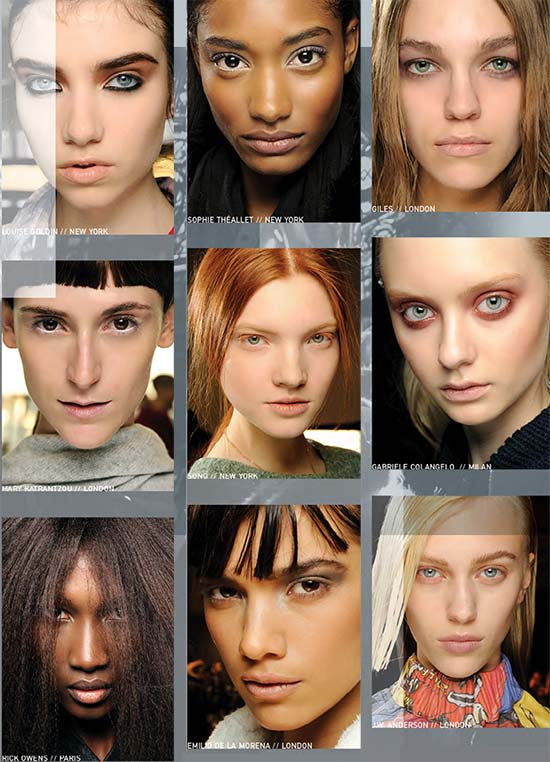 Cold Colour
: Steel, cement, asphalt, slate, aluminum, lead
Products To Create The Look
• Paint Pot in Stormy Pink – sheer it down with Fast Response Eye Cream to create the perfect eye stain
• Paint Pot in Groundwork – swooped around upper and lower lids with a 188 Small Duo Fibre Face Brush face Brush for a real shadow
• Lip Mix in Medium Nude – for a photographic stain around the eye
• Eye Kohl in Prunella – beautifully mimics a natural bruised shadow
Trend #3: Au-Currant
The unanimous proposal for a colored lip this season? Red. Set against a pallid complexion these looks capture a new take on crimson that is underpinned with an intimation of mystery, melancholy and the macabre. Gothicism in its truest, most poetic sense.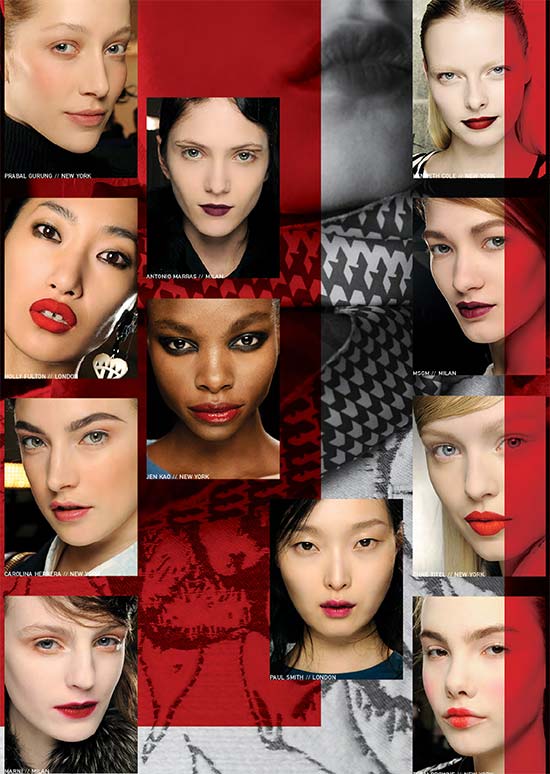 Products To Create The Look
• Fall 13 Lip Palette in A Rich New Mood and A Red Statement – blended and buffed on; applicable to lips and cheeks
• Lipmix in Crimson – for the matte, intensely pigmented mouth
• Lip Pencil in Nightmoth – focus it on the inner edges of the mouth
• Cremesheen Lipstick in Hang Up – just-bitten lips
Trend #4: Perspex-tive
It is a new way of revisiting the monochrome effect. Focusing on the way skin picks up light; chalky matte, balmily waxen or with a dewy glow – and often within the realm of a singular face. The fundamental idea is an absence of pigment in the complexion, sculpting with actual light, rather than artificial shade. The use of texture and color to achieve dimension is elevated in a unique, mesmerizing way.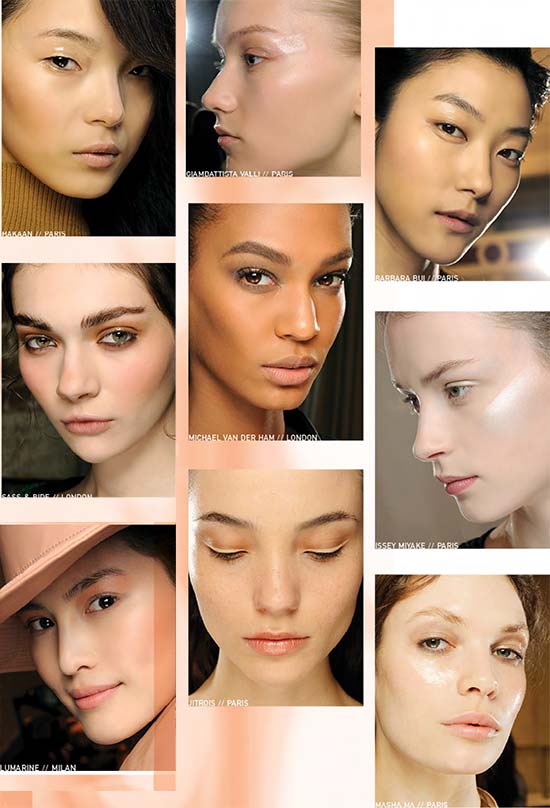 Products To Create The Look
• M·A·C PRO Mixing Medium: Shine – subtle emollient glow
• Strobe Cream – the classic incandescent sheen
• Lip Conditioner SPF 15 – low-level shine
• Cream Colour Base in Luna, Shell and Pearl – add seamless highlights
• Gloss Texture – glassy sheen