Be it a red lip, graphic black eye, or a more masterful brow, Autumn/Winter 2012 brings us a cleansed approach to glamour that is at once timeless yet uncompromisingly modern by virtue of the execution exhibiting an attitude of knowing, womanly strength.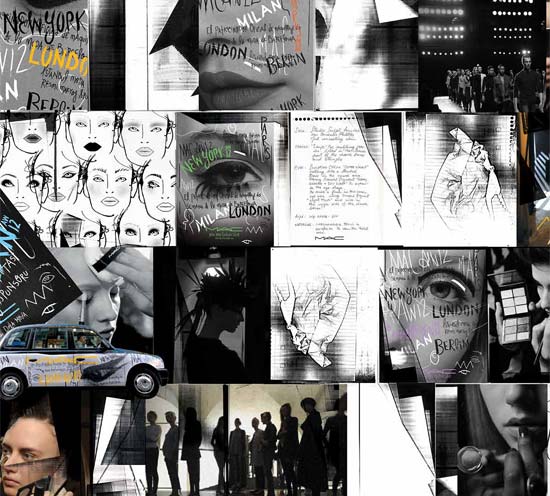 #1: Sense + Sensibility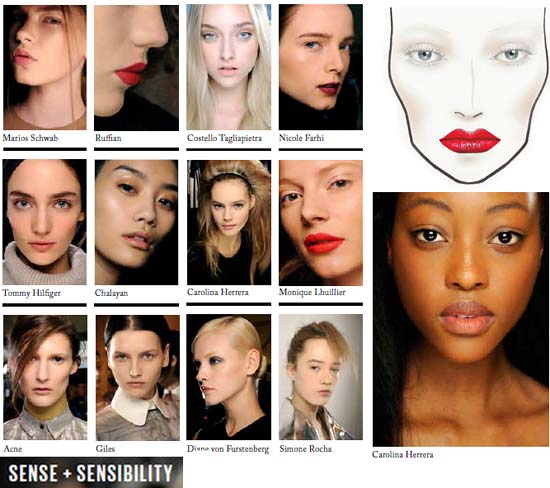 The question of quintessential beauty – what manner of makeup provides a prototype for a modern woman – is posed this season, with myriad looks taking a purely pragmatic approach to the solution. The answer?
Healthy, sensible, honed, balanced, understated, elegant, effortless and groomed…The new blueprints for contemporary makeup magnetize through their sheer beauty rather than any trickery, with a structure that is always sensible and sensitively applied (even when colours and textures project a more avant-garde edge). It's a somewhat rural approach to city makeup. While the inspiration takes an equestrian, aristocratic, "country" angle, the impeccable application is definitely "town". "I'm calling it Sense and Sensibility makeup," explains Lyne Desnoyers.
"It's about timeless classics done in a modern way – these are elements of makeup that never go out of fashion but simply get reinvented," agrees Terry Barber. The perfect cleansing focus of a lip (make it nothing but a Russian red). The mastery of a gentle outdoors flush (must be seamless). Studies in what constitutes a modern bare face (p.s. it's a fuller brow). Explorations in how to wear soft colour (cooler tones, subtler, fresher washes – a "Nordic approach to neutrals," says Terry).
These looks ultimately carry a sophistication that elevates them beyond trend, becoming instead a new set of modern Classics.
Create The Look
Prep + Prime BB Beauty Balm SPF 35/PA+++
Prep + Prime Fortified Skin Enhancer SPF 35/PA+++
M·A·C Pro White Face and Body Foundation
Mineralize Foundation/Loose
French Nougat, M·A·C Fall Trend Lip Palette
(available Autumn/Winter 2012)
Cherry Lip Pencil
M·A·C Lady Danger Lipstick
Brow Set
Shell Cream Colour Base
Pearl Cream Colour Base
M·A·C Lip Conditioner
M·A·C Pro White Pigment
Brit Wit Cremeblend Blush
Cubic Powder Blush
Gesso Eye Shadow
Studio Fix Lash
M·A·C Pro Mixing Medium Shine
Vapour Eye Shadow
Smoothblue Technakohl Eye Liner
#2: Hone Structure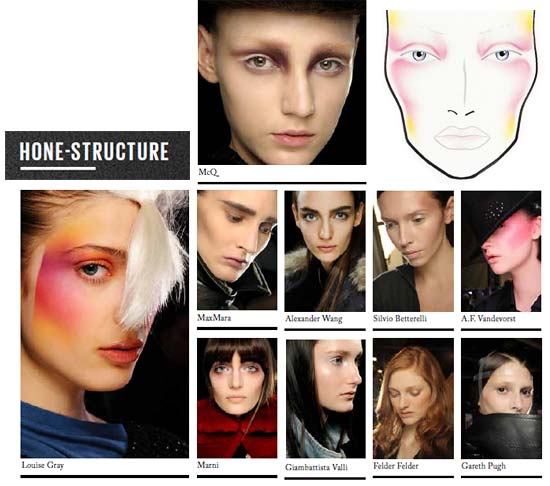 A globally influenced independent woman is channelled this season, but think less "boho- festival goer" and more "grown-up gypsy". There's a certain eccentricism, but this world traveller is honed, not haphazard. "The bohemian spirit of this season has nothing to do with grungy girls," agrees Lyne Desnoyers. "It's more about the fantasy of an elegant eccentric, a woman who is ornate yet has exquisite taste." "She's a global wanderer who organically picks up on beauty elements during her travels, she hasn't done a lot of homework on how to emulate the exact makeup of a particular culture," explains Gordon Espinet of the fact that these looks are not culture-cloned makeup pastiches.
From stained soulful tints through to mesmerizing jewel-like metallics, it's a trend that focuses on playing with the proportion and depth of an eye (perhaps bringing in a rustically tinted lip for balance). Call it a contemporary rethink on how to do "smoky".
"Fashion wants to revisit a smoldery eye, but the issue is in devising one that isn't trashy or retro," ponders Terry Barber. Hence the focus on a mascara-less lash, and colours with a more antiquated patina and diffuse application than those dripping in jet-setting luxuriousness. Key shades? Those that pull inspiration from roaming the world – desert rocks, sunset and sepia stains, driftwood browns, weathered tans, sand, minerals, pastoral shades of plum and cranberry, metallic greys from asphalt and concrete through to slate and charcoal – all are employed to give a soulful depth to lids and lash lines. Ultimately, this beauty trend parallels fashion's worldly-aware direction in considering how a nomadic lifestyle can influence the way you pull yourself together…feel your inner free spirit!
Create The Look
M·A·C Pro Root Cream Colour Base
M·A·C Pro Full Fuchsia Powder Blush Pro Palette
Coffee Eye Pencil
Mauveless Pro Longwear Eye Shadow
M·A·C Pro Richly Honed Sculpting Cream
M·A·C Pro Deep Damson Eye Shadow
Smoked Purple Lipstick
Carbon Eye Shadow
Sketch Eye Shadow
Club Eye Shadow
Smolder Eye Kohl
Grey Utility Powerpoint Eye Pencil
Spice Lip Pencil
Cork Lip Pencil
M·A·C Lip Conditioner
Fall Trend Eye Palette in Dark Currant, Blazer, Delft, Pepper-Salt and Smoked Paprika
Day Gleam Pressed Pigment
Deeply Dashing Pressed Pigment
M·A·C Pro Taupe Powder Blush
#3: Roam-antique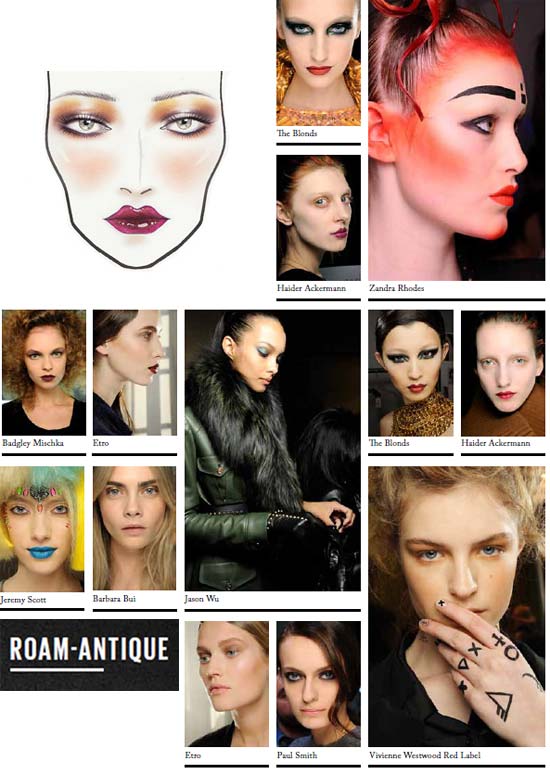 Exploring the construction and contours of a face isn't a brand new idea in beauty (it's one that's been brewing for a few seasons now, culminating in SS2012's love of skin in a laminate athletic gloss), yet for AW2012 the concept of sculpting continues in an increasingly cerebral direction. The beauty equivalent of the utilitarian and military vibe so omnipresent in fashion. "Bone structure has moved on from last season's hyper-highlighting into a consideration of how to add depth to a face with shadows," explains Terry Barber. "We've turned the light around this season – it's now less about highlights and more about the depth of a contour," adds Andrew Gallimore. "It creates a shaded face that is slightly hollow and haunted but extremely beautiful and not alien." In its purest form, this look is about a nude sculptural face as a canvas for a brow (straighter, stronger and more purposefully groomed, from which the other features seem to hang) – indeed, a brow is the axis of what makes these honed, nude looks contemporary. "It's a highly technical form of beauty," adds Terry Barber, of the myriad manners and devices (and products) employed to create it. From slightly paling down the skin ("it's like working in negative, it automatically brings the shadows out," explains Lyne Desnoyers), to very clever concealing, an array of Pro Sculpting Creams and skin-imitating Cream Colour Bases, this trend is absolutely about proper placement of a highlight and a contour. "To put in bone structure is a very knowing art form and the real mastery of being a makeup artist," adds Terry.
Create The Look
M·A·C Pro Copper Beach Sculpting Cream
M·A·C Pro Coffee Walnut Sculpting Cream
M·A·C Pro Accentuate Sculpting Cream
M·A·C Pro Richly Honed Sculpting Cream
M·A·C Pro Pure Sculpture Sculpting Cream
M·A·C Pro Sculpt Sculpting Powder Pro Palette
M·A·C Pro Shadowy Sculpting Powder Pro Palette
Prep + Prime Transparent Finishing Powder/Pressed
Classic Nude, Fall Trend Lip Palette
(Available Autumn/Winter 2012)
Studio Finish Skin Corrector
Baby Don't Go Pro Longwear Blush
M·A·C Pro Taupe Powder Blush/Pro Palette Refill Pan
Select Cover-Up
M·A·C Pro Lip Erase
#4: Arti-Tech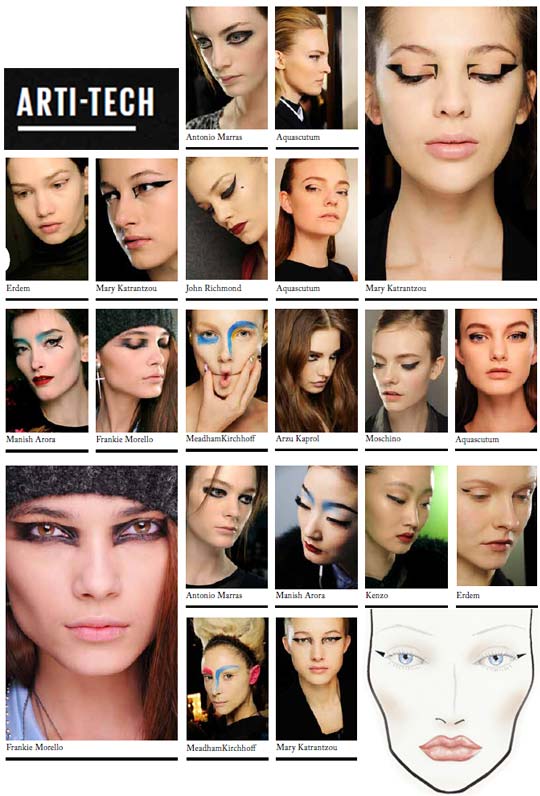 While a black liquid liner can be inextricably linked with the past (a Twenties flapper, Forties feline, Fifties wings, Sixties flicks, Seventies punk, Eighties New Wave…), makeup artists this season have shrugged off the liners' retro connotations and are considering the contemporary graphicism of a black line interpreted in an unconventional manner. "This season isn't about liner being classic," explains Gordon Espinet.
"It's about liner as an etching, about it creating a geometry on the face." Beauty is very much in this detail, though. While these lines are fragmented in their structure, by respecting the architecture of the eye shape, they tailor and enhance the face. The key reference points: Oriental precision (indeed, fashion's collective eye seems trained on the East) and equestrian elegance – refined, original and intriguing, the new updated liner is "all about a trick of the eye that is very artistic. It's about taking a classic gesture and reworking it into something non-conformist," says Andrew Gallimore.
Create The Look
Blacktrack Fluidline
M·A·C Pro Chromagraphic Pencils