At Jeremy Scott Spring/Summer 2012, Global Creative Director of Wella Professionals, Eugene Souleiman, worked with M·A·C Cosmetics makeup artist Val Garland to create a "country Barbie" look.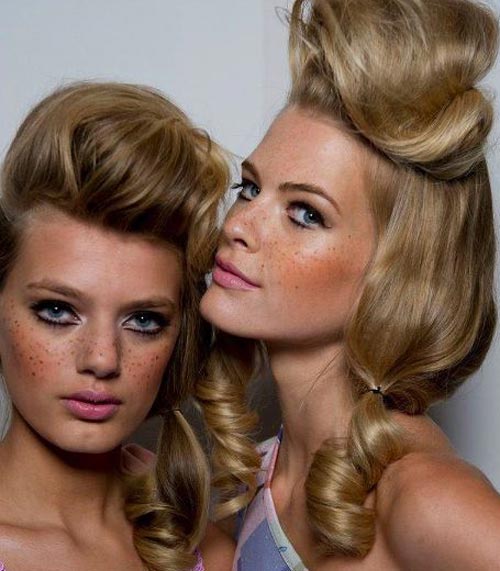 Makeup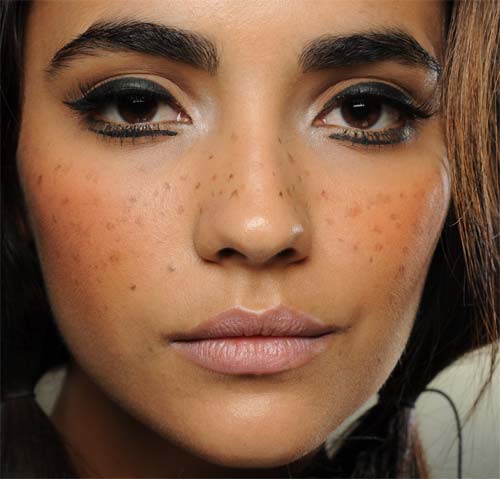 Face
• Charged Water Face & Body Lotion (available Spring/Summer 2012) – hydrates and perfects skin.
• Face & Body Foundation – applied lightly to even skintone.
• Studio Finish Concealer – applied as needed to perfect.
• Mineralize Skinfinish Natural Foundation – blended over "hot spots" through the middle of the face.
• Preferred Pink and Fully Ripe Lip Quad Palette (available Spring/Summer 2012) – blended on the cheeks for a doll-like shape.
• Immortal Flower Powder Blush (available Spring/Summer 2012) – dusted over the cheeks to set.
• Cork and Burgundy Lip Pencils and Coffee Eye Pencil – applied to the cheeks to create freckles, alternating tones to give depth and dimension.
Eyes
• M·A·C PRO Black Crème Liner – applied on the upper eyelid with a slightly winged tip, thicker in the center, and very tight to the inner corner of the eye. Additionally applied straight across the lower eyelid, leaving a space between the lower lashes and line.
• Coffee Eye Pencil – applied with 266 Small Angle Brush through the socket and blended with 219 Pencil Brush.
• Dazzlelight Eye Shadow – applied with intensity through the inner corner to highlight with 219 Pencil Brush.
• 43 Lash – applied over the upper lashes.
• Zoomblack Mascara – blended through the upper lashes and 43 Lash.
• Haute & Naughtly Black Mascara – applied to the lower lashes, powdered with translucent powder, then re-applied once again for a "Dusty Springfield" effect.
Lips
• In Synch Lip Pencil – blended over the entire lip.
• Enchantee Kissable Lip Colour (available Spring/Summer 2012) – applied over the lip to finish.
Hair
"I wanted to have fun with the hair and create caricatures as an extension of the girls' personalities. The collection had a 'Wild West' theme featuring cactus and pony-skin prints, but in true Jeremy Scott style, he used lots of bright color and brought a sense of fun and energy to the clothes, and I wanted to do the same with the hair. So we started with a very fresh and pretty, cowgirl look with pigtails in ringlets, but then created a '50s style ultra high glamorous bouffant wave on the top of the head. The contrast of the young pigtails against the sophisticated top section created a sense of drama and surprise" says Eugene.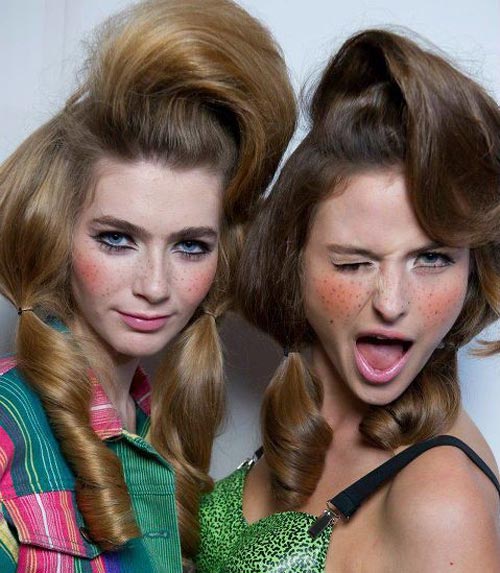 Step 1. Start with freshly washed and conditioned hair using Wella Professionals Enrich Shampoo and Conditioner.
Step 2. Prep wet hair with Perfect Setting Blow-Dry Lotion, and blow dry to create a smooth texture to the hair.
Step 3. Tong the hair using a wide barrelled hair tong and clip each curl and leave to set.
Step 4. Once the hair has cooled, keep the top section (about 6 curls) pinned on top of the head, and create two sections (parted at the back of the head) in the bottom section.
Step 5. Take each section at a time and gently back comb right at the roots to create a little volume, then fasten in to a low pony tail with elastic and twist the curl into a defined ringlet.
Step 6. Spray with Wella Professionals Super Set Finishing Spray to keep the ringlet in place.
Step 7. Release the top section and back comb each piece to half the length of the hair using as fine toothed comb, the hair should stand up on its own and provide a structure for the 'bouffant'.
Step 8. Smooth the hair in to once section using a soft bristle brushed, sprayed with Wella Professionals Super Set Finishing Spray, and twist in to a high side flip.
Step 9. Spay with Wella Professionals Super Set Finishing Spray to hold the style.
Photos: Courtesy of MAC and Wella.