At Vivienne Westwood Red Label Spring 2012, makeup artist Alex Box working for M·A·C Cosmetics added a pop of color to create "neo neon nymphs" with an "ethereal base, amazing and bruised colors and airbrush".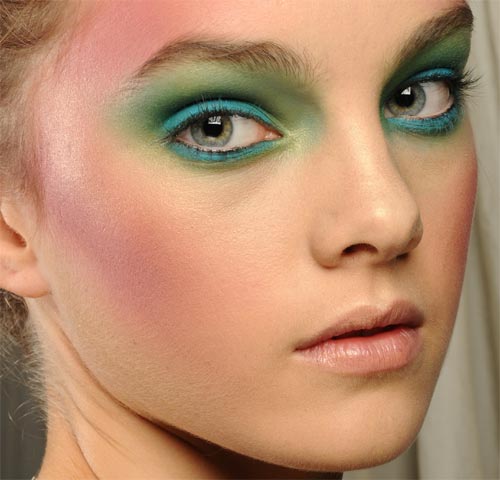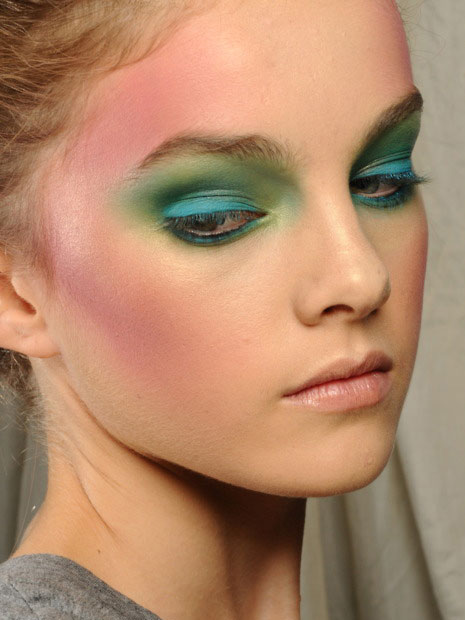 Face
• Studio Sculpt SPF 15 Foundation – applied to create a perfect, full coverage to skin.
• MAC Pro Sculpt and Bone Beige Sculpting Powders – blended together and applied over low planes to contour.
• Well Dressed Powder Blush, MAC Pro Azalea and MAC Pro Salsarose Powder Blushes – blended together to create a vivid contour through the temples and over cheekbones.
• MAC Pro Emphasize Shaping Powder, MAC Pro Gold Reflects Glitter, and Vanilla Pigment – blended together to highlight the high planes of the face.
Eyes
• MAC Pro Hi-Def Cyan Paint Stick and Electric Eel Eye Shadow – blended over the eyelid as a base.
• Bitter, Juxt, and MAC Pro Lime Eye Shadows – blended over base in a halo effect.
• MAC Pro Hi-Def Chromaline – applied as a liner through both upper and lower lashes.
• 43 Lash – painted with MAC Pro Chromaline in Hi-Def and applied to upper lashes.
Lips
• Woo Me Kissable Lipcolour (available Spring 2012) – blended over the entire lip.
Photo: Courtesy of M·A·C Cosmetics.