This spring/summer, M·A·C Cosmetics is bringing us beauty that involves brave statements, experimental textures, handsome feminity and art:- A vivid Basquiat-bold lip on a stripped-back skin (Pop Classic), a saccharine sweet colour applied in an avant-garde manner (Ice Dream), a stripped back, minimalist face to counter a complex collection (Raw Fined) and exploring the precise points of contrast between light and shade in a tan-toned face (Terra Copper).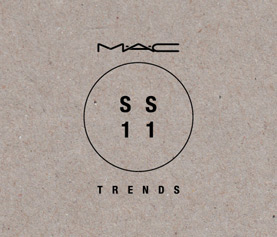 Pop Classics
Classic shapes, uber saturated colour… Take a classically precise lip or a sleek liquid liner and turn it on its head with a Basquiat treatment of colour. Think chemical orange. Fluoro hibiscus pink. Ascerbic magenta. Red is still relevant, but it has dropped last season's glamour and picked up an edgier vibe. Hot, energetic and always worn with a counterbalance of low-key skin and most probably a mascara-less lash. It's taking the dominant fashion idea of COLOUR BLOCKING and translating it on the face. This makeup takes classic shape and perfect placement, then turns it up with super saturated colours. Up the intensity!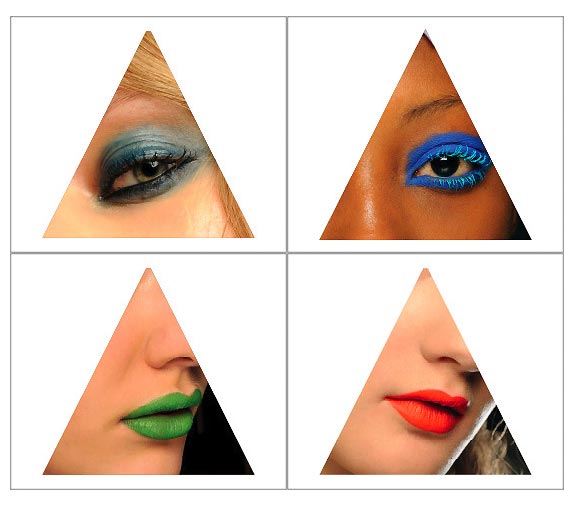 "It's bohemian and arty rather than draggy or overly retro – there's definitely a sense of real decadence and fun behind makeup this season." – Miranda Joyce
"Careful consideration of textures and placement when using such statement colours is so key, or the look can quickly become too theatrical: it's about a canvas that's minimally perfected and illuminized, and placement that's really about pure beauty statements…the key words here are control and balance for what is one of the most feminine looks of the season." – Lyne Desnoyers
The Kit
M·A·C Gloss
Magenta Lip Pencil
Cherry Lip Pencil
Crimson PRO Lip Mix
Orange PRO Lip Mix
Chrome Yellow Eye Shadow
316 lip brush
Process Magenta Chromagraphic Pencil
Magenta Madness Pigment
Morange Lipstick
Lady Danger Lipstick
Sushi flower Eye Shadow
Waveline Fluidline
PRO Turquoise Glitter
PRO Pink Glitter
Raw Fined
Nude, minimal makeup, contrasting textures and maximizing the minimal is where this season's bare, stripped-back trend is heading: poles apart from the androgynous, blanked-out beauty we've seen in the past, the contemporary incarnation of natural beauty is altogether more feminine and multi-faceted with an elegantly industrial edge. Texture – most vitally gloss accents – against smooth mattes are a key point, as is skin that's perfected as much by the preping as the makeup: a season for heavy, multi-layered bases this is not. And while instances abound of designers going for a simply honed, monochromatically pale face, it's executing one clean, minimalist gesture on an otherwise nude skin that's making pared-back aesthetics look most relevant now.…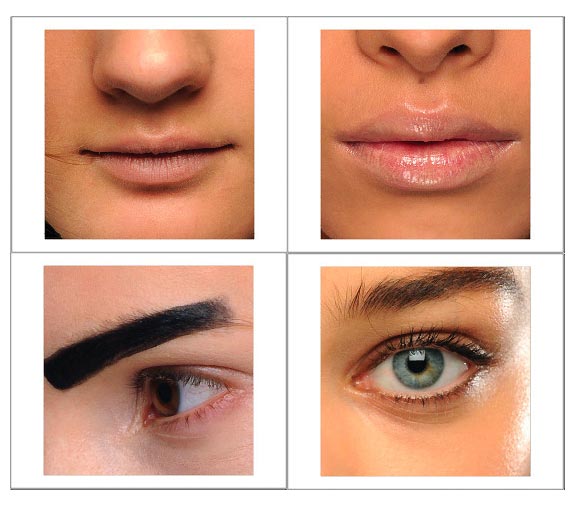 "I'm wiping the foundation off the lids and cheekbones so that the natural skin stain comes through – it's a deconstructed construction."- Alex Box
"It's all about the prep of the skin – conditioning and nourishing it to the max: whipping a mix of studio Moisture Cream, Fix + and Care Blends Essential Oils into the skin with a 187 brush is the ultimate healthy 'skin cuisine.'" – Sam Bryant
The Kit
Studio Moisture Fix SPF 15
Care Blends Essential Oils
Prep + Prime Transparent Finishing Powder
Face & Body
Select Moisturecover Concealer
Swell Baby Eye Shadow (available 2011)
Mineralize Skinfinish Natural
Luna Cream Colour Base
Clear Brow Set
PRO Sculpting Powder in Sculpt
PRO Lip Erase in Dim
Silver Dusk Iridescent Powder/Loose
M·A·C Gloss
NC15/NW20 Chromagraphic Pencil
Hush Cream Colour Base
Lip Conditioner
Fascinating Eye Kohl
Gesso Eye Shadow
Ice Dream
Pastel shades, avante-garde application…The flora-fauna fantasies on SS2011's runways have alighted into makeup: pastel shades have shrugged off their bridal ways and come over all clean, controlled and uncannily pretty. The new pastels are about taking super delicate colours but wearing them in a way that effectively makes them as accessible as naturals, only with a more directional feel. Chalky not pearlescent, more Futuristic-Mod than mother-of-the-bride, the new way to wear shades of LILAC, LEMON, PISTACHIO, MARSHMALLOW and DUCK-EGG is as one simple statement, on a face that's otherwise perfected in gentle takes on taupe and nude. Pretty with a punked-up undertone, this is super feminine at its most forward thinking…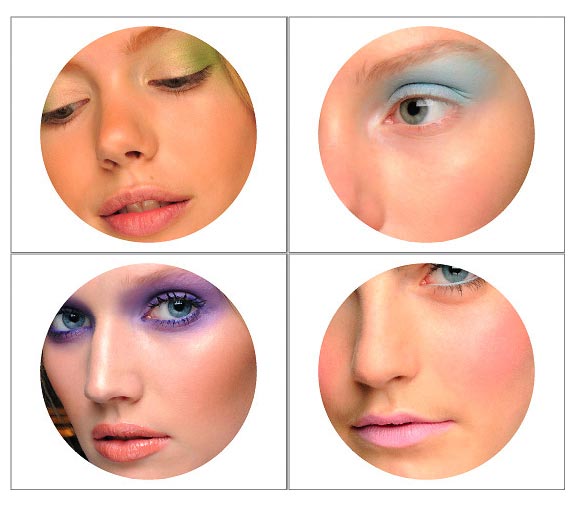 "The modern pastel is all about technology and technique – it's to do with changing up the texture with a gloss or a super matte finish…it really taps into the feeling that this is very much an artistic, brave and experimental season." – Nadine Luke
"I'm definitely feeling the direction for tough makeup done in very pretty colours –it gives an edge that's still very chic and beautiful." – Terry Barber
The Kit
Blonde Ash Studio Finish Skin Corrector
Lite Brite Cream shadow (available 2011)
Swell Baby Eye Shadow (available 2011)
Woodwinked Eye Shadow
Shell Cream Colour Base
Derailed Cream Shadow Quad (available 2011)
Morange Lipstick
Paintstick in Pure White
Paintstick in Landscape Green
Paintstick in Process Magenta
Paintstick in Rich Purple
Strobe Cream
Peaches Powder Blush
Juxt Eye Shadow
Vanilla Pigment
Myth Lipstick
Terra Copper
Modern bronze, precise application and tan shades have been given an intelligent rethink this season. Think 70s in spirit: sculpted cheekbones in honey bufftones, lips lushed-up in caramel lacquer, monochromatic faces gently sunlit in skin-mimicking bronze tones with shadows and highlights in all the right places…it's healthy, handsome and references all those Amazonian icons of Bruce Weber, Lauren Hutton, Jane Birkin and Talitha Getty… but in a believable, born-with-it way. Not to be confused with an over-perfected, seamlessly deep perma-tan, the modern way to wear bronze is monochromatically, satiny and very specifically placed. This is sunned, at its most specific…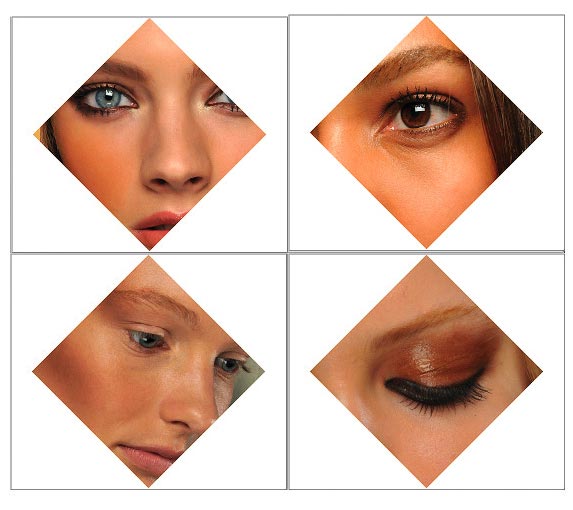 "It's about using one bronzer – definitely one without sparkle, like our new mineralize Bronzer – with three brushes! Take a 116 to contour the cheeks, a 224 tapered blending to shade the eye and a 219 pencil brush to line the eyes with a soft shadow near the lash line. Add a dash of lip balm and you're good to go." – Gordon Espinet
"It's very chic, giving dimensions to the face with a very soft illusion of toffees and warm browns – it's about putting definition into the face without looking overly makeup-py." – Lisa Butler
The Kit
Medium Dark, Medium Deep and
Dark Mineralize Skinfinish Natural
Gold Pigment
Give me Sun! Mineralize Skinfinish Natural (available 2011)
Goldon Bronze Iridescent Powder/Loose
Shadowy PRO Sculpting Powder
Tan Pigment
Cream Colour Base in Mid-Tone Sepia
Cream Colour Base in Bronze
Cream Colour Base in Bamboo
Cream Colour Base in Luna
Lust Lipglass
Freckletone Lipstick
Chai Lipglass
Teddy Eye Kohl
My favorites are Pop Classics and Ice Dreams. What about you guys?
Stay tuned for my takes on these looks!