Just picked up two makeup brushes from Sephora's very own Double-Ended Color Dipped Collection at – *gasp* – $7 each!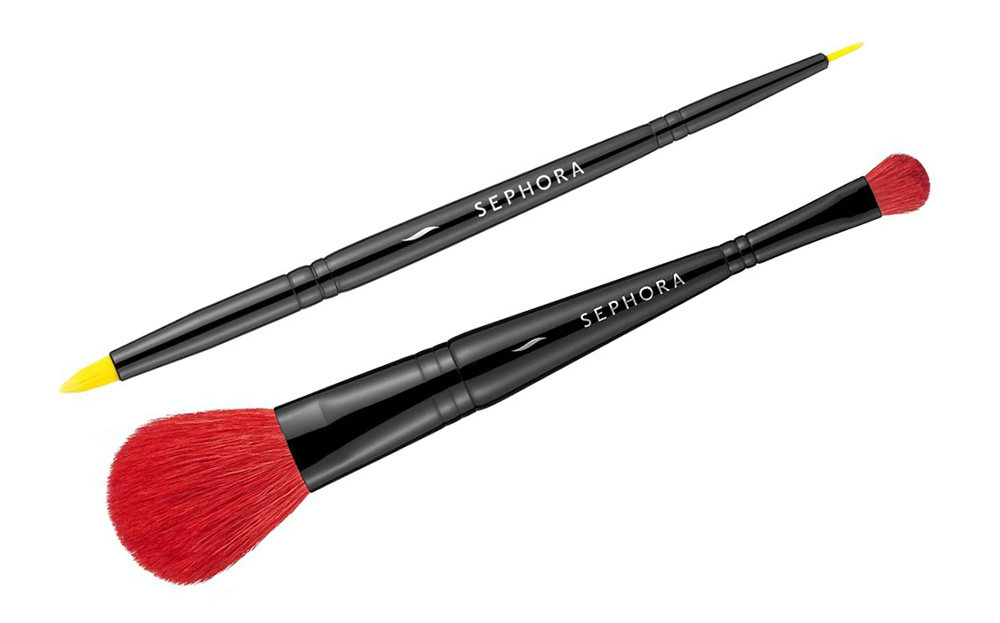 Priced originally at $18, the
Double-Ended Winged Brush
comes with two synthetic brushes in the brightest yellow color for eyeliner application. I have been using this brush every day with my favorite NARS Pandora Duo Eyeshadow and I LOVE it! The thicker end works just like MAC 219 Pencil brush and the firm tip is perfect for smudging eyeshadow and eyeliner. The thinner end looks like your regular eyeliner brush and allows great precision on the lashline. It also works well with powder, cream and gel.
The
Double-Ended Grab 'n Go Brush ($32)
, on the other hand, pairs a powder brush with an eyeshadow brush, both in the hottest reddish orange color. You sure don't see this combo every day and I find it a great addition to my makeup bag. Not only are the hairs on both ends super soft, they deposit just the right amount of color. I love using the powder brush for buffing my MAC Mineralize Skinfinish Natural all over and to apply blush and bronzer. The eyeshadow brush is also great for adding a wash of color on the eyelid or to add in a contouring color by the side of my nose.
Besides, the handles are sturdy and sit comfortably on my hand. The bright bristles also instantly add a nice burst of color into any makeup bag and they have survived a few washings without shedding or going out of shape at all. Plus the fact that the brushes are double-sided means you get to save space
and
money. These brushes are definitely
more than a steal
at this price!
The Sephora Double-Ended Color Dipped Brushes are now available at Sephora.
Disclosure: This review contains products that were purchased by us. It may also contain an affiliate link, which gives us a small commission if you purchase the items. Please see our Disclosure for more information on our posting policy.