Thanks to the harsh Chicago winter weather and my sensitive dehydrated combo skin, I normally get tiny flakes around my nose and cheeks during this time of the year but ever since I started using Bliss Peeling Groovy Facial Serum, my evil flakes have never returned!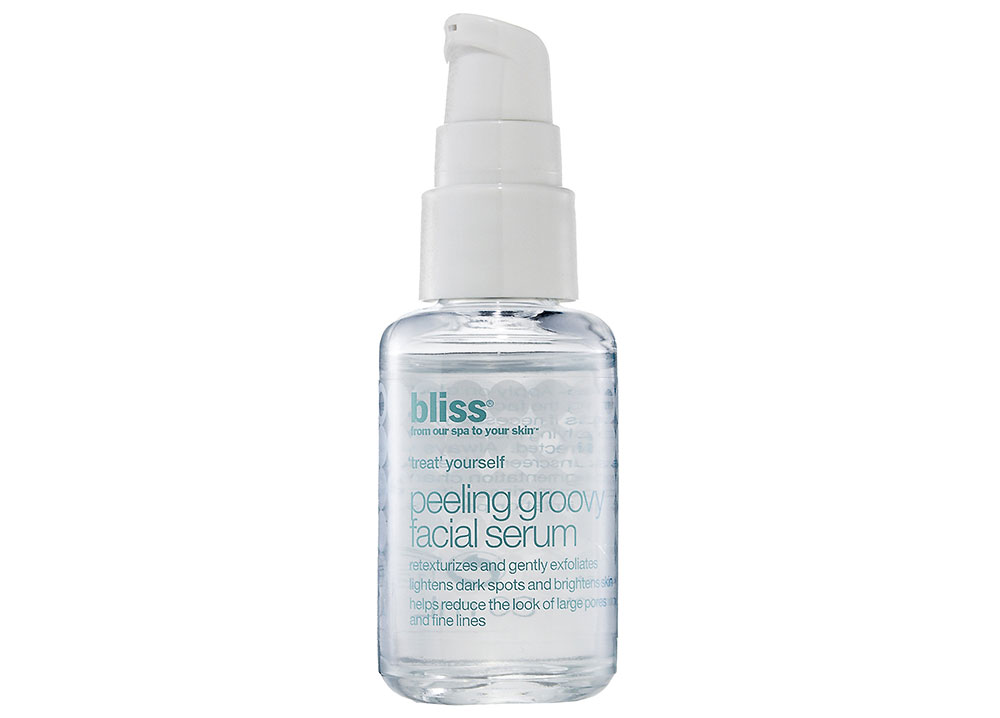 The Peeling Groovy Facial Serum is a revamped version of the famous Bliss Sleeping Peel Serum. It is a clear, oil-free, non-irritating exfoliating serum that works on smoothing fine lines, minimizing pores, correcting uneven skin texture and brightening skin discolorations.
Unlike most peeling treatments on the market, this contains moisture-magnetizing amino acid exfoliants, meaning it actually helps to attract moisture levels for supple skin while it exfoliates. Plus it does not use AHAs or any other harsh chemicals, so even those with the most sensitive skin can use it.
I have been using 3 pumps of this serum every night for over 2 weeks now and all I can say is I am truly impressed. My face has never felt this smooth and refined and believe it or not, I swear my pores looked smaller too! Since this is a serum and not meant to moisturize, Bliss suggests that you follow with a moisturizer. I have used it with and without a moisturizer on top and either way, my skin still felt supple and soft the next day. I have yet to see improvements on my freckles but the fact that it made my skin so soft and got rid of the flakes alone is enough for it to be a keeper! Good job Bliss!
Bliss Peeling Groovy Facial Serum is available at Beauty.com for $65.
Disclosure: This review includes product that was provided by the manufacturer/PR firm for consideration only. It may also contain an affiliate link, which gives us a small commission if you purchase the item. Please see our Disclosure for more information on our posting policy.