I swear I have been to Covent Garden a million times but it was not until my recent trip back to London that I discovered a hidden gem, B.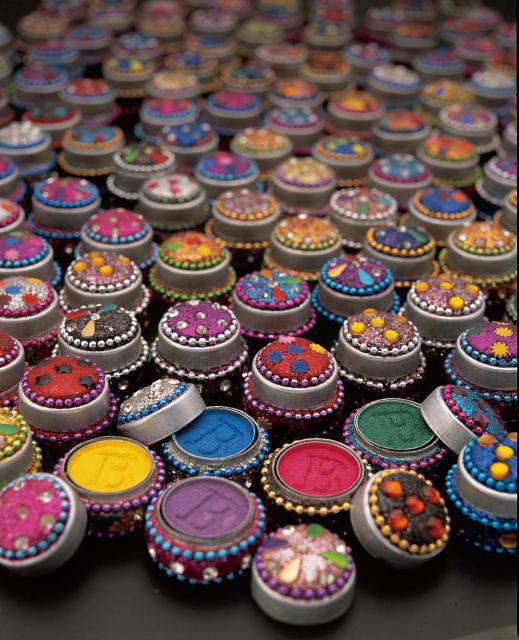 B, which is short for B Never Too Busy To Be Beautiful, is a sister company to Lush. It started back in 2003 and prides itself in its vegan, cruelty-free beauty products. What makes B stand out from other brands is definitely their Indian and Moroccan inspired bohemian packaging along with the layout of the store. Walking into that store literally felt like walking into an Aladdin cave – I was mesmerized! They also carry a wide variety of products including makeup, fragrances, skincare, shower and bath products. Prices range from £4 for a bath cube to £50 for a 45g perfume.
Pressed Eyeshadow (£8)
is definitely one of my favorite products from the line! These cute little babies come in either pan forms or round bejeweled pots just like the picture on the left, with a letter "B" stamped on them. There are a total of over 30 colors available – some of which are shimmery while others are matte – and they are all
gorgeous
! Thanks to their base of rice bran, almond and jojoba oils, the texture is soft and creamy and pigmentation, GREAT! Some of the colors also reminded me a lot of MAC eyeshadows.
Another product you
must
check out is their
Lip Cream (£9)
, which comes in a really pretty bejeweled heart-shaped tin dusted with a gold leaf. There are a total of 18 colors available, mostly in pinks, browns and nudes. They also come in delicious rose, choc or orange scents and the shea butter, beeswax and jojoba conditioning base makes them uber moisturizing and so easy to wear!
Where To Find B
London, Leeds and Dorset (UK), Tokyo (Japan) and Vienna (Austria)