From Pat McGrath Labs' fourth launch, Lust 004 Bloodwine is a versatile 5-piece lip kit that will turn your mouth into a metaphysical masterpiece.


Similar to the
Skin Fetish 003 kits
, the Pat McGrath Labs Lust 004 Bloodwine Lip Kit comes in a plastic bag stuffed with sequins.
Clear Vinyl Gloss
is a clear gloss packaged in a transparent plastic tube with a black cap, like M·A·C Lipglass Clear. You get 0.46 oz of product, just shy of the 0.5 oz with M·A·C. Unlike the M·A·C, the gloss added shine to my lips and eyelids without feeling too tacky, making the wear much more comfortable. The tube packaging was also much better and did not leak (a HUGE problem I had with the M·A·C).
Blood 1 Lipstick
is a strawberry red with semi-matte finish.
M·A·C Viva Glam I
is slightly darker; NARS Luxembourg Satin Lip Pencil is brighter and glossier; NARS Mysterious Red Velvet Matte Lipstick Pencil is similar but more matte. You only get 0.05 oz of product, which is about half of a M·A·C and NARS lipstick. The lipstick applied smoothly with good pigmentation and did not feel too drying. The slim shape also helped with application but a liner (I use M·A·C Cherry Lip Pencil) is definitely needed to prevent bleeding.
Blood 2 Lipstick
is a dark burgundy plum with semi-matte finish. M·A·C Power My Spirit Mattene Lipstick is much lighter; ,a href="http://makeupforlife.net/2016/05/nars-audacious-lipstick-reviews-swatches-photos.html">NARS Liv Audacious Lipstick is almost identical, just a tinge lighter. Like Blood 1, the lipstick applied easily and semi-opaque. However, the darker color highlighted fine lines and flakes more easily. Again, a lip liner (M·A·C Nightmoth Lip Pencil) is needed for application as the lipstick does bleed.
Metallic Gold Pigment
is a tarnished gold loose pigment in a clear jar with a black lid. You get 0.07 oz of product, about the same as M·A·C Sized To Go Pigment (0.08 oz). The texture was finely-milled and a little goes a long way. On my NC20 skintone, it worked nicely as a wash on the eyes and a highlight on the cupid's bow and on top of the cheekbones. The only problem I had was the packaging. Despite the sifter, the pigment kept leaking EVERYWHERE, even straight out of the package when it was sealed shut. I could not figure out a way to use, let alone travel with it, without making a mess.
Blood Microfine Glitter
is a bright red loose glitter in a clear jar with a black lid. You get 0.07 oz of product, same as the Metallic Gold Pigment. The glitter was beautiful and fine enough I could barely feel it on my lips. But again, the packaging sucked. It was a pain getting the glitter out of the sifter and I had to shake the jar for like 20 times.
Overall, I am pretty disappointed with the Pat McGrath Labs Lust 004 Bloodwine Lip Kit. Although you can do many different looks with it, the quality of the products was just not on par with the Skin Fetish 003 kits. Plus the horrible jars really need to go, especially at this price.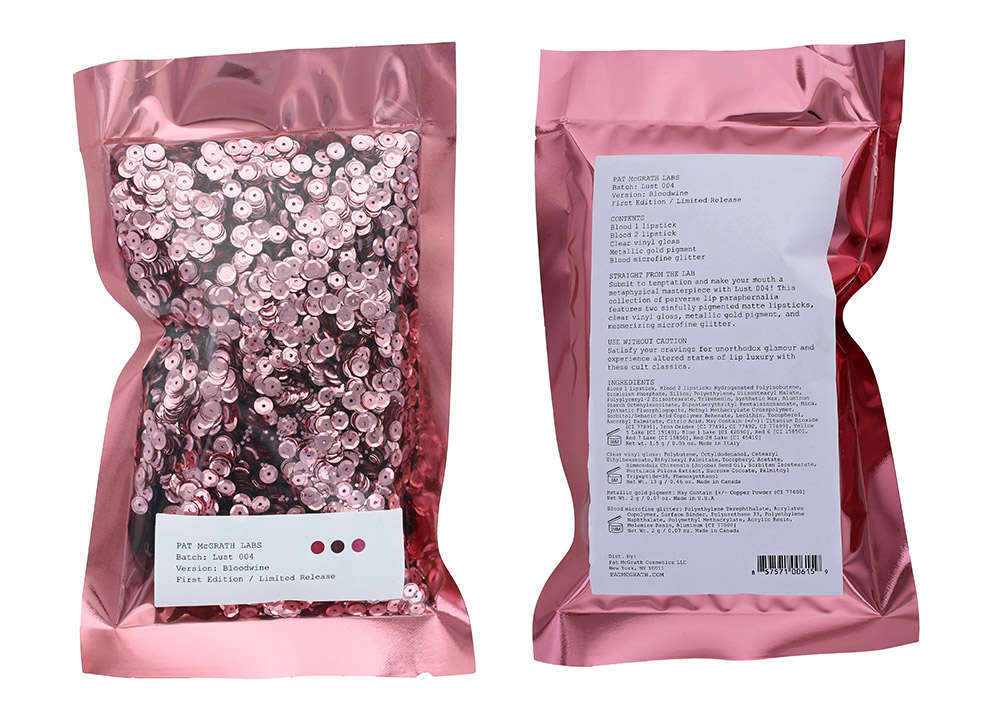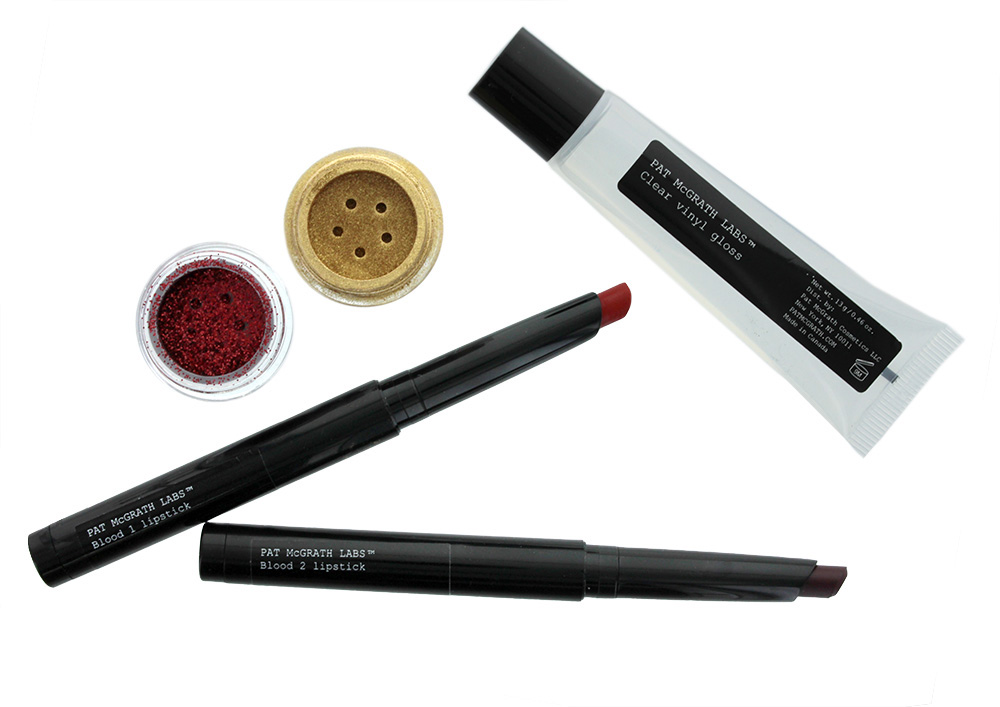 Pat McGrath Labs Lust 004 Bloodwine Lip Kit is available at
sephora.com
and select Sephora stores for $60.
Disclosure: This review contains products that were purchased by us. It may also contain an affiliate link, which gives us a small commission if you purchase the items. Please see our Disclosure for more information on our posting policy.