To play up the "Cowboys and Poodles" motif at Jeremy Scott Autumn/Winter 2016, models were given a look that resembled "cowgirls in space, pin-up with a pop twist" with big hair, vibrant eyeliner and fuchsia lips.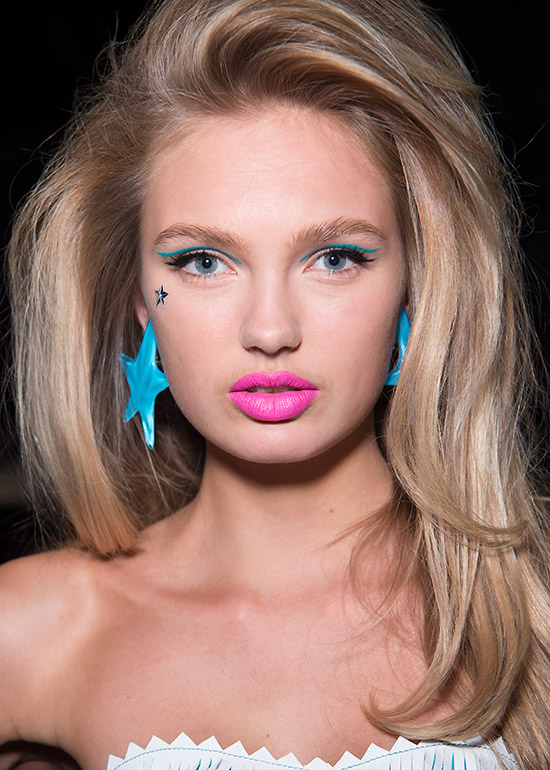 Makeup: Kabuki for M·A·C Cosmetics
Hair: Eugene Souleiman for Wella Professionals
Kabuki started by applying Matchmaster SPF 15 Foundation in a sheer layer and M·A·C Studio Finish SPF 35 Concealer as needed to create a fresh, young appearance. Brows were combed upwards and set into place with a glue stick and then filled as needed with eyeshadow to balance and perfect. Mixing Medium Shine was then applied over brows for a plasticized effect. M·A·C Pro Acrylic Paint in Hi-Def Cyan, Primary Yellow and Pure White mixed to create a custom blue eye liner and swept through the arch of the eyelid to define. Lashes were curled and followed with 7 Lash, trimmed in half and applied through the outer corner of the eye. Haute & Naughty Lash in Black applied to combine 7 Lash with the natural lashes to lift and perfect. Superslick Liquid Eye Liner in On the Hunt applied with a bit of a wing-tip through the outer corner of the upper lashline. A crystal-studded silver star was applied as a beauty mark under the right eye to tie in the themes of the American West, pin-up glamour and outer space. On the lips, Candy Yum-Yum Lipstick was used while Pink Pigeon Lipstick was used on models with deeper complexions.
The inspiration for the "Barbie goes to Vegas" style hair came from various sources – bold burlesque glamour, John Waters' iconic Hairspray styles and glamorous fifties pin-ups. "The hair at Jeremy Scott is very big, sexy and some might say trashy, but I would say fun," explained Souleiman. "It's slightly Barbarella-esque – but it's all about the volume and not about perfection. Although it has its roots in the fifties, there's this modernity in the texture and imperfection to the style."
To get the look, Souleiman first prepped hair with ample amounts of Wella Professionals EIMI Sugar Lift and applied Wella Professionals EIMI Perfect Setting onto the ends, creating a chemically processed feel that makes hair easier to style into a classic fifties pin-up look. Next, he blow dried the entire head starting from the roots and using a large round brush to create a base for the backcombing. Once the hair was dry, he set it with wide rollers before brushing out. He finished the look by teasing the hair with a fine tooth comb while applying Wella Professionals EIMI Stay Essential Finishing Spray for hold.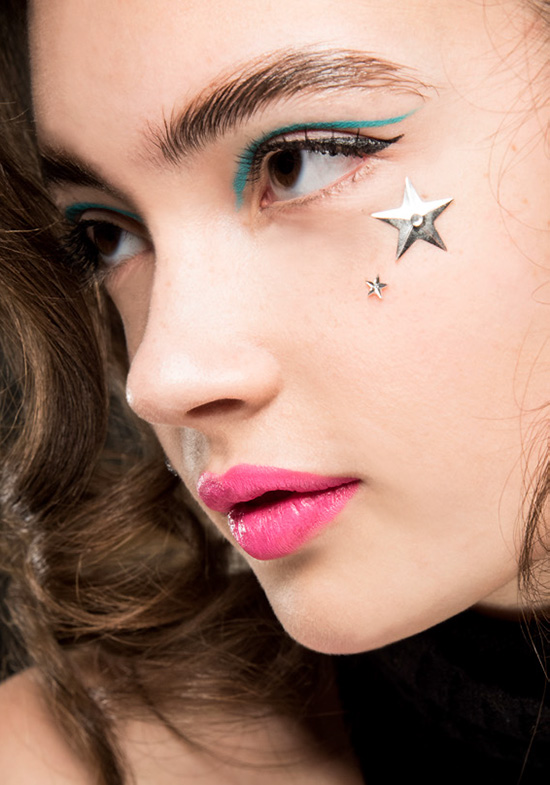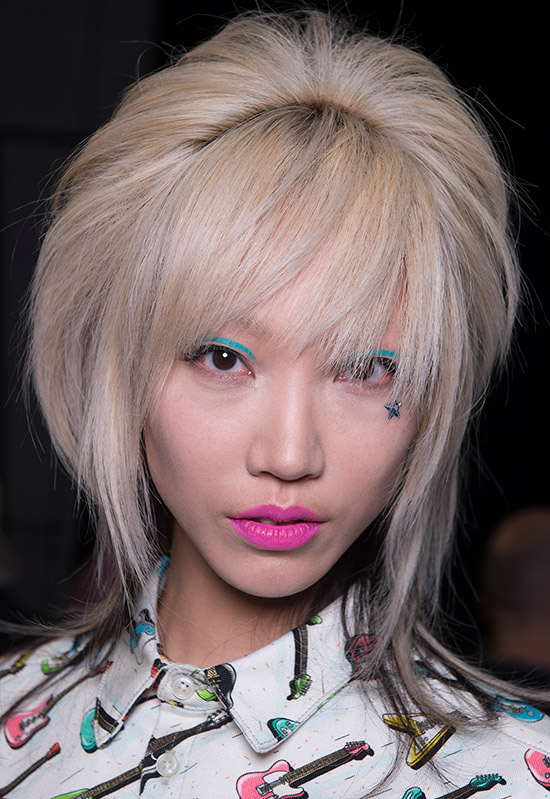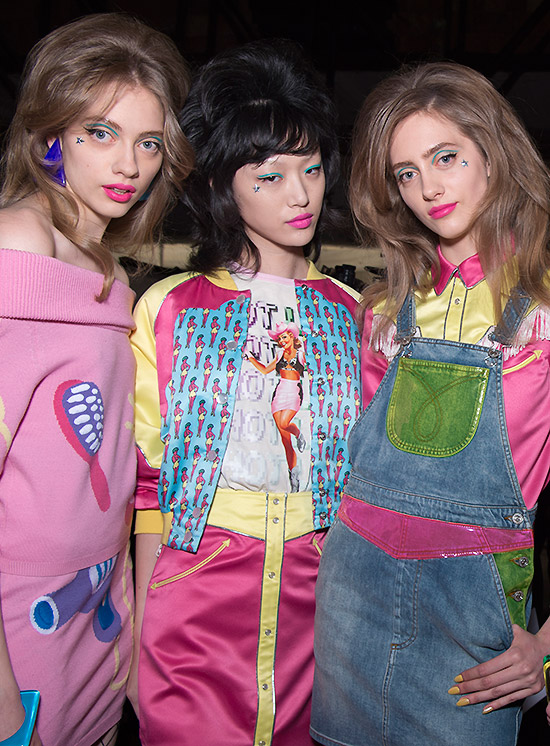 Images: Courtesy of M·A·C Cosmetics and Wella.