Fall is never quite fall without smoky eyes and at Donna Karan Fall 2013, makeup artist Charlotte Tilbury working for M·A·C Cosmetics created a look that was "back to Donna Karan's DNA, smoky eye roots with a modern twist".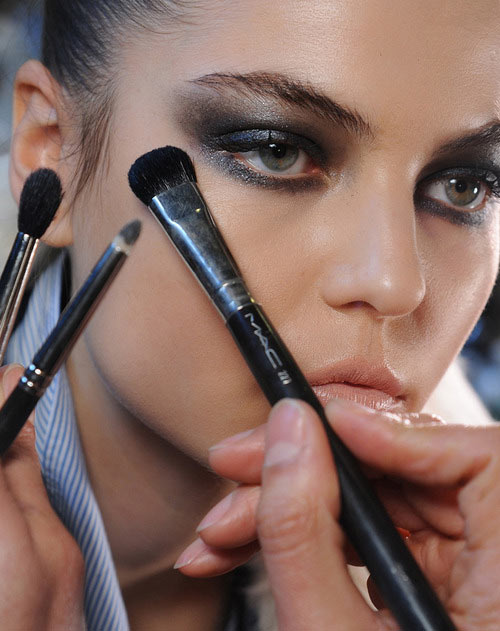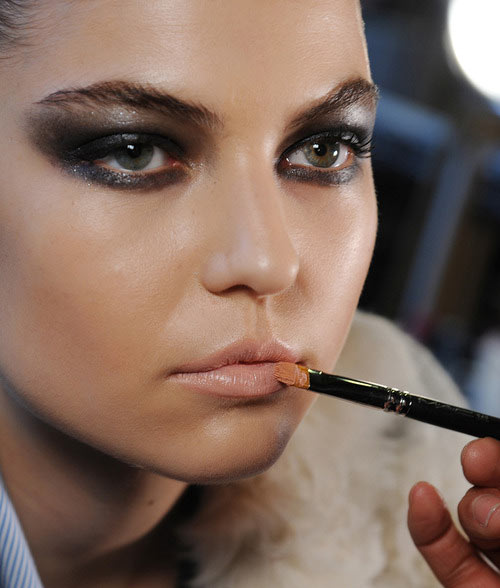 Face
* Mineralize Charged Water Moisture Gel – blended into skin to instantly hydrate and create luminosity.
* M·A·C PRO Full Coverage Foundation – blended into skin as needed to perfect and tone.
* M·A·C PRO Copper Beach Sculpting Cream – blended under cheekbones for a warm contour.
* Luna Cream Colour Base – applied over upper cheekbones to highlight.
Eyes
* Blackground Paint Pot, M·A·C PRO Pearl Reflects Glitter and M·A·C PRO Shine Mixing Medium – mixed together and applied over eyelids with 224 Tapered Blending Brush, then blended upwards through the crease to the brow bone, for a diffused "bat-winged" look over the eye. A clean brush is used to further diffuse and blend through the crease and browbone, and a fingertip is used to remove product from the eyelid. 219 PENCIL BRUSH used with the Blackground Paint Pot mixture through the lower lashes to define eyes with a thick, but diffused line.
Extended Play Lash Endlessly Black Mascara – blended through the upper lashes only.
* M·A·C PRO Gloss Texture – added over the eyelids during line-up for an instant glossy dimension to eyes.
Lips
* M·A·C PRO Fleshpot Lipstick – tapped into the lip with a fingertip for a soft velvety nude on lips.
Nails
* Quiet Time Nail Lacquer – applied for a putty-coloured manicure with a hard edge that remains chic. Nails were given a "Cu-Tip" shape to mirror the cuticles.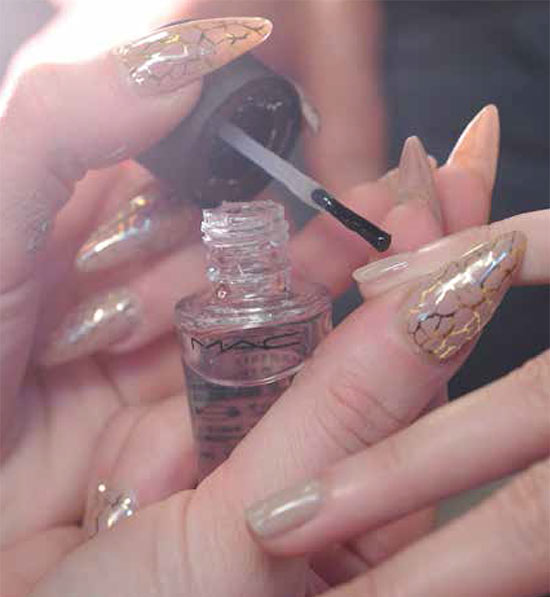 Images: Courtesy of M·A·C Cosmetics.