Two-toned lip returns to the runway at the Holly Fulton Spring/Summer 2013 show as M·A·C Cosmetics makeup lead Andrew Gallimore created a "cool California L.A. 50's girl with a toasted tan, summer freckles, and a sunblock-neon lip."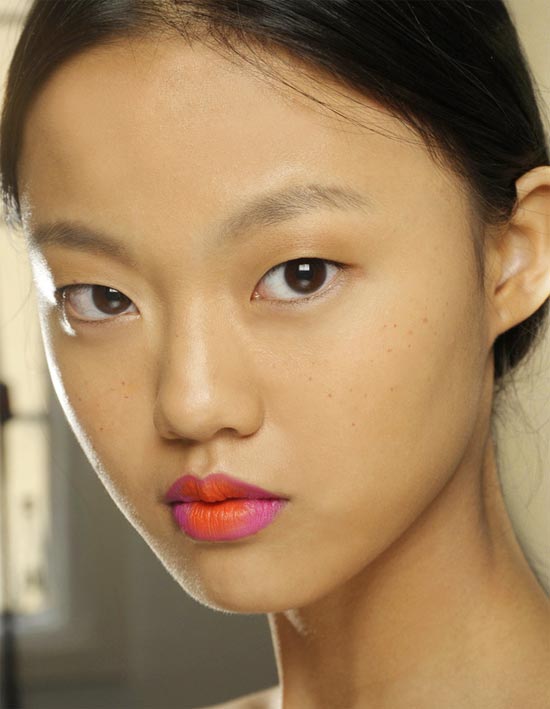 Face
* Select Cover-Up — lightly blended over hydrated skin to create an even, flat, "mannequin" look to skin.
* Lingering and Strut Eye Brows — used to stipple freckles across the nose and cheeks, varying in size and density, and then patted over with a fingertip to create a "realness" to skin.
* M·A·C PRO Blot Powder Loose — swept through the T-zone to polish and set.
Eyes
Brows are combed and groomed.
Lips
* Embrace Me Lip Pencil (available Spring/Summer 2013) —
used to define the bow of lip and contour a more rounded shape, while avoiding the centre of the lower lip.
* M·A·C PRO Fuchsia and White Lipmix — mixed to create a neon pink and applied through the outer corners of the lip.
* M·A·C PRO Orange Lipmix — applied though the middle of the lip towards the lower lip edge, finger width in size, in a rounded heart shape.
* 217 Blending Brush — used to softly blur the two hues of fuchsia and orange together to finish.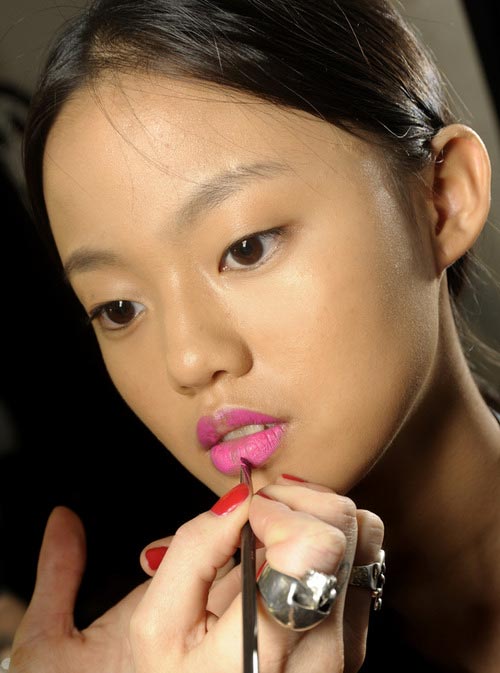 Images: Courtesy of M·A·C Cosmetics.