Modern Medieval was the inspiration behind the sleek hair, nude makeup and nails at the Rodarte Spring/Summer 2013 show.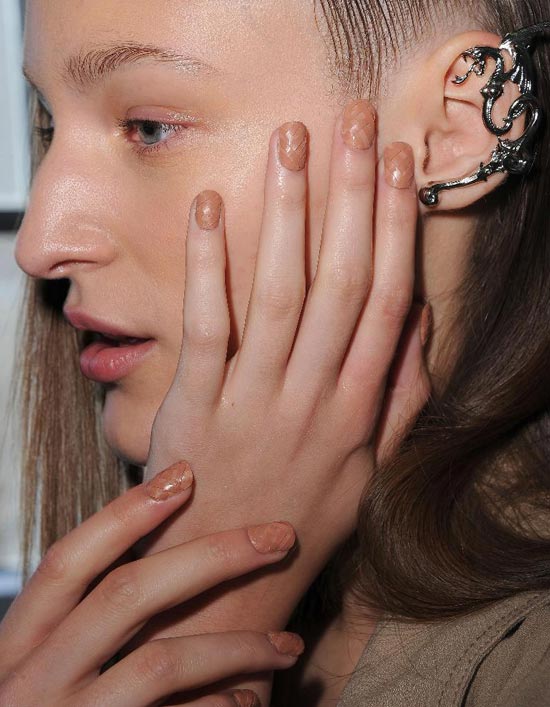 Makeup
James Kaliardos for NARS Cosmetics
Skin
* NARSskin Optimal Brightening Concentrate
* NARSskin Total Replenishing Eye Cream
Face
* Sheer Glow Foundation
* Sex Appeal Blush
* Radiant Creamy Concealer (new for Spring 2013) For a similar effect, try Concealer.
Eyes
* Himalayas Single Eyeshadow
* Triple X Lip Gloss
Lips
* Triple X Lip Gloss
Nails
CND Nail Artist Michele Huynh designed "Modern Medieval" manicures by weaving strips of custom blended and mattefied CND Colours in Desert Suede, Frosting Cream and Chocolate Milk over a base blend of high shine CND Colours in Desert Suede and Frosting Cream. Each nail tip required fifteen minutes to hand-detail – and the 30 total sets of nails for the show took 150+ hours to create!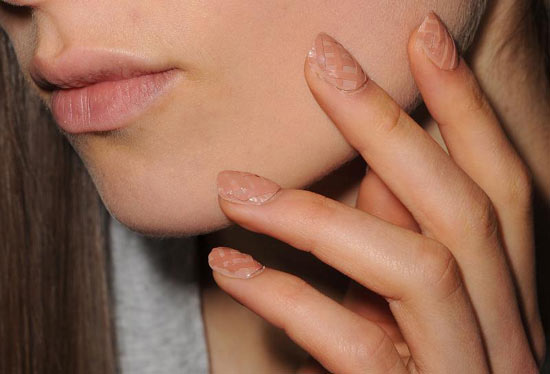 Hair
Odile Gilbert, legendary lead stylist for Kérastase Paris created a "very straight, very flat and sleek and tight to the head" look with a deep side part.
1. Prep damp hair with Sublimateur Jour and blow dry hair straight and flat against the head.
2. Apply Fibre Architecte and flat iron the lengths for a pin-straight look.
3. Create a horizontal part, starting on one side at the ear and going across the head for a "comb over" effect.
4. Leaving the front right section loose, and spray the rest of the sections behind the ear with Double Force Hairspray.
5. To give the hair ultimate shine, apply Elixir Ultime The Imperial at the top of the head.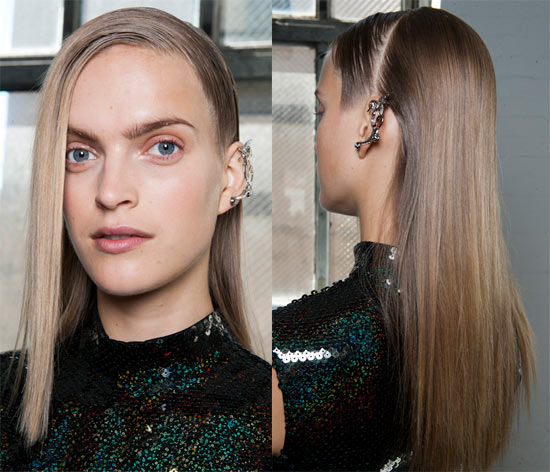 Images: Courtesy of CND and Kérastase Paris.