At Peter Som Spring/Summer 2013, color was everywhere. Lead artist Tom Pecheux for M·A·C Cosmetics worked with Wella Professionals Global Creative Director Eugene Souleiman and Color Ambassador Aura Friedman to create "classic East Village cool girls – natural easy hair with touches of faded color with strong, bold, yet sophisticated eye colors."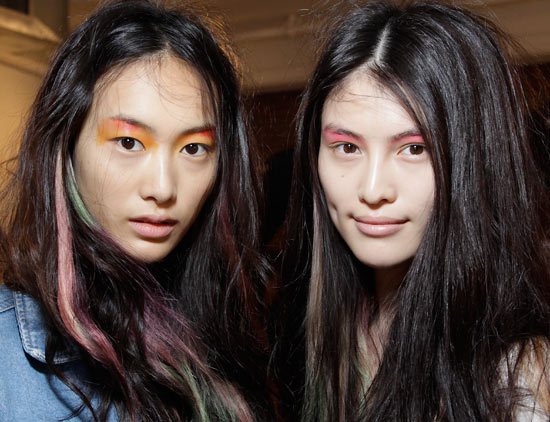 Face
* MAC Mineralize Charged Water Moisture Gel — massaged into skin to instantly hydrate and illuminate.
* MAC Face & Body Foundation — blended over skin to perfect and tone
* MAC Prep + Prime Transparent Finishing Powder — swept over skin to polish and set.
Eyes
* Brows are brushed upwards and groomed.
* MAC Sunshine from Spring 2013 Forecast/Eyes (available Spring/Summer 2013) — applied with fingers over the eyelid.
* M·A·C PRO Paint Sticks in Hi-Def Cyan, Genuine Orange, Landscape Green, Marine Ultra and True Chartruse — blended with
Pure White Paint Stick and then applied through the crease to the brow with fingers, creating a pastel-ombre effect over eyes.
* M·A·C PRO Paint Sticks in Landscape Green and Marine Ultra — used to smudge a dark spot directly above eyes under brows.
Lips
* MAC Luxe Naturale Mineralize Rich Lipstick (available Spring/Summer 2013) — blended softly into lips.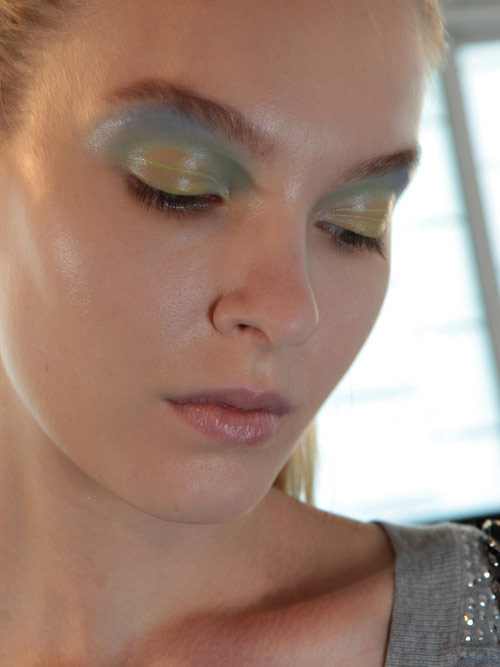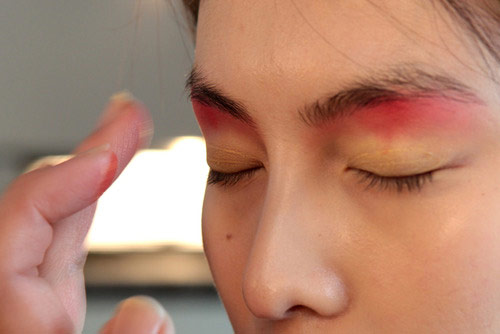 Hair
Aura chose a haircolor palette inspired by a 2013 Wella trend that embodies futuristic luxury and clashing cultures. The two are married together in shades of precious mineral tones for a smoky, antique effect, such as tourmaline, amethyst, teal, denim, and dusty rose. This look is the next iteration of the punky, pastel trend she trailblazed with the rosegold streak from the Spring 2012 Peter Som show, which then evolved into dip-dyeing and ombre pastel interpretations. Aura custom colored the natural hair extensions with Wella Professionals color and finished the extensions with the ILLUMINA Color line, a permanent color that delivers translucent, luminous results while protecting hair health.
Get the Look
1. Wash and condition hair using Wella Professionals Brilliance shampoo, conditioner, and treatment to preserve the brilliant shade and shine of color-treated hair.
2. Towel dry and apply Wella Professionals Velvet Amplifier, which primes hair for a smooth finish.
3. Allow hair to air dry for natural texture or loosely blow-dry with hands to achieve the tousled effect.
4. Part hair in the middle and insert extension pieces throughout for desired amount of color.
5. Lightly mist Wella Professionals Ocean Spritz throughout the hair to create texture in the hair.
6. Twist hair into a loose low bun and secure with a clip, allowing the hair to set for a loose wave effect once the clip is removed and hair is hand combed to loosen the waves.
7. For the finishing touch, rub a dime size amount of Wella Professionals Texture Touch between the palms of hand and then gently massage onto the top of the hair in areas where added texture and roughness is desired.
Images: Courtesy of M·A·C Cosmetics and Wella.