"A nod to the psychedelic 60's with a tough urban kick", lead makeup artist Hannah Murray working for M·A·C Cosmetics gave models a fresh look with bright blue eyeliner and nude lips at the Moschino Cheap & Chic Spring/Summer 2013 show.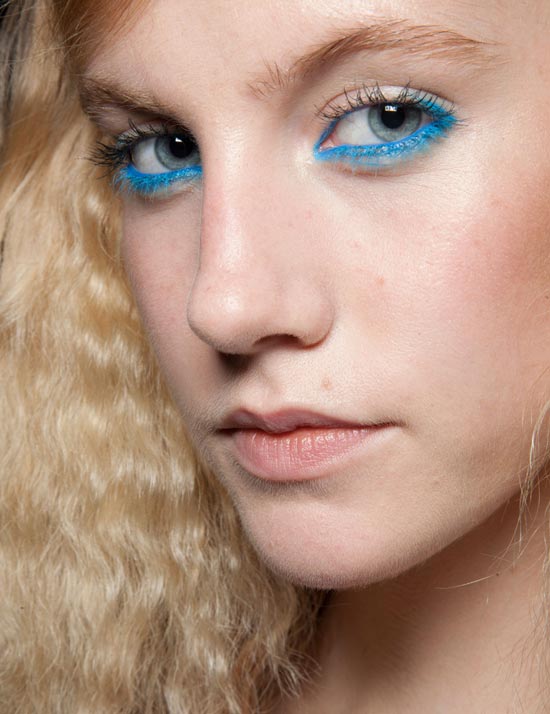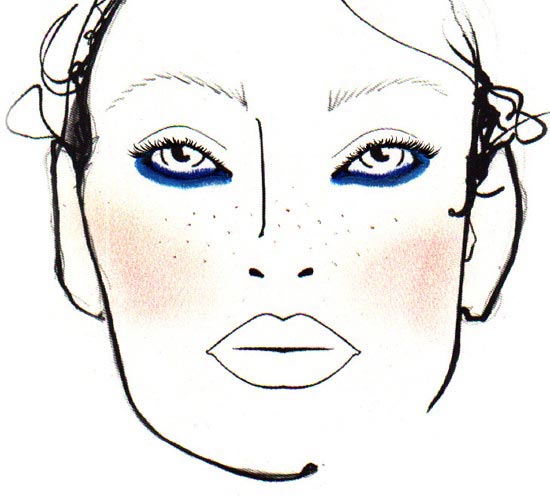 Face
* Face & Body Foundation — lightly blended into well-hydrated and conditioned skin to even and tone.
* Prep + Prime Transparent Finishing Powder — swept through the middle of t he face to polish and set.
* Studio Finish SPF 15 Concealer — used only where needed to perfect.
* Pearl Cream Colour Base — massaged into the high points of the cheek to highlight.
* Improper Copper Cream Colour Base — blended into the apple of the cheek to enhance the natural colour from within.
* Luxe Brow Powder Pencils (available Spring/Summer 2013) — varying tones stippled across both cheeks and nose to enhance or replicate the model's own freckles.
Eyes
* M·A·C PRO Hi-Def Cyan Chromgraphic Pencil — applied through the waterline and lower lashes.
* M·A·C PRO Marine Ultra Chromagraphic Pencil — layered over Hi-Def through the waterline to add a frame to the eye.
* Extended Play Lash Endlessly Black Mascara — applied through the upper lashes to define.
Lips
* Lip Conditioner — patted into lips to nourish and hydrate.
* Face & Body Foundation — applied with a fingertip to tone down the natural colour of lips.
Images: Courtesy of M·A·C Cosmetics and ImaxTree.