A "classic, sportif" look with flushed cheeks and bright lips was created by Dick Page, Shiseido Artistic Director, for Michael Kors A/W 2012 collection.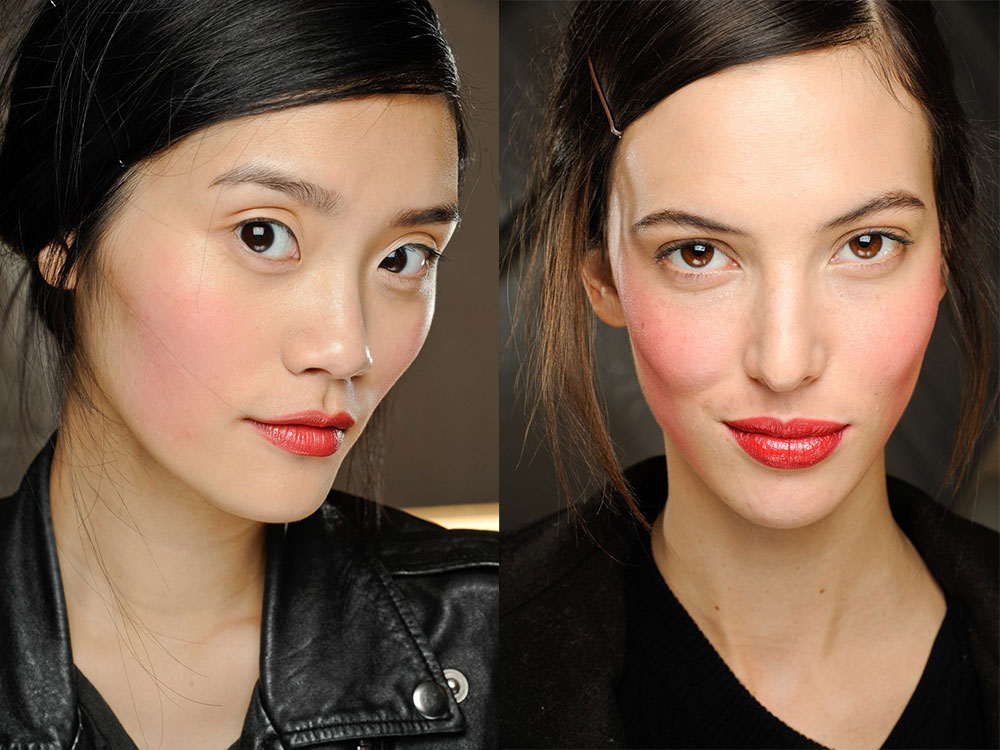 "The connotation of sportif in Europe is energetic and the look is all about the woman who's living this life, who's very chic and made of money."
Face
The Michael Kors face featured a "bloody, wonky flush". Dick started this look with a clean, well-moisturized base and applied a wash of Radiant Lifting Foundation (launching Fall 2012) to remove any redness or imperfections.
To create a chevron-shaped flush on cheeks, Dick blended Lacquer Rouge in Drama (RD501), a lipstick with concentrated color, onto the apple of the cheek, along with a dab of foundation using a damp Foundation Sponge Puff.
Eyes
The eyes were given a "transparent, easy, flexible" treatment that resulted in a "very chic," shimmery, wearable look for day or night.
To create weight in the brow, Dick mixed a blend customized to each model's natural brow color using Shimmering Cream Eye Color in Sable (BR709), Meadow (BE204), Caviar (BK912), and Leather (BR306). Using a shadow fluff brush, Dick blended Luminizing Satin Face Color Soft Beam Gold (BE206) and High Beam White (WT905) and applied the color to the inner corner of the eye, blending out over the entire lid. (Tip: when mixing color, use a bit more of the High Beam White shade to keep the blend bright.) He then curled the lashes to give them a soft, natural bend, walking the curler up the lashes to avoid a "crimped" look, and finished with Perfect Mascara Full Definition in Black (BK901) on just the upper lashes.
Lips
Red lips on the Michael Kors runway felt very "winter," emulating "après ski and sex" — an approach fitting for the confident Kors woman.
Dick first took down the natural lip color using a bit of foundation. Then he applied Lacquer Rouge in Drama (RD501) to the entire lip in a defined, precise manner. He blotted with tissue and reapplied three times in order to set the color.
Images: Luca Cannonieri / GoRunway.com.