For years and years, models, celebrities and socialites from Hong Kong, my hometown, have raved and raved about Valmont, a premium skincare line from Switzerland. So when I heard that the brand is finally launching its first online store in the US, I checked out their upcoming Hydra3Regenetic Serum and Cream Duo to see what the hype is all about.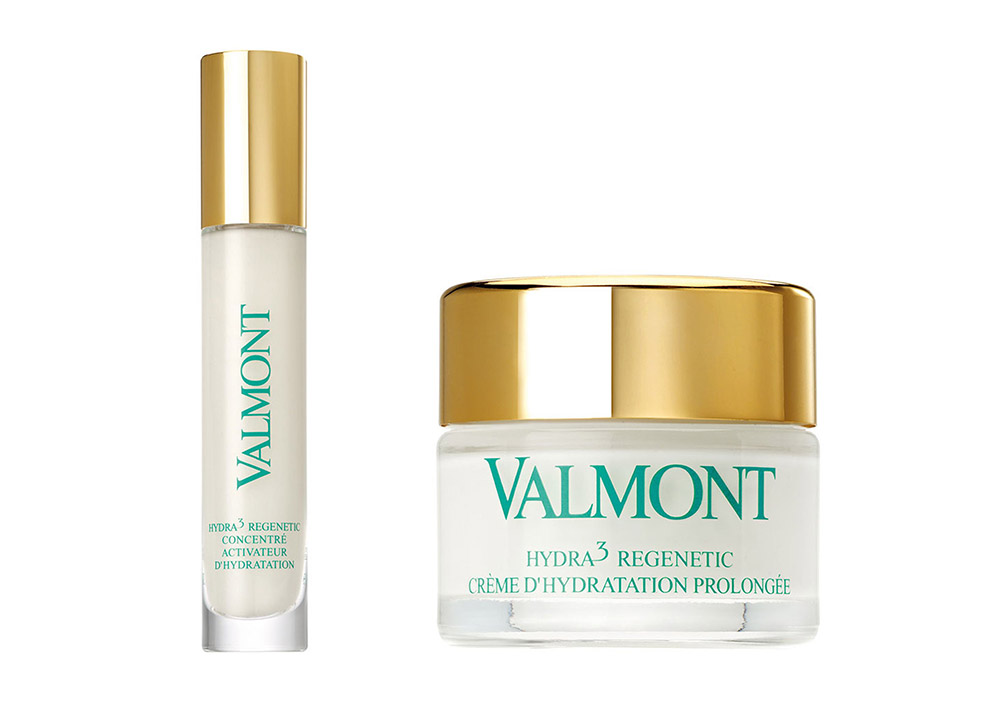 Packed with triple DNA, DNA liposome and a high concentration of hyaluronic acid to retain up to 10,000 times its volume in water, the Hydra3Regenetic Serum and Cream can penetrate through three cutaneous layers (the corneous, the live epidermis and the dermis) to hydrate your skin from within and reeducate it to correct the causes of dehydration.
The Hydra3Regenetic Hydration Activating Concentrate is a water-based gel-like serum while the the Hydra3Regenetic Prolonged Hydration Cream has a slightly thicker texture. Both applied easily without feeling heavy and sank into my skin right away, leaving it soft, plumped up and moisturized. I was in the middle of a pretty bad cold when I started using them. I went through a whole box of tissue in 2 days and must have blown my nose like 200 times. Needless to say, my skin was a wreck. But all it took was a couple of applications and all those evil flakes and dull, dry skin? GONE (My SK-II Facial Treatment Essence can't even do that!) Since then, I have been using the duo religiously and my skin has never looked better, even in this cold, harsh Chicago winter.
Another thing I loved was how well the duo worked with makeup. On those extra dry days or when I do not get enough sleep, I like to apply a thick layer of the Prolonged Hydration Cream all over for a quick moisture boost. I let it sit for 10-15 minutes until it gets absorbed completely and my foundation just glides on like butter.
Or if you are a fan of mixing your foundation with moisturizer, a trick top notch Asian makeup artists like Zing and Kevin 凱文老師 ALL swear by, the duo is also perfect for that! I have tried mixing both the serum and cream with both my favorite
Smashbox Studio Skin 15 Hour Wear Hydrating Foundation
and newly discovered Estée Lauder Double-Wear Light Foundation, and the result? The prettiest, natural-looking dewy look you can ever get!
Overall, I am giving Valmont Hydra3Regenetic Serum and Cream both thumbs up and I highly recommend it for dehydrated or mature skin. Must purchase the full size when my samples run out!
Valmont Hydra3 Regenetic Serum and Cream will be available at
http://www.boutiquevalmont.com/
for $275 and $315 in March.
Disclosure: This review includes products that were provided by the manufacturer/PR firm for consideration only. It may also contain an affiliate link, which gives us a small commission if you purchase the item. Please see our Disclosure for more information.