Thanks to the cold winter weather and dry indoor heat, my normally clear combo skin turned into a nightmare. I was breaking out with a few HUGE pimples on the forehead yet flaking on the cheeks – so not pretty! Desperate for a solution, I turned to the Murad Acne & Aging Skin Solution Kit that was sent to me and it has truly been a life saver!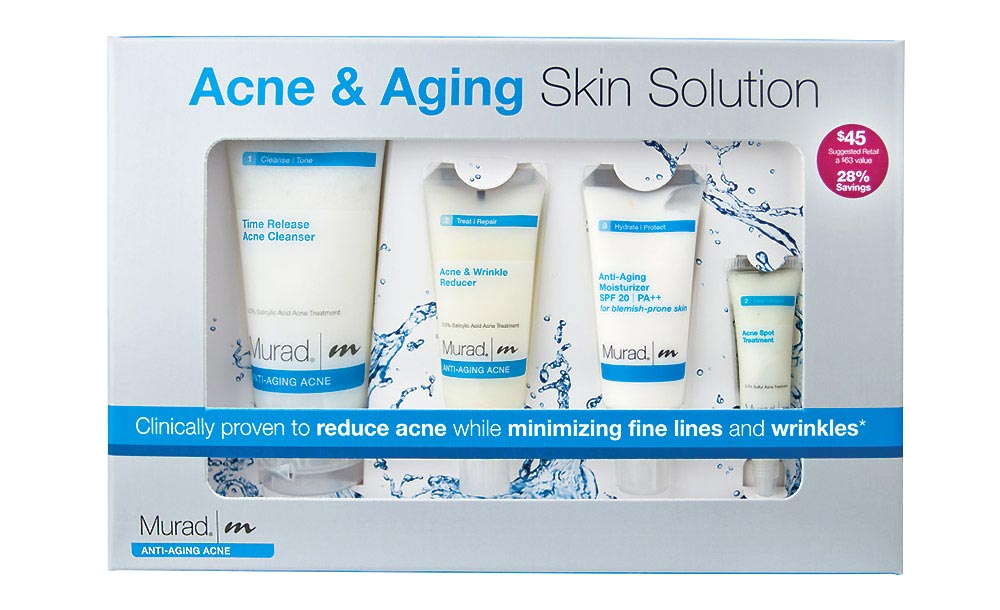 Designed for those battling adult acne, the Murad Acne & Aging Skin Solution Kit comes with four products to reduce existing blemishes and prevent new blemishes from forming, while repairing skin's barrier and optimizing collagen levels to minimize the signs of aging.
Time Release Acne Cleanser (2 fl oz)
contains Amino acids, Hyaluronic Acid and antioxidants to lock in moisture and restore suppleness, along with 0.5% salicylic acid to kill bacteria and gently exfoliate the upper layer of the skins. It has a thick, creamy texture and a minty scent that is refreshing. I only use this in the PM and it does an excellent job cleaning my skin without drying it out.
Acne & Wrinkle Reducer (0.8 fl oz)
contains Kombucha Collagen Defense™ to stimulate collagen production, Marine Kelp Extract to provide instant lifting and firming, together with Willow Bark Extract, Silver and encapsulated Salicylic Acid to penetrate deep to clear acne and eliminate breakouts. Ever since I started applying a very thin layer of it over my forehead twice a day, I have not seen any new pimples.
Acne Spot Treatment (0.25 fl oz)
combines 3% Sulfur, Salicylic Acid, Licorice Extract, Allantoin, Vitamins C and E and Hydrolized Oat Flour to speed healing of blemishes on-the-spot, prevent new blemishes from fully developing and minimize dryness and flaking while soothing redness and irritation. It is my favorite product out of the kit and I was really surprised yet happy with how effective it was. The bumps/redness I had went down by half literally overnight. Simply miraculous!
Finally, there is Anti-Aging Moisturizer SPF 20 | PA ++ (0.8 fl oz). The 3-in-1 moisturizer contains Kombucha Collagen Defense™, oil regulators and Willow Bark Extract to stimulate collagen production, boost hydration and control blemishes. It also comes with SPF and PA++ to protect against both UVA and UVB rays. The scent reminds me of my favorite Murad Waterproof Sunblock SPF 30 and I love how it goes on so lightweight yet keeps my skin moisturized and soft all day.

Overall, the Murad Acne & Aging Skin Solution Kit is great and I wish I had discovered it earlier! The products go very well with one another and are effective yet gentle. Plus the fact that each product is labeled with a "step" and what it does just makes it all the better.

The Murad Acne & Aging Skin Solution Kit was limited edition but you can buy the products separately at murad.com, Sephora and Beauty.com.

Disclosure: This review includes products that were provided by the manufacturer/PR firm for consideration only. It may also contain an affiliate link, which gives us a small commission if you purchase the item. Please see our Disclosure for more information.