At the 'Harry Potter And The Deathly Hallows: Part 2' New York Premiere last month, Emma Watson paired her slicked-back pixie cut with a defined gold and black cat eye and nude lips. I loved how powerful the look is and those golden foil on the outer corners are such a nice accent! Read on to see my step-by-step tutorial on how to recreate this gorgeous eye makeup.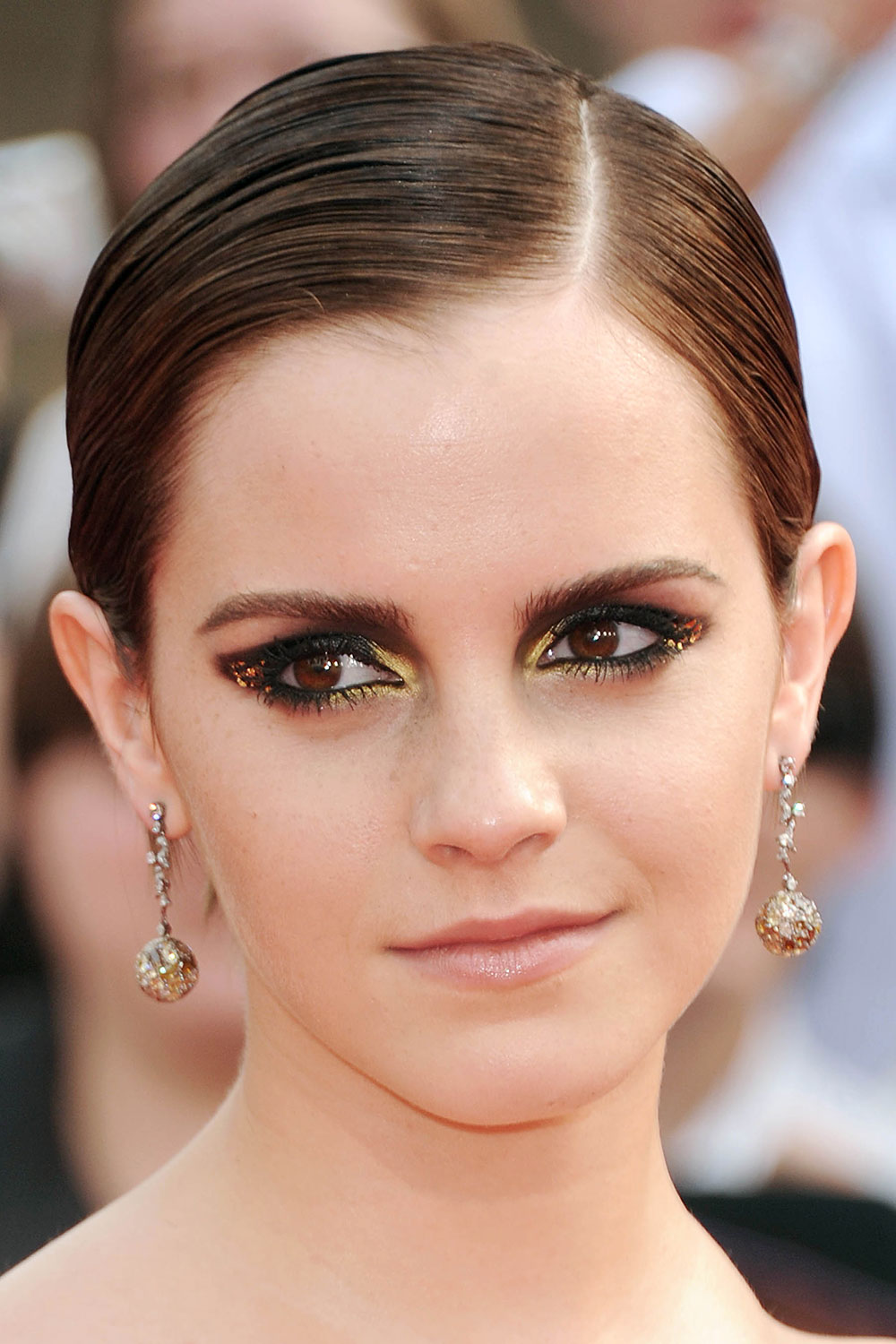 Step 1
. Prep the eyelid with a primer to ensure more vibrant and longer-lasting color.
Product Used
: NARS Pro Prime Smudge Proof Eyeshadow Base
Step 2
. Apply a golden yellow eyeshadow onto the inner corner of the eye. Wet the brush for more intensity.
Product Used
: MAC Golden Lemon Pigment
Step 3
. Pat a metallic charcoal eyeshadow onto the remaining eyelid.
Product Used
: MAC Knight Divine Eyeshadow
Step 4
. Sweep a black eyeshadow onto the crease. Drag it past the outer corner for a cat-eye shape. To copy Emma's look down to a T, drag the color from the inner corner towards your brow as well.
For the perfect cat-eye shape, hold a Kleenex or apply medical tape under the eye before you apply the color. Alternatively, clean up the line with a foundation brush or sponge dipped in foundation.
Product Used
: NARS Pandora Duo Eyeshadow
Step 5
. Apply the golden yellow and charcoal shadows on the lower eyelid.
Product Used
: MAC Golden Lemon Pigment and NARS Pandora Duo Eyeshadow
Step 6
. Run a black pencil eyeliner along both upper and lower lashlines.
Product Used
: NARS Via Veneto Larger Than Life Long-Wear Eyeliner
Step 7
. Go over the line with a black liquid liner to add drama and staying power.
Product Used
: Jealousness Waterproof Eyeliner in Smoked Black BK-II
Step 8
. Apply tiny pieces of gold foil on the outer corner of the eye. Don't have any handy? Dab some of the golden yellow eyeshadow with a damp brush instead.
Product Used
: MAC Golden Lemon Pigment
Step 9
. Coat your lashes with black mascara. Add fake lashes as desired.
Product Used
: CoverGirl Natureluxe Mousse Mascara in Very Black and Jealousness Fake Lashes in JS-507 Captivating Cat Eye
Step 10
. Clean up any eyeshadow fallouts and you are done!
Extra Tips On Nailing The Look
• When working with dark colors on the eyes, do your foundation and concealer last to avoid a massive cleanup.
• To prevent colors from turning muddy, always start with lighter colors before moving to the darker ones.
• Since this is very defined, strong look, do not worry too much about the blending. Just make sure to keep the undereye area as clean as possible.