Red lips are oh-so-hot this season. It is spotted all over the runway, in magazines and makeup counters. But before you dig up your reds and start wearing them away, read on for a few tips on how to do the perfect red lips.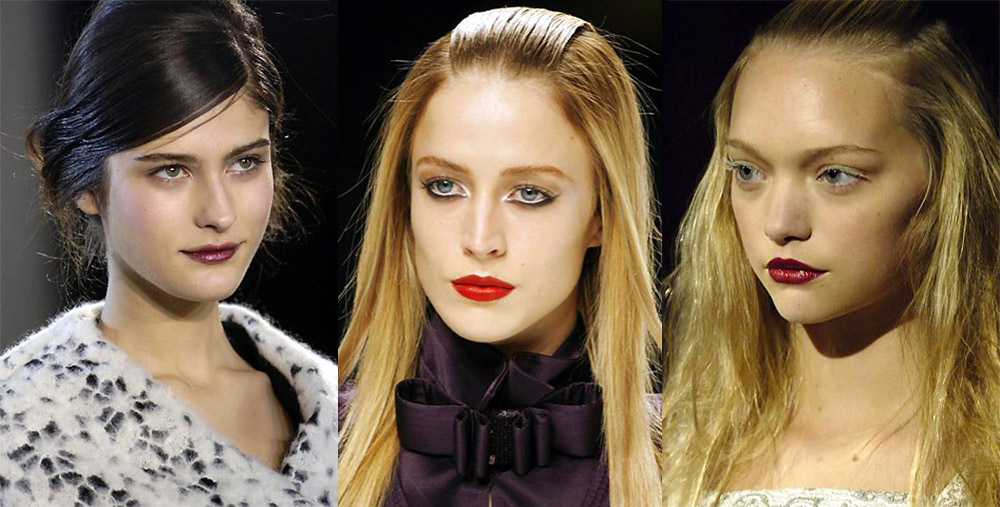 Thakoon, Valentino and Miu Miu Fall 2006
• Any shade of red – strawberry, burgundy, cherry, berry – is hot! The only reds you should avoid are metallic and glittery red. Self-explanatory.
• As for the finish, matte is definitely the way to go but if you do not have a perfect lip line like me or you are not used to bright colors, use a lip gloss or stain instead. I *love* MAC Tinted Lipglass in Russian Red!
• Skip lip liner. Instead, use a good lip brush for a less-painted yet perfect application.
• With lips this bright, keep the rest of your face as natural as possible. A dewy foundation (try Giorgio Armani Luminous Silk Foundation) together with nicely defined eyebrows, a little eyeliner and a few coats of black mascara will have you looking fresh yet sexy.
• On porcelain complexions, pick a red with blue undertones. Blue-based reds also tend to make your teeth look whiter. Those with a warmer complexion should stick to reds with orange/coral undertones.
• Remember to prep your lips in advance. Scuff off all dead skin with an old toothbrush and apply Vaseline or lip balm before you start doing any makeup so by the time you do your lips, your lips would be soft and moisturized.
Image credit: Getty Images.