A lot of you wanted to know if there are ways to make eyes with monolids, i.e. no crease, bigger. So here are a few ways that I know of. Feel free to leave a comment if you can offer more tips =)

1. Makeup
I strongly believe in using the right makeup to enhance what you are born with. A really good example is Taiwanese singer Elva Xiao (蕭亞軒). Below is a picture of Elva when she first started out and a recent picture of her. As you can see, makeup can make a *huge* difference in altering the size of your eyes.


So how exactly can you make your eyes look bigger by using makeup? Follow the tips below and you should see a difference.
• Keep your eyebrows in check to maximize the eye area. Dark, bushy eyebrows can be over-empowering and make your eyes appear smaller. You can also try bleaching your eyebrows a little or using a lighter brow gel.
• Use eyeshadow on both your upper AND lower lid. Blend the shadow on the upper lid from the center outwards, curving it upwards towards the brow in the shape of a wing.
• When you line your bottom lashline with a dark color, try to line the part where your lashes start and not the inner rim. Lining the inner rim can make your eyes smaller.
• Increasing the white area in your eyes can make your eyes appear bigger. You can do this by lining the inner rim of your bottom lashes with a white or nude eye pencil.
• Find a pair of fake eyelashes that is right for your eye shape and make it your bff. False lashes can instantly make your eyes look 100 times bigger. It has been reported that Elva wears four layers of falsies every day! But one hour + 4 layers of lashes is a little too much for ordinary people like us. Hit up your nearest drugstore or Sally's Beauty Supply and pick up a pair of Ardell false lashes (~$4-5) instead. Some good picks for Asian eyes are
#109
and
#110
.
If you want something more natural, you can also try Ardell Duralash ($3-5). They are mini individual lashes used to increase lash density or to fill in gaps along your natural lashes. These can also be applied just to the outer corners without appearing fake or unnatural.
2. Eyelid Glue and Tape
Besides makeup, you can also create a crease with the use of one of the most popular Asian beauty gadgets, eyelid glue or eyelid tape. The eyelid glue is normally applied on the eyelid before a v-shaped applicator/fork is used to push the skin in to create a fold. Here is a clip on how it is done by Koji, a Japanese brand that specializes in eye and nail products.
The tape works in similar way but takes more practice to use. In most cases, you have to trim the tape to make sure it fits the shape of your eye and it can feel a little uncomfortable. The tape is also not as natural and if you are not wearing any eye makeup with it, it can look a little weird. The good thing however, is you can wear it even when you are sleeping. A friend of mine used the tape religiously day and night (even while she was sleeping) for a couple of years and one morning, she woke up with a crease and she has had a crease ever since. I don't know if this method really works but I guess it is worth a try since it is not as risky as surgery.
Below is Elva and
other celebrities spotted with eyelid tape
: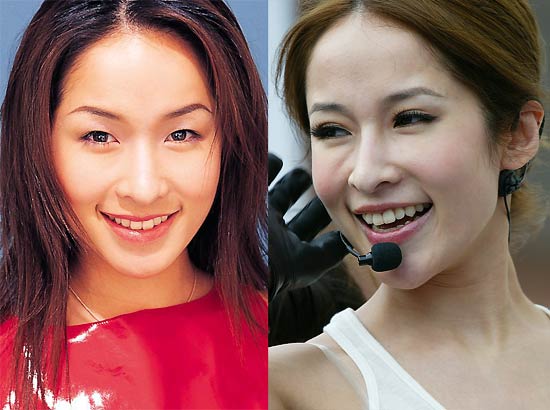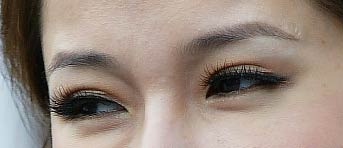 Read more about the eyelid tape
here
!
3. Double Eyelid Surgery
Finally, we have the double eyelid surgery, aka Asian blepharoplasty. It has always been a HUGE thing in Asia, especially in Japan and Korea. The procedure can cost up to $3,500 in the US but only about $800 to $1,200 in Korea. The surgery will open up your eye and make applying eye makeup easier. However, results vary and you may not always end up looking better. Asymmetry, exaggerated folds, eyelashes pointing at different angles, eyelids that lose the fold after a couple years, unwanted extra "accessory" lines and eyes that appear unnaturally large are all some of the potential side effects. Plus surgery is surgery, there is always the risk of infection, scarring and blindness.
Looking for more Asian beauty tips? Check out
How To Create Depth With Eyeshadow
and
How To Apply Dark Eye Makeup on Asians
!